The Cedar Point Blackout of 2016!
As part of my big coaster trip, I visited Kings Island, Holiday World, Kentucky Kingdom and Cedar Point. Four parks, three days, 1600 miles and 42 coasters.
Of course, I knew I wouldn't get all 42 coasters; sometimes a coaster is down or it might be too painful of a coaster (I'm looking at you Vortex and Mean Streak). Regardless, I was visiting three parks I've never been to before and getting a lot of coaster rides. Of course, no one expects a Cedar Point blackout. Sort of like how no one expects the Spanish Inquisition!
This post is going to focus on Cedar Point and the Cedar Point Blackout (#CPblackout) on Sunday, June 5, 2016. Yes, I was at a major theme park and power was lost for most of the day.
I was at Cedar Point and parked before opening. I was able to tackle seven of the seventeen coasters at the park. In order of rides:
Valravn
Blue Streak
Raptor
Gatekeeper
Iron Dragon
Rougarou
Millennium Force
Around 1:00, I made my way back to Frontier Town to do the mine coaster and Maverick. I instantly fell in love with the Frontier Trail in Frontier Town and spent some time exploring the shops and area. Closer to 2:00, the weather started to turn and my trusty weather app showed lightning strikes nearby. Almost all of the buildings at Cedar Point double as a storm shelter, so I stopped at the Addington Mill (transplanted from Franklin, NC) to wait out the storm.
There's a recurring show in the mill (really, just an audio history of the mill) and about halfway through the third time listening to it, the power went out in the building.
I assumed it was just a local power outage. Maybe one just for the building since it was an older structure. But after the storm abated and I was able to make it back into the sunlight, I noticed that the other shops were without power.
I ambled towards Maverick to see if anything was running.
It was obvious that a lot of the park was without power.
The first employees that I ran into were near the restrooms by the Last Chance Saloon/Palace Theatre. People were visiting the restrooms and discovering that the automatic flush toilets do not work in a blackout. Neither do automatic sinks.
The employees in the area by the saloon were offering three different tales, so to speak.
The power is out throughout the entire park,
There is power at the front of the park, or
I don't know what's going on.
For the most part, I was able to get better and more reliable information from Twitter. Basically, during the storm, the heavy winds knocked down the power poles on the causeway (one of two roads on and off the island). Unfortunately, it also appeared that a few cars might have been trapped under power poles. I haven't heard of any injuries and I hope those people were alright.
I understand not wanting to have employees give out the wrong information, but when you've got an island with 30,000 or so people on it and no power, well, that is an emergency situation. Imagine part of your city or town being without power? Anyway, I still think that all employees should have been able to answer basic questions. Especially concerning restrooms, water fountains, food and potential evacuation needs. The Cedar Point blackout could have been more serious but I'm glad it was a simple day.
From that point, I just walked around taking photos of empty areas and attractions not operating. It had a very post-apocalyptic feel.
While on Twitter, I ran across @MovieGuysCraig and @MovieGuysJosh. They were tweeting and using the hashtag #CPBlackout. It was very irreverent and I quickly joined in their conversation about repopulating the world from Cedar Point and hunting down squirrels for food. It helped to make a very strange day more enjoyable.
I spent the next few hours taking photos of Camp Snoopy, Gemini, Maverick, Mean Streak and talking to plenty of employees and other guests.
It was incredibly erie to be in an amusement park and have it be completely devoid of sound. There was no background audio, no clanking of roller coaster lift hills and no screams of guests going down the hills. The Cedar Point blackout was truly odd.
Employees were doing a lot of work. Some were cleaning areas while others were performing ride and vehicle maintenance.
When I finally made it to the Midway, I started to see and hear signs of life.  The scrambler was the first ride I saw operating. Shortly after that, I heard the strains of the modern music being blasted in the front part of the park.
At that point, almost all of the flat rides in the midway were functioning. All the rides in Planet Snoopy and the Kiddie Kingdom were running with almost no wait. All the drink stands and the restaurants were running, so I was able to eat and drink. There was still no word about being able to exit the island, but based on the lack of crowds, people were able to leave. I'd heard that the causeway was still blocked  but the Chaussee was open. The Chaussee is a two-lane road that is part of a residential neighborhood. It was destroyed in 1919 and rebuilt a few miles west.
The line for Guest Services was very long, but Cedar Point was on point during the Cedar Point blackout.
They had employees walking the line and offering guests a comp ticket to return during the rest of the season. Also, if you'd purchased a Fast Lane or Fast Lane Plus, they were creating an electronic record in their system to offer you another Fast Lane on your next visit. Most people were thrilled with the offerings and it made the queue move quickly.
But for people like me, who own a Platinum Pass to Cedar Fair parks, there wasn't much to do. Especially since it's a seven-hour drive to come back (and the cost of a hotel room). I felt that was strange, since a Platinum Pass holder has spent a lot more money and should be considered more valuable, right?
I left the park around 6:30 after it was announced that the Cedar Point blackout was causing the park to close at 7:00pm. The parking lot was nearly empty. It looked like there were only about 100 cars left in the lot. It did take me almost 30 minutes to travel down the Chaussee, which should normally be a 5 minute drive.
Cedar Point Blackout Photos from MovieGuys.org
Craig and Josh from MovieGuys.org were in the park that day and doing live tweeting. They offered to let me use a few of their images, as well. Check them out on twitter: @MovieGuysCraig and @MoviesGuyJosh.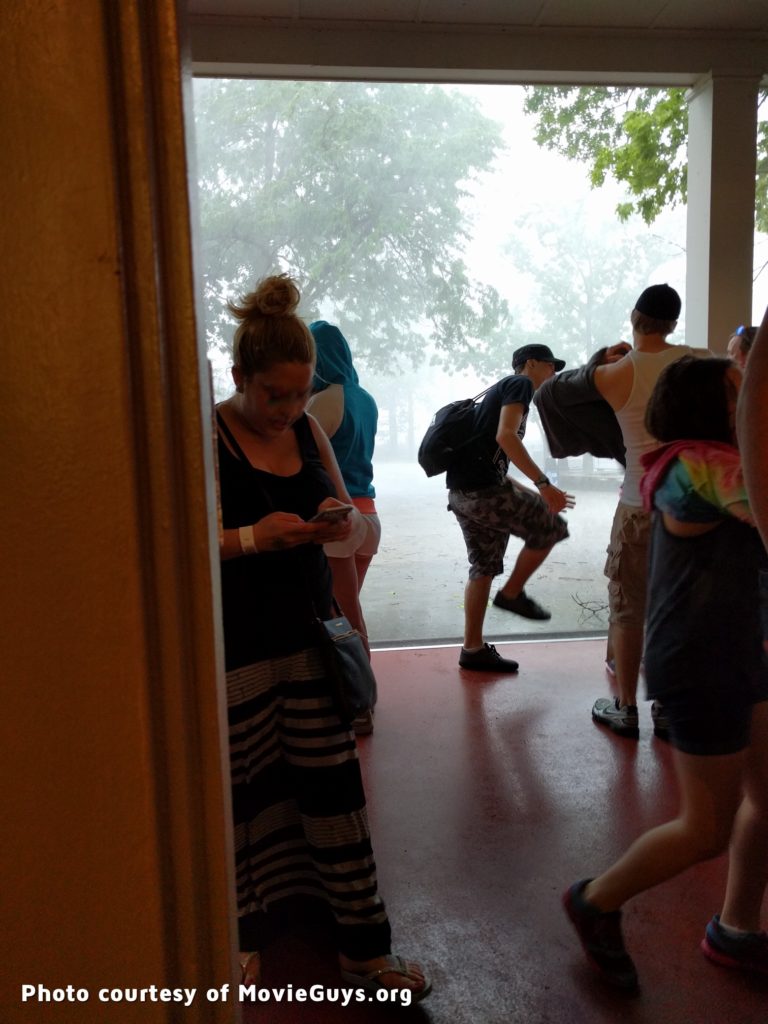 Overall, I'm glad I was able to experience the Cedar Point blackout. Of course, I would have rather experienced the park on a normal day and done all of the coasters, but how often do you get to walk through a nearly vacant theme park?
A few thoughts on the Cedar Point blackout:
Make sure all employees can communicate what is happening. They were very nice, but you could tell they felt bad about not knowing what was going on.
Offer bottled water in the areas with no power. Or block off the areas with no power. Was it really ok for me to be walking around those areas?
Offer something to the Platinum Pass holders. Aren't they Cedar Fair's biggest fans? Why should they be penalized simply because they have the Platinum Pass?
Have you ever been in a Cedar Point blackout? Or another park with no power?