Trying out the Melt Bar & Grilled at Cedar Point
Melt Bar & Grilled at Cedar Point was on my list during my last trip to the theme park. It's a local chain in Northern Ohio and this is their first season at Cedar Point. My first visit to Cedar Point last year was rained out when a storm blew out the power on the causeway. There was only power in the front part of the park; I was only able to eat at Pinks during that visit. I was looking forward trying some of the signature food at Cedar Point and I was very excited about this new venue.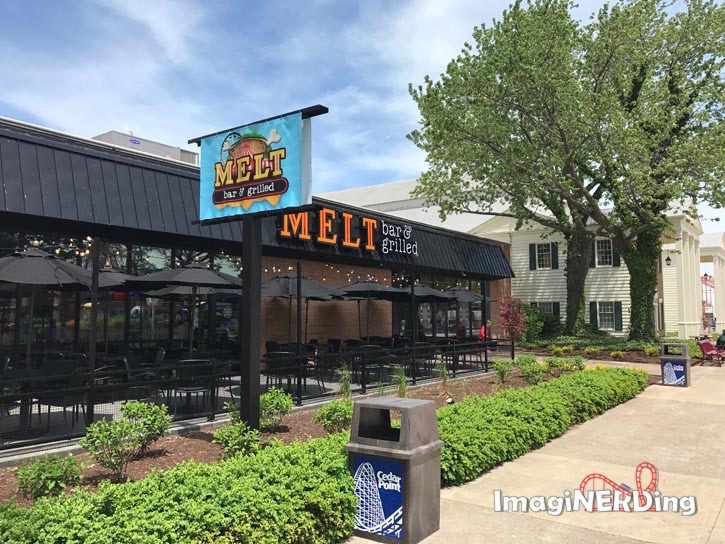 The Melt Bar & Grilled at Cedar Point is located in the Planet Snoopy area of the park. It's in the former Joe Cool Cafe building.
You can see the changes made to the building to offer a more grown-up dining experience. Black metal awning replaces the shingles. The porte-cochere (of sorts) was removed, giving the building a more streamlined entrance. Also, the dining bumpout was removed and they now have patio seating with umbrellas. Overall, it's a significant change to the feel of this side of the Planet Snoopy area and blends in so much nicer with the historic Great Hall and the surroundings.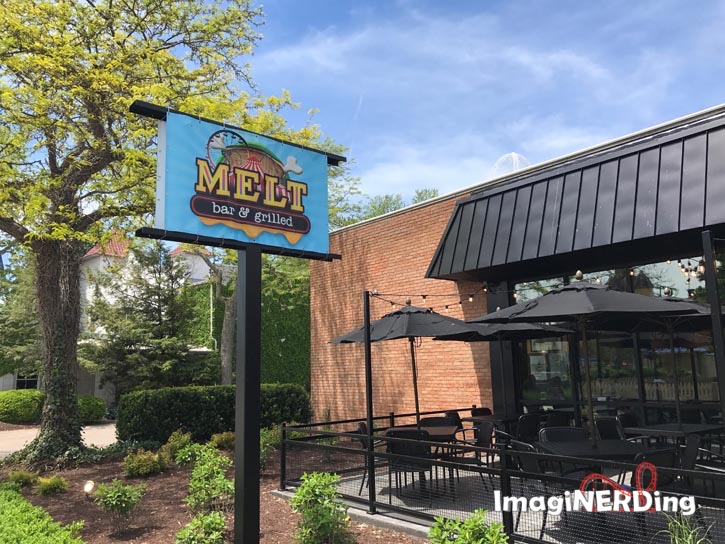 Inside the Melt Bar & Grilled at Cedar Point
Behind the check-in desk and near the doorway to the restrooms is a fantastic mural by Jake Kelly representing logos from Cedar Point's history. Right off the bat, you understand that the Melt Bar & Grill celebrates the history of the resort. It's going to be so much more than just a theme park eatery.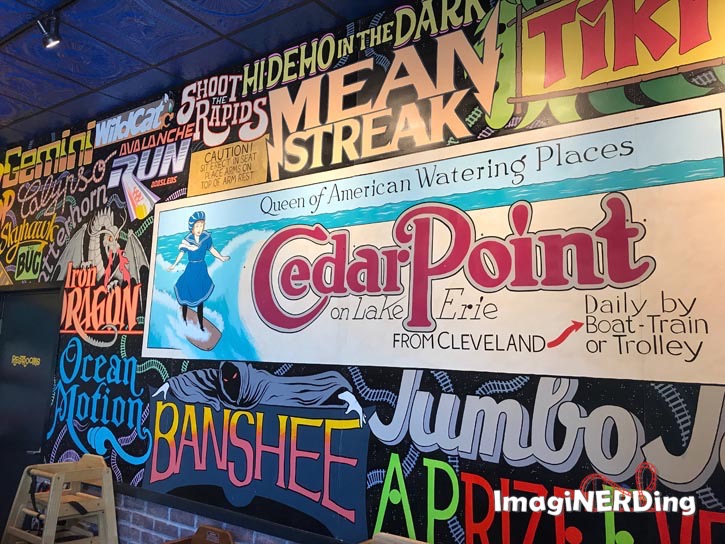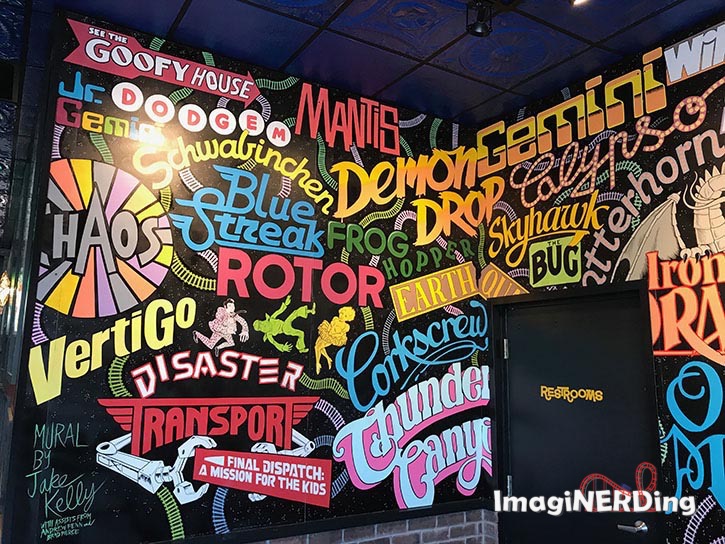 The mural, alone, is worth checking out. Just wait till you see the rest of the restaurant.
Along the walls are photos and other memorabilia. You'll want to spend time investigating them after your meal. My only complaint is that the spot lighting on the photos and prints makes it almost impossible to get a good photo. And sometimes you might want to interrupt other diners, but don't.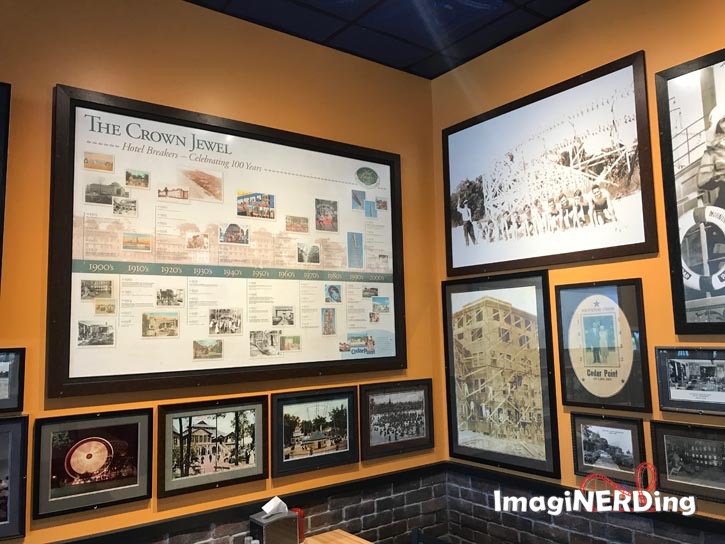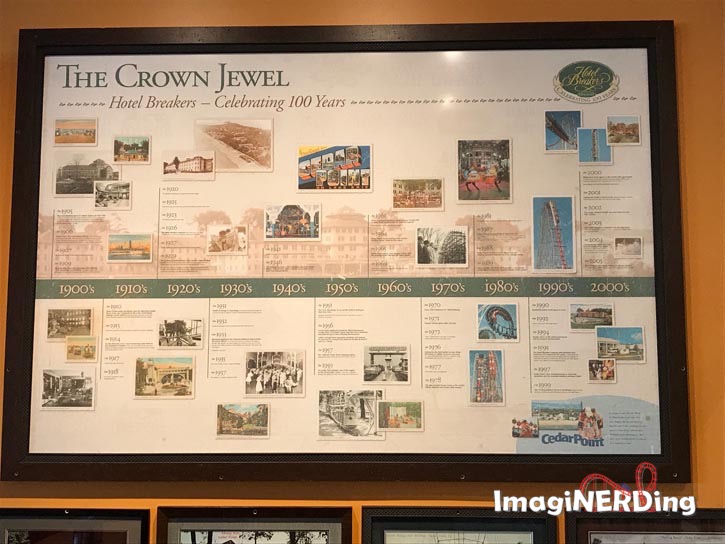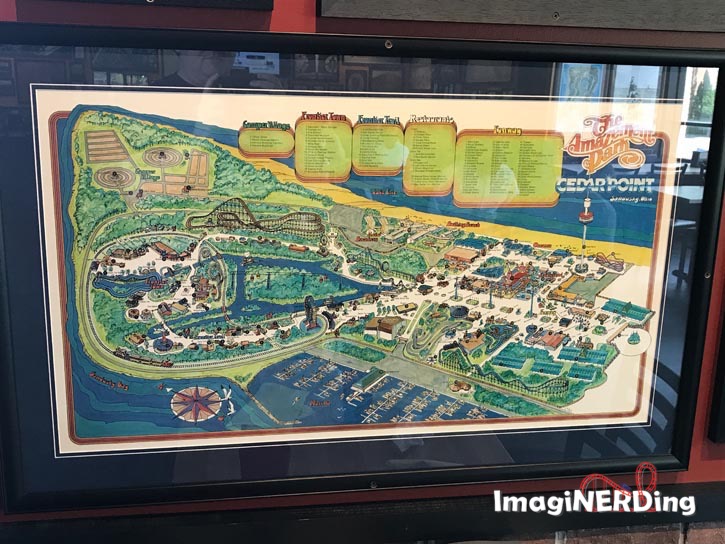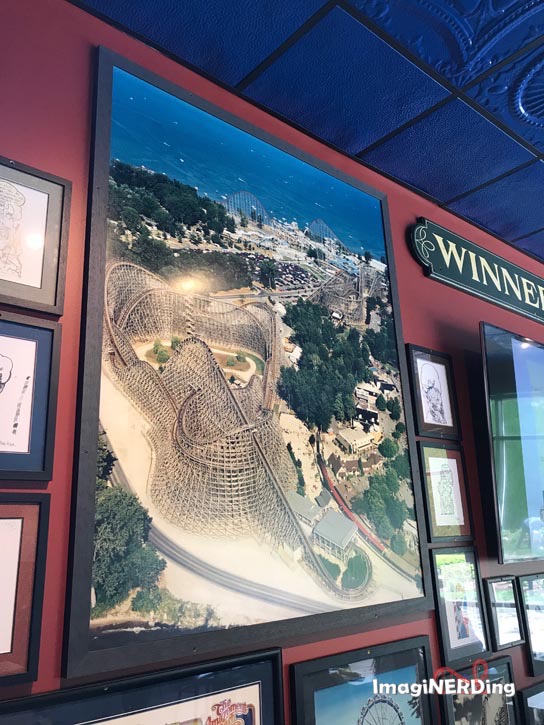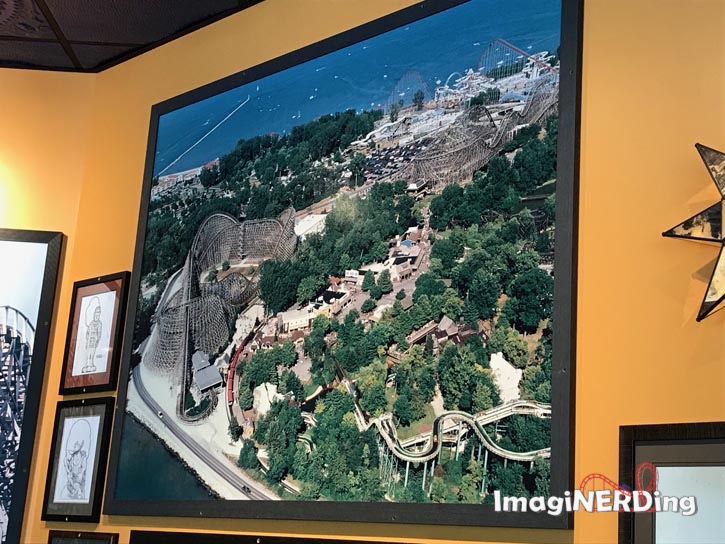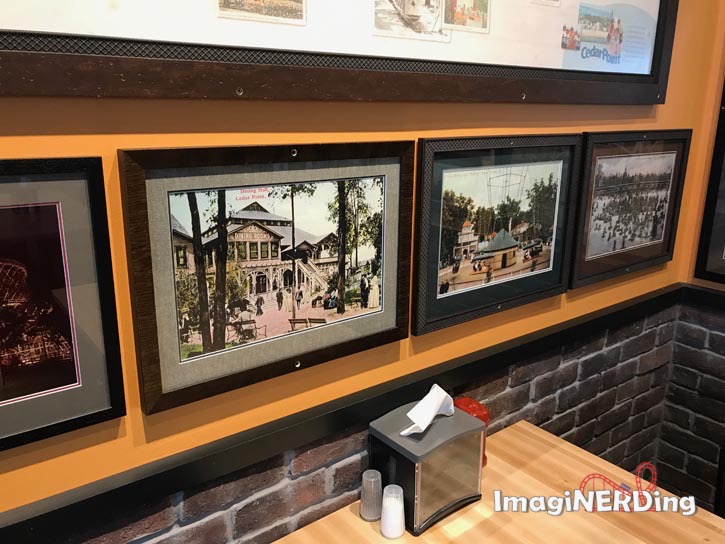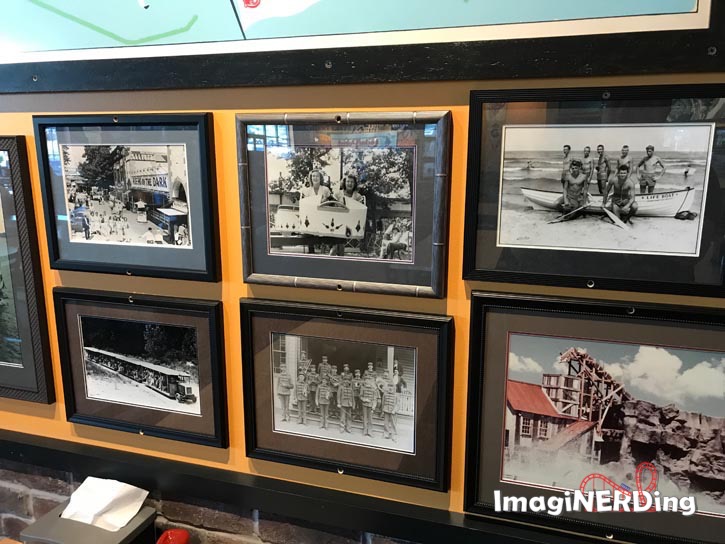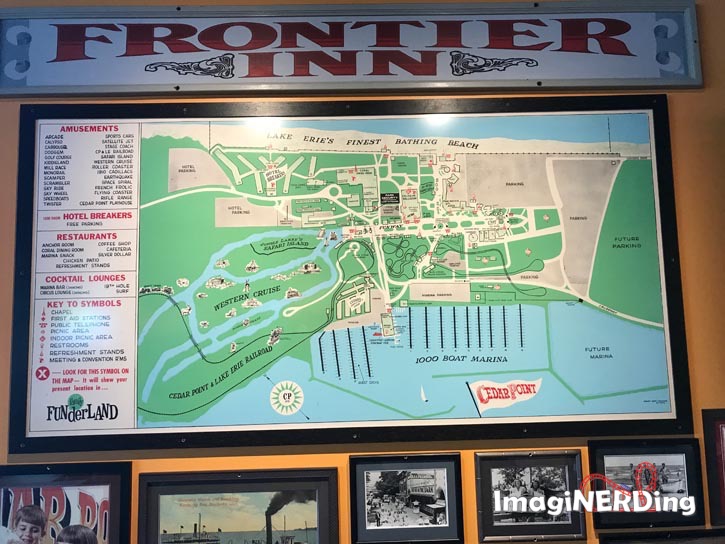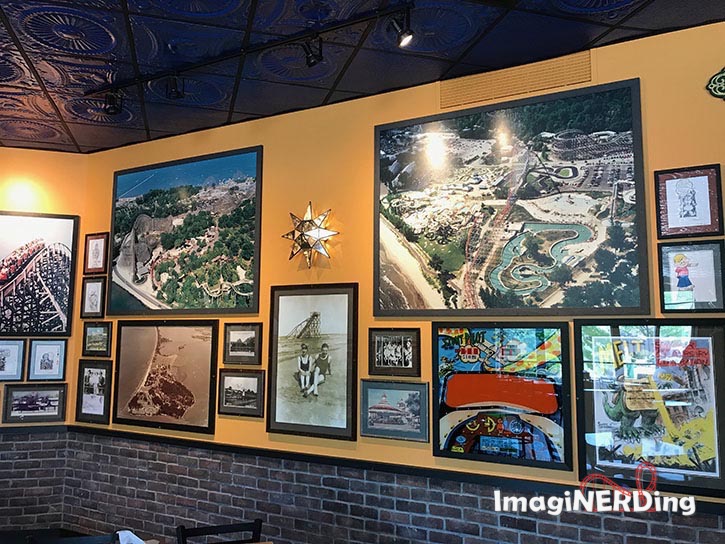 There is a lot of concept artwork featured for different attractions and signs. You never see a lot of concept artwork outside of Disney circles, so it was very exciting to see all of the Cedar Point art. Do you remember any of these?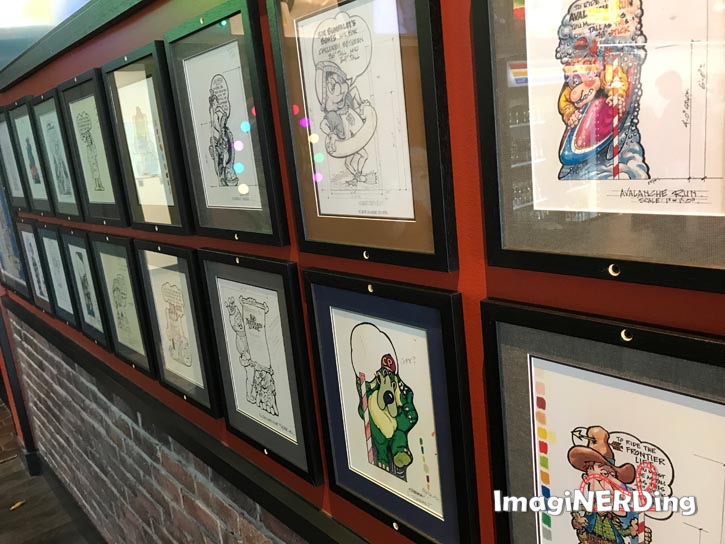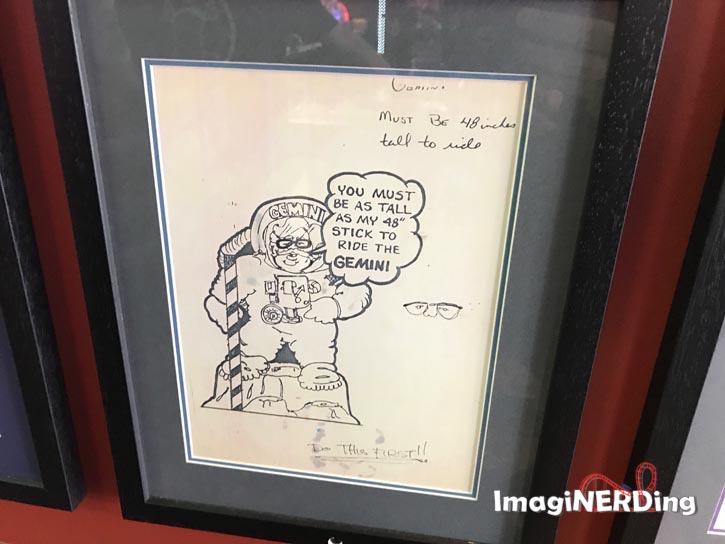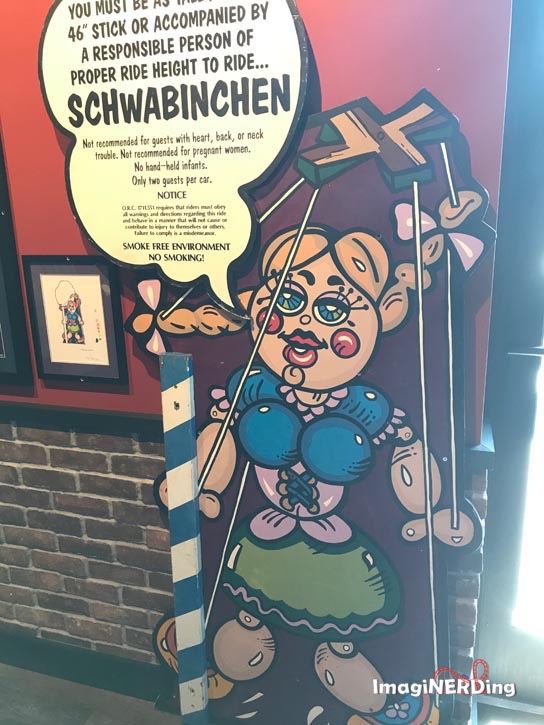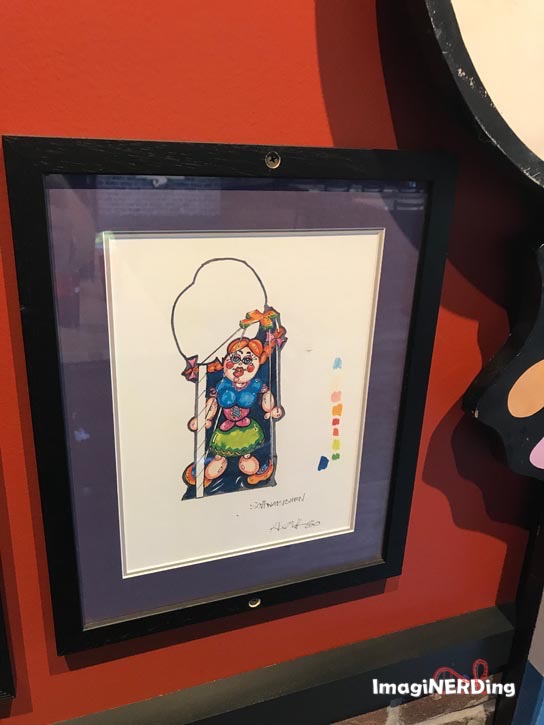 It's actually kind of amazing that Cedar Point kept all of this ephemera in their warehouses. I do hope that guests will take a few moments to stroll through Cedar Point's history.
The Food at Melt Bar & Grilled at Cedar Point
Obviously, you'll be getting food at the restaurant. Gourmet grilled cheese has become extremely popular over the past few years, and this is a perfect addition to Cedar Point's lineup of offerings. Kids will still have a good time at this more grown-up restaurant..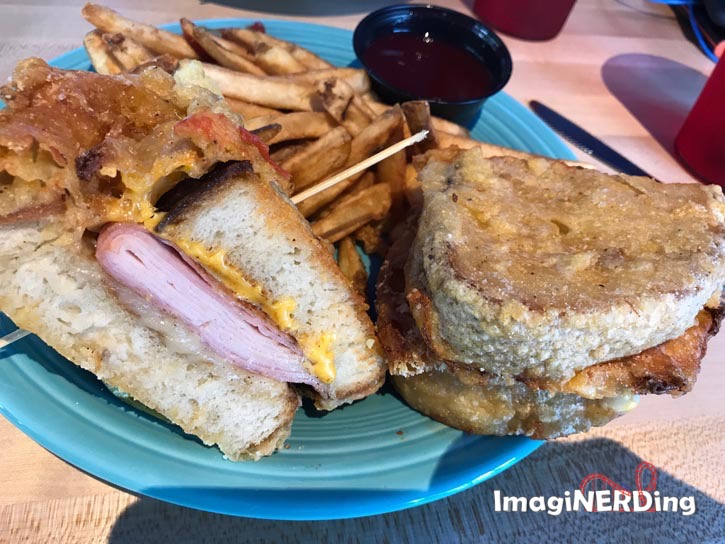 The choices on the menu seemed insurmountable: Mighty Macaroni; the Dude Abides; Hot Italian; the Cleveland Cheese Steak and more. I finally decided on the Monte Cristo, since it's a dish I've had often at Disneyland and I know how it should taste.
Monte Cristo (honey ham, smoked turkey, Swiss, American, crispy battered & deep fried, powdered sugar, berry preserves for dipping)- $10.39 Half; $13.79 Whole
I was not prepared for how good and filling the sandwich was going to be. The best theme park food has always been at Dollywood, hands down. The sandwich at Melt Bar & Grilled was superb. The berry preserves were perfect and put the Monte Cristo over the top. Overall, the food offerings at Cedar Point, besides Pinks and Melt Bar & Grille, were simply average. I wonder why it takes an outside vendor to make a worthwhile food offering.
I wish that Walt Disney World would offer a restaurant with a historical perspective like this somewhere on property.
Have you tried Melt Bar & Grilled at Cedar Point or any of their other locations?
---
Looking for a book on Cedar Point's history? Check out Images of America: Cedar Point.