Walt Disney World Encyclopedia Vol. 1: Magic Kingdom by Kevin Yee and George Taylor
A Magic Kingdom encyclopedia?
Over the more than 14 years that I've been posting, I've written close to 300 book reviews. I have over 1,400 Disney and amusement park books in my personal collection; most people rely on me to be honest and direct about a Disney book.
So, the big news is that I've finally co-written my own book with Kevin Yee, a noted columnist and Disney historian.
The Independent Walt Disney World Encyclopedia, Vol. 1: Magic Kingdom is the ultimate reference guide to the Magic Kingdom. Kevin and I scoured every inch of the Magic Kingdom to trace the histories of every attraction, shop, and restaurant. The Magic Kingdom encyclopedia is the first resource that offers an authoritative, scholarly, and definitive chronicle of the Florida theme park.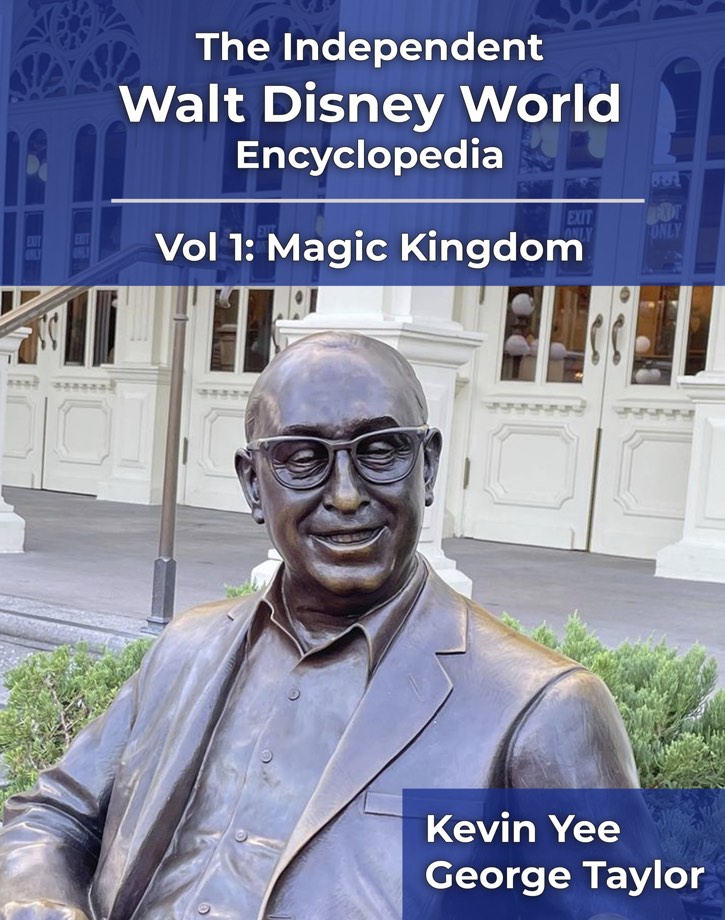 Why is Roy Disney featured on the cover?

Kevin and I both agreed to honor Roy since there would be no Walt Disney World without Roy. In a quote concerning the naming of the Florid Project, Roy stated, "I'm only going to say this one more time. I want it called 'Walt Disney World.' Not Disneyworld, not Disneyland East, not anything else. Walt Disney World."
Isn't all of this stuff on Wikipedia? And what about the Disney Encyclopedia at D23?
This book is not simply a paste of information you can find on the internet. We primarily relied on official Disney resources, including park maps over the years, to construct an accurate accounting of every ride, restaurant, and shop. A lot of what's available online is incomplete, and some of it is incorrect. In short, this work represents the first thorough, rigorous, and comprehensive cross-checking of this information, held to academic standards.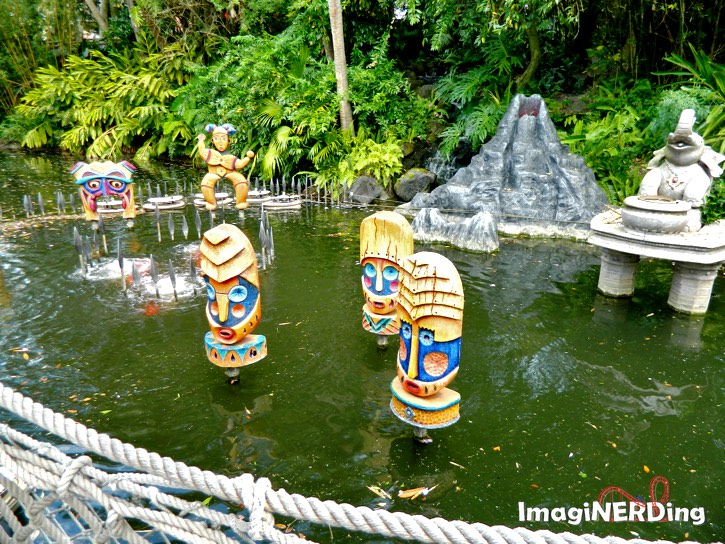 From the Walt Disney World Encyclopedia Vol. 1: Magic Kingdom

Shrunken Ned's Junior Jungle Boats—From 1997 to 2012, visitors could pay to pilot remote-controlled boats, themed like Jungle Cruise vehicles, through obstacles in a small pond just after the exit to the Jungle Cruise. The obstacles in the water included an elephant-shaped temple, spear tips protruding from the water, a volcano, and tiki figures.

Shrunken Ned was originally a disembodied head in a fortune-telling machine in Disneyland's Adventureland. He was said to be a British explorer named Col. Nedley Lostmore, whose exploits led to his disembodied state.
Clocking in at 128 pages and featuring over 400 entries, the Magic Kingdom encyclopedia showcases all of your favorite attractions, including the all of extinct ones, like Mr. Toad's Wild Ride, Legend of the Lion King, Mission to Mars, Plaza Swan Boats, and so many more!
Do You Remember Nemo's Niche?
We've included an index and a land-by-land appendix of every attraction, shop, and restaurant to make finding your way around the first 50 years of the Magic Kingdom easy and engaging.  The book is priced at $7.99 ($2.99 for the Kindle version, but the Kindle version is missing the photos and index) so that every fan can own a copy. (We suggest the paper version because it's easier to flip between pages to track down an entry.)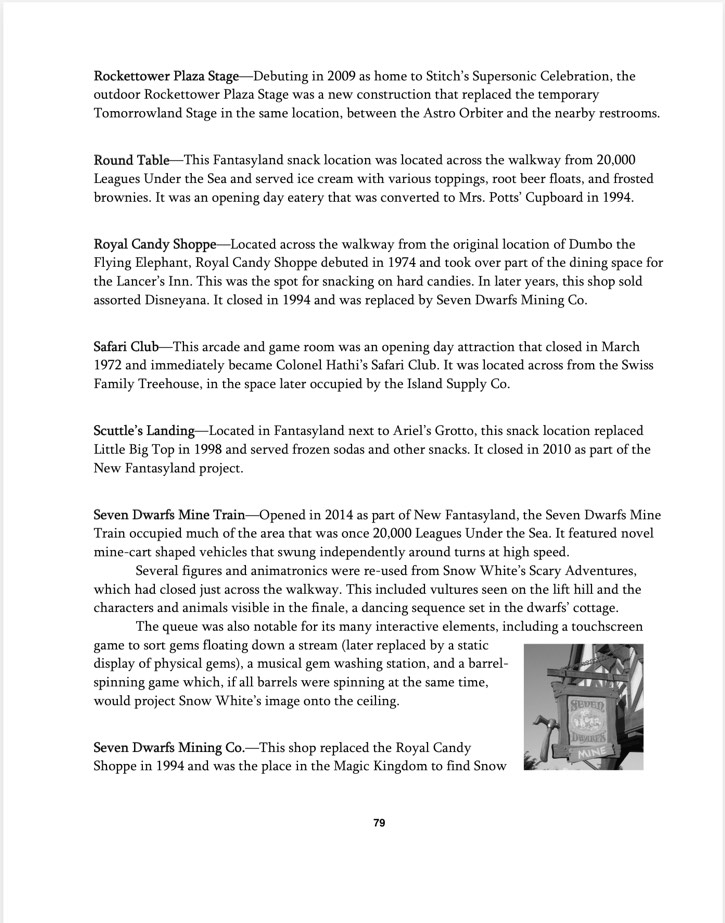 What About Mickey's Toyland?
Yep, there's an entry for Mickey's Toyland!
As I mentioned, this is the most comprehensive and authoritative work ever presented about the Magic Kingdom. We experienced so many ah-ha! moments while writing this book, especially cataloging the vast number of changes to Fantasyland. Tracking down the dates of each and every Main Street shop was one of the bigger puzzles of the Magic Kingdom history and led to some surprises.
This is the first volume of the encyclopedia, with EPCOT, Animal Kingdom, Disney Hollywood Studios, and more, to follow!
Grab Your Copy of the Magic Kingdom Encyclopedia Today!
---