Busch Gardens Williamsburg Roller Coasters
Busch Gardens Williamsburg has consistently won awards for its beauty. I first visited the park around 1985 or so. I don't remember the exact time, but I was able to ride The Big Bad Wolf and the Loch Ness Monster. Sadly, my parents weren't big theme park people, so we never visited Kings Dominion and it was our only trip to Busch Gardens.
When I had the chance to explore Kings Dominion and Busch Gardens Williamsburg over a weekend, I couldn't say no! (Check out my Kings Dominion coaster report, here.)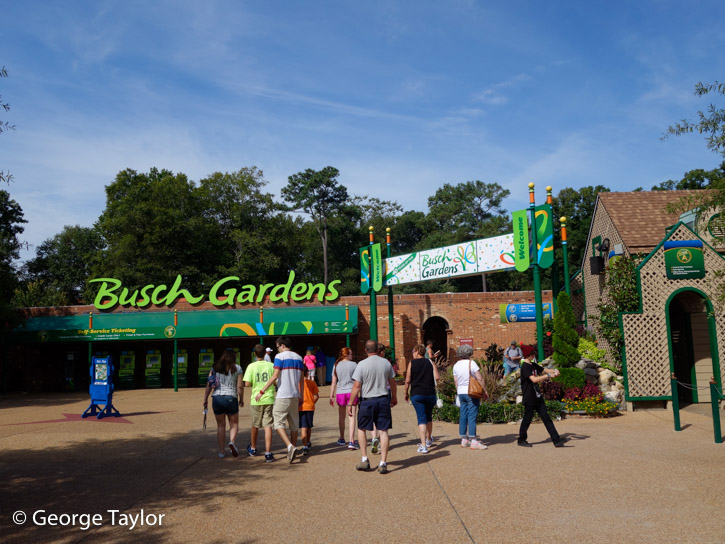 Busch Gardens Williamsburg is a gorgeous park and it's quite evident from the entrance. When I left the park, I realized the the entrance/exit area was what the Oasis area of Disney's Animal Kingdom was supposed to feel like. It was a very tranquil way to end your visit at Busch Gardens Williamsburg.
Busch Gardens Williamsburg has some amazing coasters and I'm hard-pressed to decide which park in Virginia offers better thrills. But with any theme vs. thrill park, there's more to it than just the coasters!
So how do the Busch Gardens Williamsburg roller coasters stack up?
Busch Gardens Williamsburg Roller Coasters: Tempesto
I knew that Tempesto, the newest coaster, was a very slow load.  Tempesto is  Premier Rides LSM (Linear Synchronous Motor) launching coaster. The coaster takes advantage of the load/unload zone for the LSM, so it runs during the ride. Meaning they can't load a second car while the first one is running. This really slows down the hourly capacity.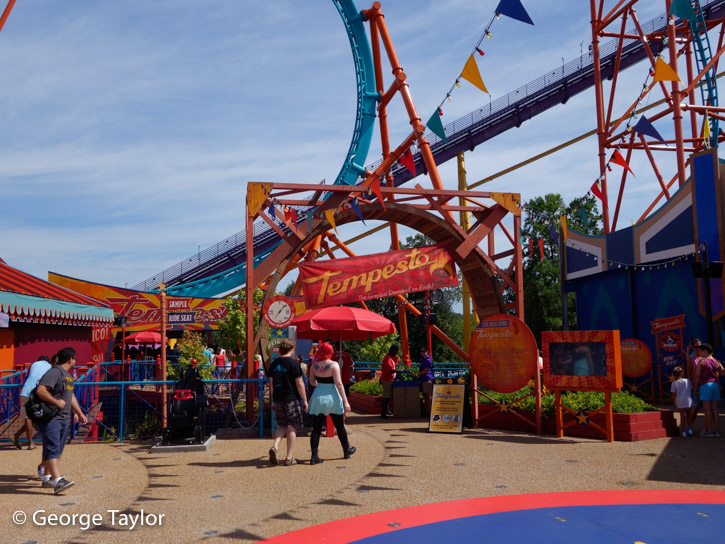 Although the load is incredibly slow, it's very much worth the wait. I would do it first thing, though, to save as much time as possible. Tempest has an incredibly small footprint and is to the side of Apollo's Chariot. It's kind of hard to get a good shot of the coaster, but it's a great design. The heartline roll (similar to the Volcano at Kings Dominion) has quickly become one of my favorite coaster aspects.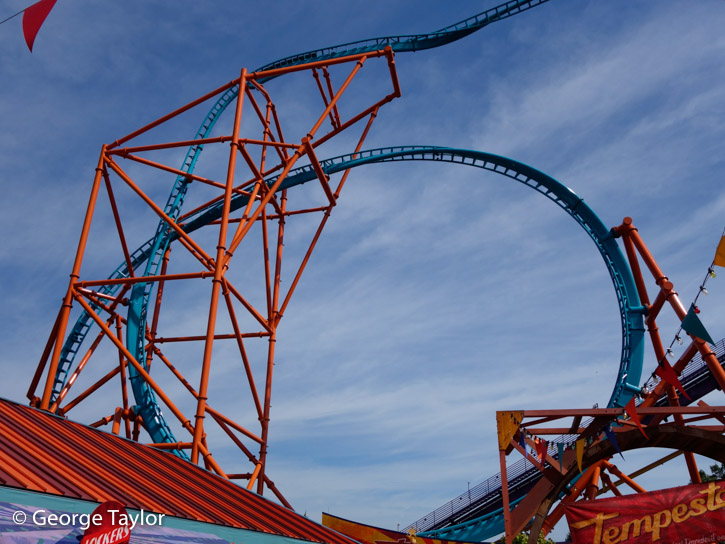 Busch Gardens Williamsburg Roller Coasters: Apollo's Chariot
I've ridden quite a few Bolliger & Mabillard coasters this summer and they've quickly become my favorite coaster designers. Apollo's Chariot was opened in 1999 and was B&M's first hyper coaster. Even though the ride is 15 years-old, it's still a great coaster and deserves your attention. It has some great airtime and doesn't have a lot of the force of the newer hyper coasters. I'd almost call it a beginner's hyper-coaster, but that doesn't do the ride justice.
Because of where Apollo's Chariot is located in the park, it's kind of difficult to get a good shot of it, which is a shame. B&M coasters are beautiful.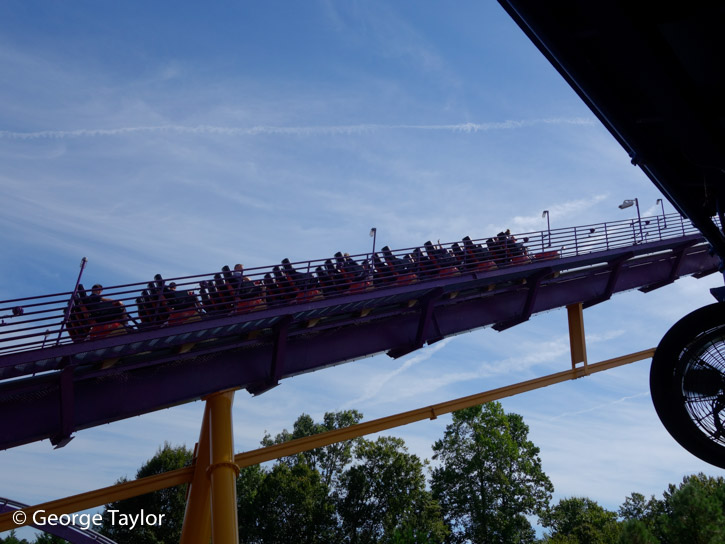 Just one of the way-finding signs along the many different paths.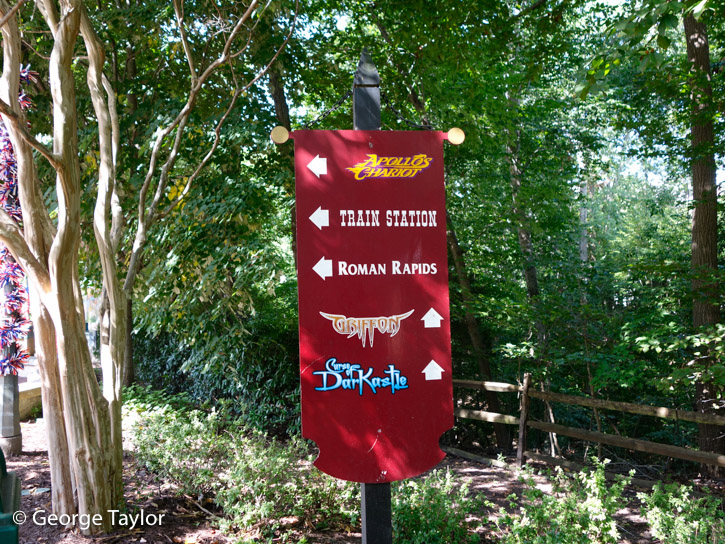 The shot below is from the beautiful bridge between Italy and Germany. I missed the Rhine River Cruise, but I'll hit it next time. I just love how the Loch Ness Monster, Alpengeist and Griffon can be seen together.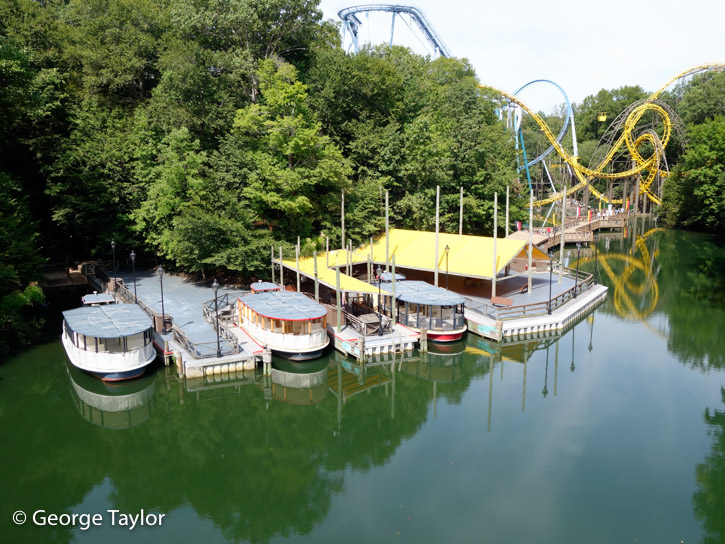 Busch Gardens Williamsburg Roller Coasters: Alpengeist
Alpengeist, opened in 1997, is another Boliger & Mabilard coaster. This time, it's an inverted coaster that hits 67 miles per hour. Alpengeist is themed like a runaway ski lift in the Alpine region. Alpengesit is an extremely powerful coaster and reminded me a lot of the Dragon Challenge at Islands of Adventure at Universal.
There's a bridge between Germany and New France that offers some fantastic views of Alpengeist, but it might also convince the more wary riders to skip it. Still, I must have spent at least 10 minutes watching the cars go by. And taking photographs of the track.

Even the support beams are pretty!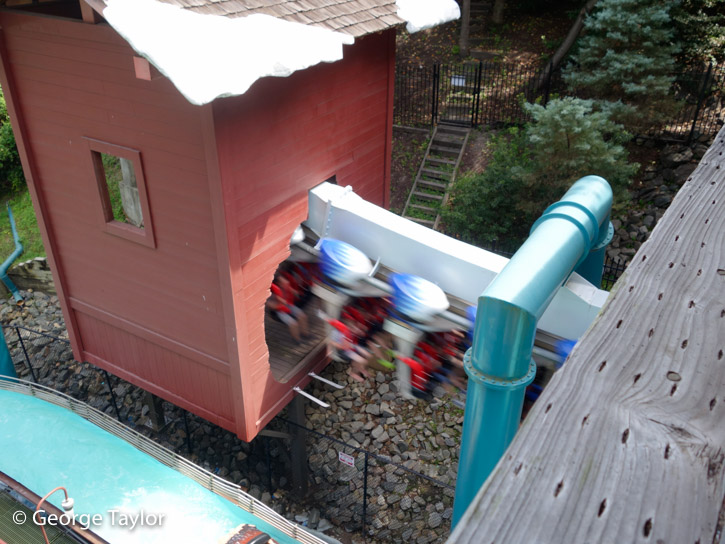 I almost got an action shot of Alpengeist.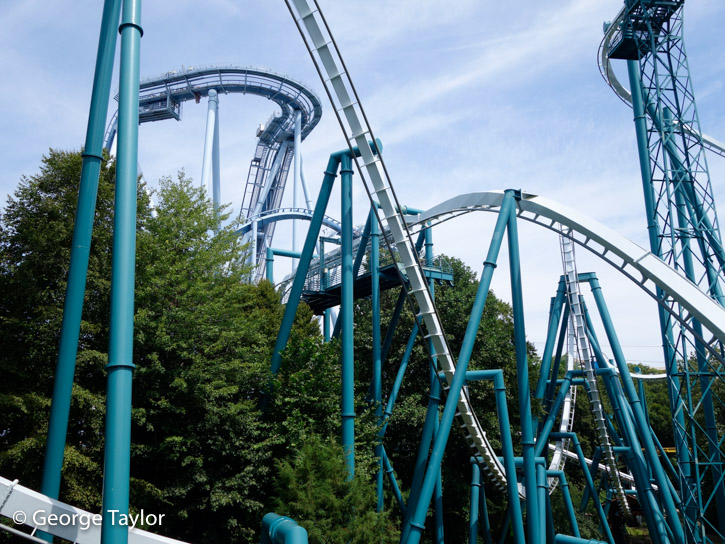 Alpengeist is an extremely powerful inverted coaster with lots of G-forces. I did feel a little wobbly after the ride, similar to what I felt on the Dragon Challenge. It's still a great coaster and I did enjoy it more than some of the other coasters I've experienced.
Busch Gardens Williamsburg Roller Coasters: Griffon
I was not prepared for Griffon.
I know that sounds funny, but it was my very first dive coaster.
A dive coaster, by definition, has a freefall moment and at least a 90 degree drop. The queue is a small building, but it does offer plenty of covered room. In the photo below, you can see how amazing the paint scheme is. It feels as if the coaster tracks sort of blend into the sky. Griffon is a B&M coaster that was opened in 2007.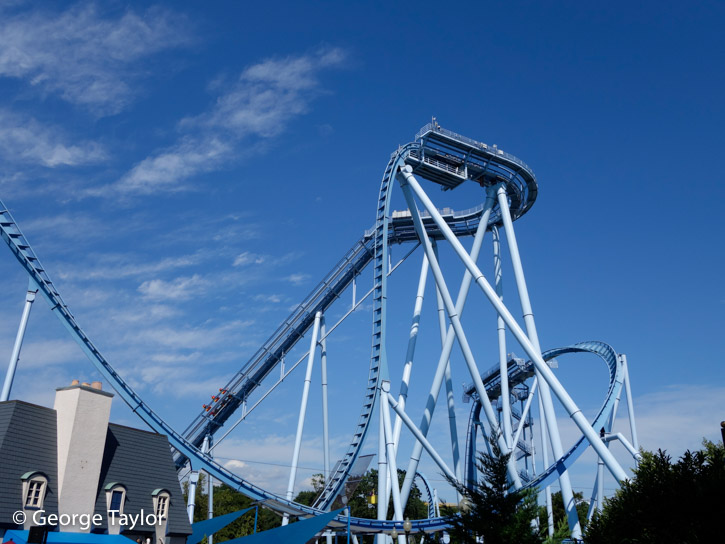 You can see the dive element in this photo. (There are actually two dive moments in Griffon.) At the top of the loop hill, after getting an amazing look at the park (well, except for those of us not wearing glasses), the train is held at the beginning of the drop for five to eight seconds. You feel gravity's pull as you wait for the train to be released.
Did I mention that Griffon is a floorless? You can see all the way down while you're waiting on the first dive.
One thing I didn't notice until I was looking at my photos was that the paint scheme for Griffon is pretty great. The track almost seems to disappear into the sky. Very clever.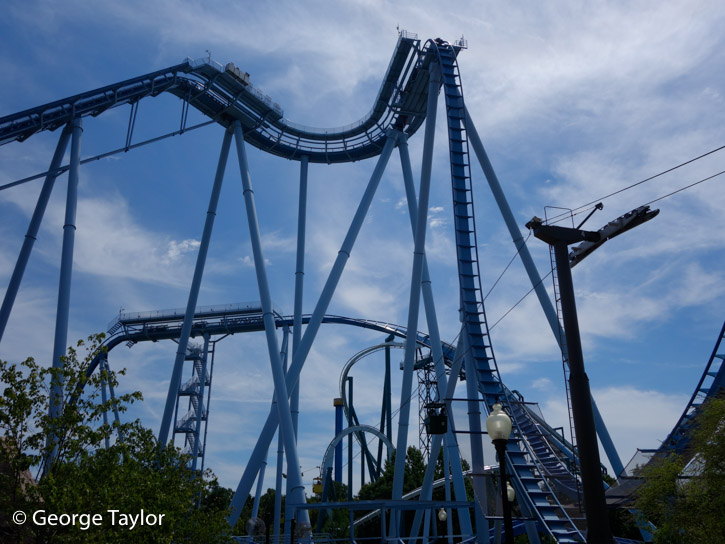 Griffon has some great airtime, including the first dive, but you have to let go of the restraints and just let the coaster do the work. I rode this one twice that day and it was well worth it. The front row was more intense, but the back was was just as good.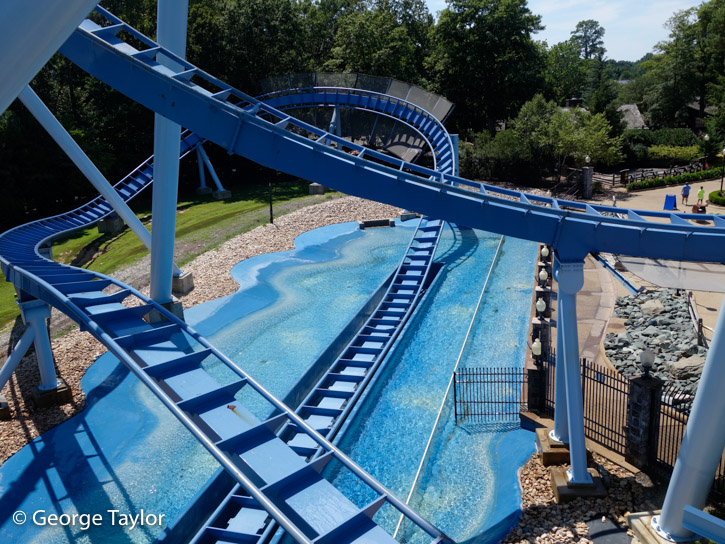 If you get the chance, take the France Skyride to Germany. It offers the amazing views of the coasters and you pass right through them. If you're lucky, you could get to see trains running on Griffon and Alpengeist.
Busch Gardens Williamsburg Roller Coasters: Loch Ness Monster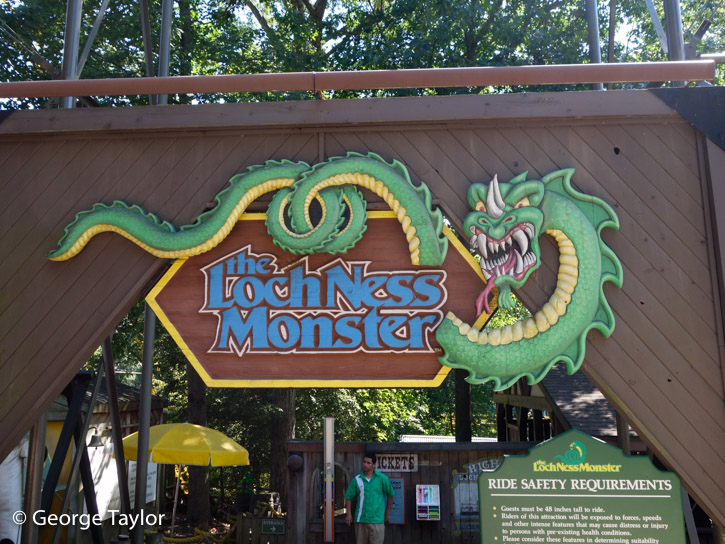 I first rode The Loch Ness Monster back in 1984 05 1985. It was my first big coaster and I rode it with my mom. She loved coasters. I can remember some of the inter-locking loops (a first!) and being terrified, but completely enjoying the experience. This was a much different experience over 20 years later and after riding more than 20 different coasters in a month. I went into Loch Ness knowing she was an Arrow looper and probably would be an uncomfortable ride for someone as tall as me.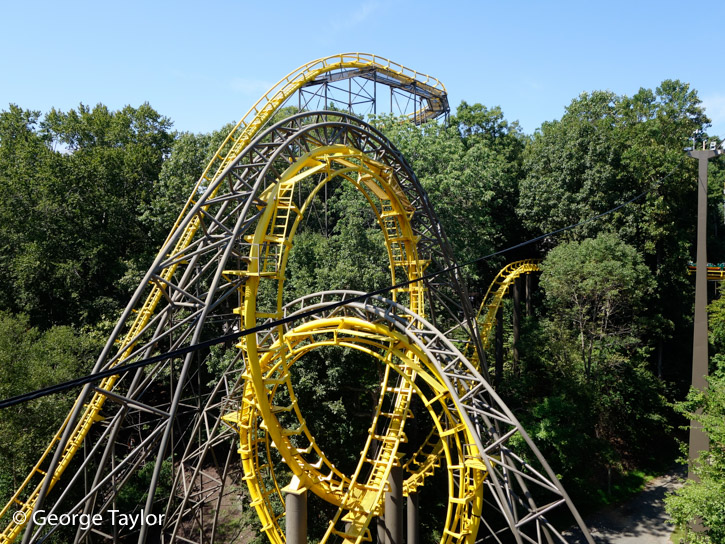 The Loch Ness Monster was a fairly painful experience, but it's my second favorite Arrow after Tennessee Tornado at Dollywood. I did love the track layout and it seems likea really long coaster. The tunnel section was well done and fairly long. Except it did need some effects. I probably won't ride it again for another 20 years, though.
Busch Gardens Williamsburg Roller Coasters: Verbolten
Verbolten was a coaster that no one would tell me anything about. They basically said that you just have to enjoy it.
Which I did.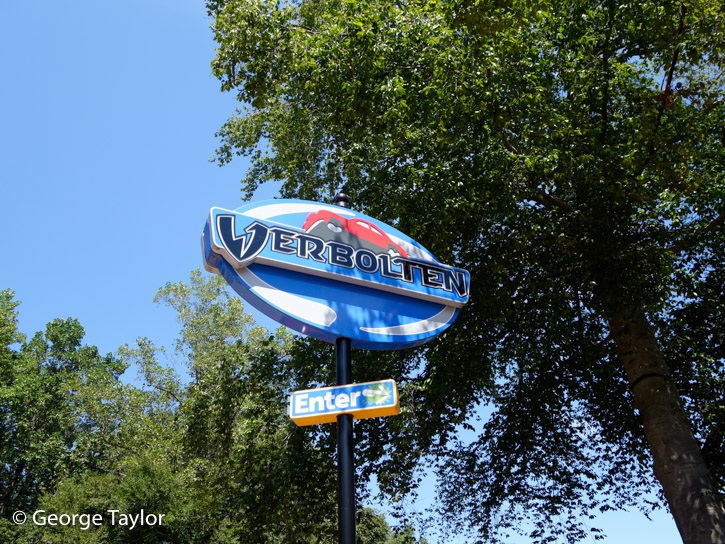 It was closed when I first tried to ride it, but was open by the late afternoon, which did cause longer lines. They were running five cars that day, which really helped.
It is a launch coaster and offers many show elements, which were quite surprising. The big drop also follows the exact same path as its predecessor, the Big Bad Wolf. Verbolten was designed by the park's creative team and by Zierer.
Seriously, I can't say much about it, except that it's a lot of fun and does some very different things.
Busch Gardens Williamsburg Roller Coasters: Final Thoughts
Just like my visit to Kings Dominion, I was really impressed with the Bolliger & Mabillard coasters. My favorite coasters at Busch Gardens Williamsburg are, in order: Griffon, Verbolten and Tempesto.
Griffon, as I mentioned was a complete surprise. When you're hanging over the first dive and the seconds tick away like minutes, you really have no idea what to expect from the drop. Griffon has enough variety in the track layout, that it's simply more than a floorless dive coaster. And it' beautiful to watch. There's a great area with picnic tables and plenty of shade where you can watch Griffon go by and see most of the ride.
Verbolten was such a great coaster that retained a lot of the mystery of The Big Bad Wolf and offered just as unique of a ride. There's not but to say that won't offer too many spoilers, except: Just do it!
Tempesto, like Verbolten was a new experience for me. It's an incredibly well-designed coaster for the small footprint. The load time is terrible and you need to do it first thing. But Tempesto offers plenty of features that I wasn't expecting, especially since most of the queue actually hides the track from you.
What are your favorite Busch Gardens Williamsburg roller coasters? Is there one you never miss?