Kings Dominion Roller Coasters
I finally had the chance to visit Kings Dominion in Virginia. I was super-excited to try out the coasters and see how the park compared to Carowinds and Dollywood. Like most Cedar Fair Parks, Kings Dominion is well-known for some amazing roller coasters.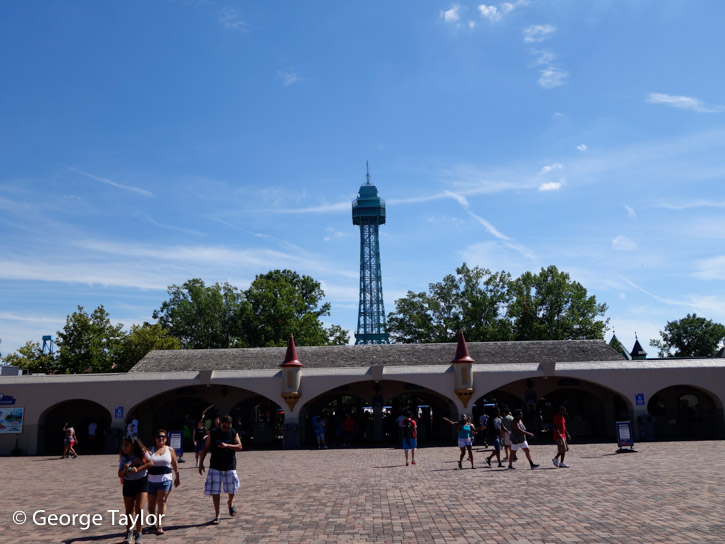 I grew up near Kings Island, near Cincinnati, and it was my very first amusement park experience. Sadly, I haven't been back to Kings Island for more than 30 years. I knew that there would be parts of Kings Dominion that would remind me of Kings Island, especially the Eiffel Tower.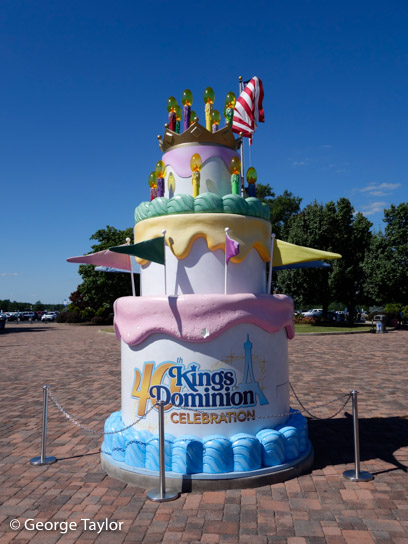 Kings Dominion is celebrating 40 years and it was nice to see the decorations around the park, without being overbearing. It was really nice to see the Eiffel Tower as an adult, but it did seem much smaller than I remembered!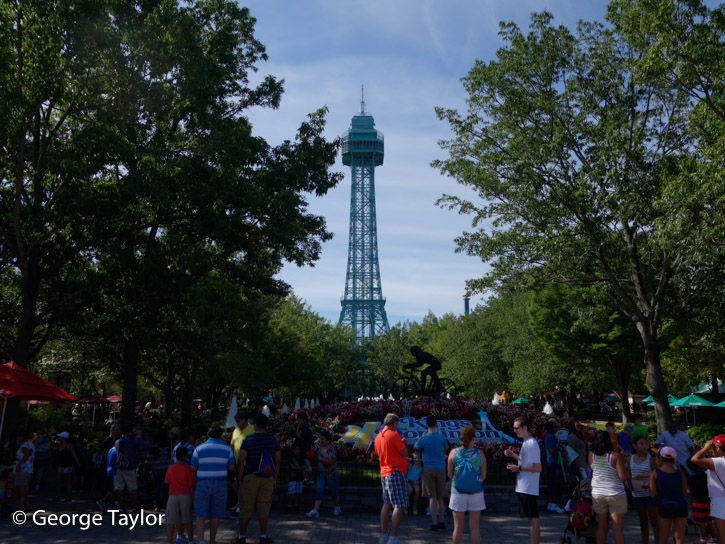 I'd heard that Kings Dominion was a great coaster park and I was excited to experience as many as I could fit in.
Kings Dominion Roller Coasters: The Dominator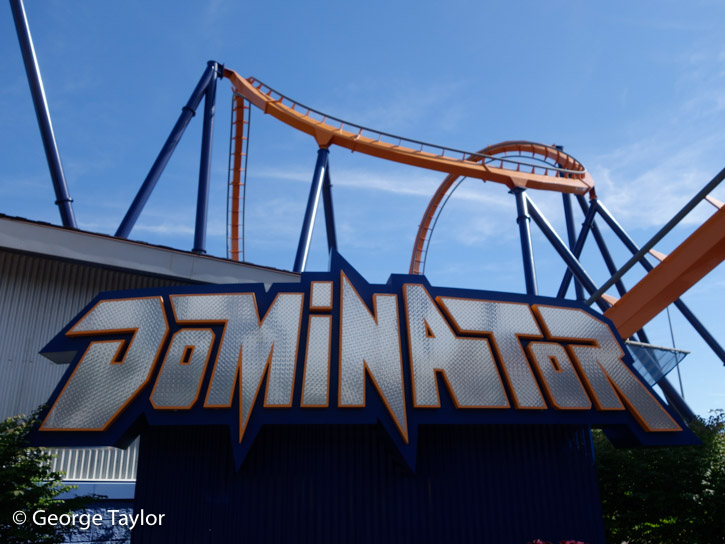 The Dominator was the first ride of the day since it was open before rope drop. It's also one of the closest ones to the park entrance. The Dominator is a Bolliger and Mabillard (B&M) floorless coaster that originally opened at Geauga Lake (now called Wildwater Kingdom in Ohio). It was bought and moved to Kings Dominion in late 2007 and opened in 2008.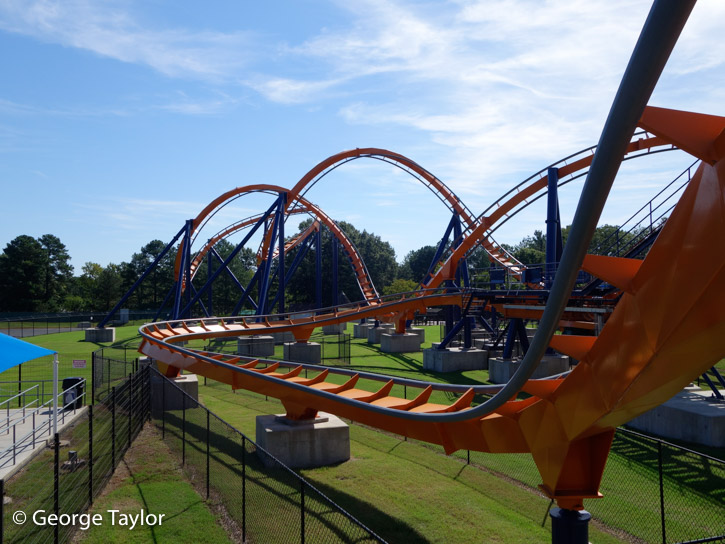 Like most B&M coasters, it is a beautiful sight, with the track looking graceful and belying it's power. It is painted blue and orange with the loop remaining yellow from the Geauga Lake days.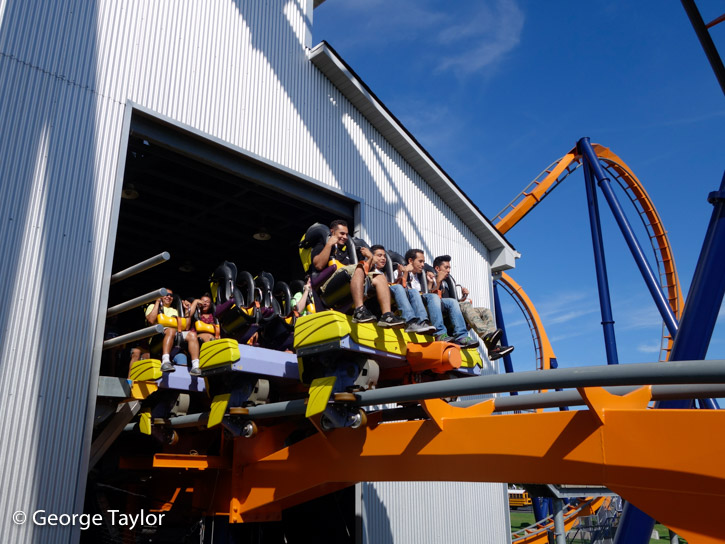 What's special about a floorless coaster is that you can see the track during the ride. It also feels like you're sitting in a seat without  a lot of support.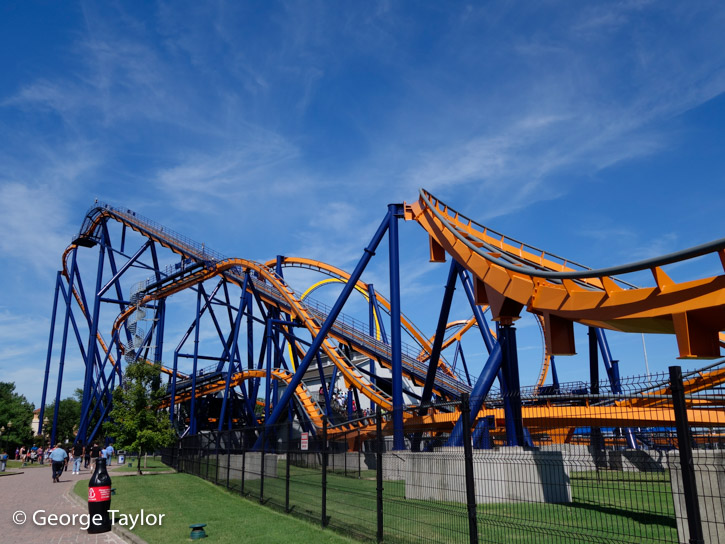 The Dominator is a fantastic roller coaster that is very smooth and very powerful. You can see the evolution of B&M coasters when you compare this with Apollo's Chariot, Intimidator (at Carowinds) and Fury 325. The loop was really well done and is still one of the largest in the world. The Dominator offers cobra rolls, corkscrews and multiple inversions during the two-minute and six-second ride. It's quick loader and can handle  lot of people.
Kings Dominion Roller Coasters: Avalanche
The Avalanche is a bobsled coaster that was opened in 1988. It's near Volcano, but it's almost hidden, so you could miss it. I actually went the wrong way to get to it.
It's the last remaining Mack bobsled coaster in the United States, so I hope it sticks around for a while. It reminded me a lot of the older Matterhorn Bobsled seats. You can sit two people, but I assume it would be pretty tight.
The Avalanche features chutes in which the cars are free, so to speak. It makes the ride incredibly fun and offers some unexpected moments on the coaster. It's hidden to the left of Volcano, so I assume it doesn't see as much ridership. The Avalanche was a complete surprise and I highly recommend you try it on your next trip!
Kings Dominion Roller Coasters: Volcano, the Blast Coaster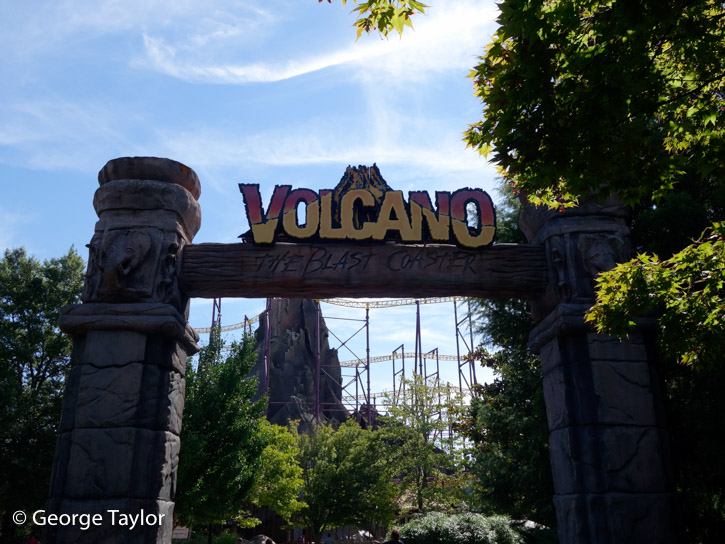 Volcano was another coaster that I didn't know a lot about. Except that I saw the top of the building spew fire as I approached. Volcano is an Intamin inverted coaster and was actually the first inverted to use a linear induction motor. The coaster is barely over a minute and does hit 70MPH.
Volcano has some pretty unique features, like a rollout over the volcano that brings the train upside-down. Yes, an inverted coaster that takes you upside down. It really felt like I was falling out of the seat, against the restraints, when we did the rollout. It was an amazing ride.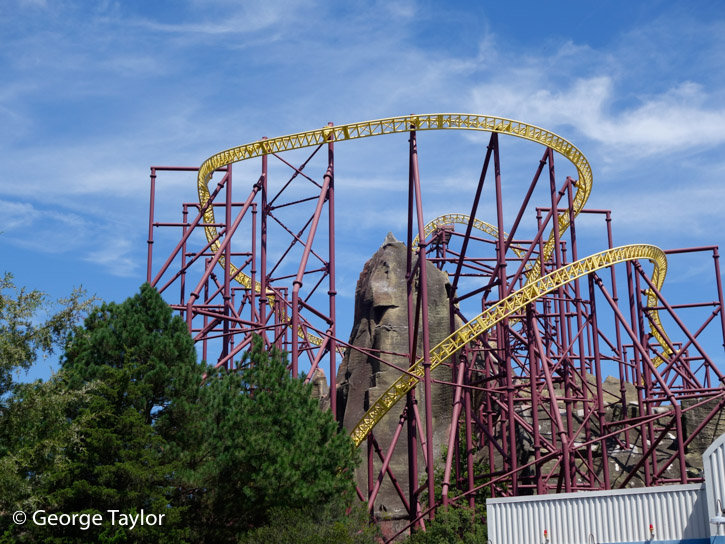 Volcano is supposed to simulate what it's like to be part of a volcanic eruption. The coaster has power, but it never feels overwhelming, like Alpengeist. It's fairly smooth, except for some the side-to-side motions of the corkscrews and rollouts. It was very impressive to find yourself upside-down over the mountain.
Kings Dominion Roller Coasters: Intimidator 305
I rode the Intimidator at Carowinds and really loved the hyper coaster from B&M. The Intimidator at Kings Dominion was a lot faster and felt rougher than its counterpart in Charlotte. It was very powerful and felt less like a giga coaster to me. The Kings Dominion version does boast more tight turns and tight hills, which gives a lot of side-to-side momentum. There were times when I felt like my car went from upright to a sideways position in less than a second. Also, the coaster just felt like it was sitting in the middle of a field and could have used some more theming.
I did feel like I was about to black out after the first lift hill. At first I attributed it to being very hungry, but it looks like this is a problem that happens to riders. I'll ride it again, but I'll make sure that I've had some food first.
Kings Dominion Roller Coasters: Backlot Stunt Coaster
I'd seen a video of this coaster and I was actually excited to try it, since it had a few show elements. Backlot Stunt Coaster is a Premier Rides launch coaster that is based on the Paramount film, The Italian Job. Some of the theming was removed when the park was bought by Cedar Parks.
I wanted to believe it was a family-style coaster, but it's a little too hectic and offers a few helixes and overbanked curves. It's way more challenging than Big Thunder Mountain Railroad.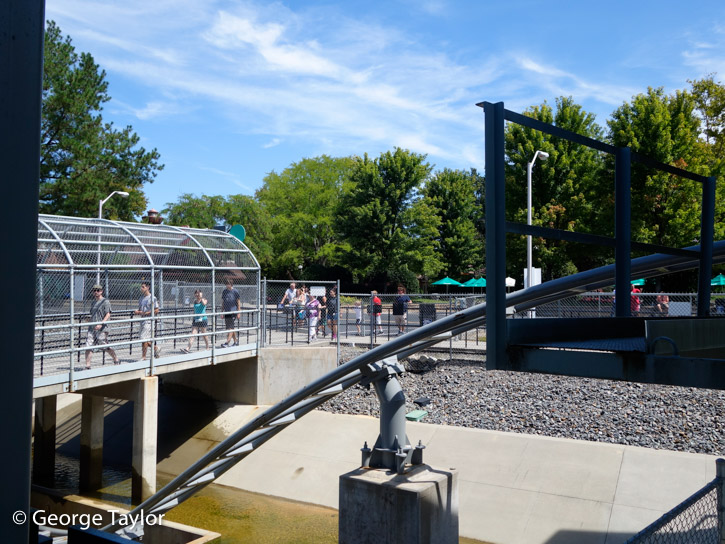 Many of the effects were turned off, which was surprising. It felt like there was no need to keep up with the effects, maybe due to costs. It was an okay coaster but not one that I'll be riding again.
Kings Dominion Roller Coasters: The Hurler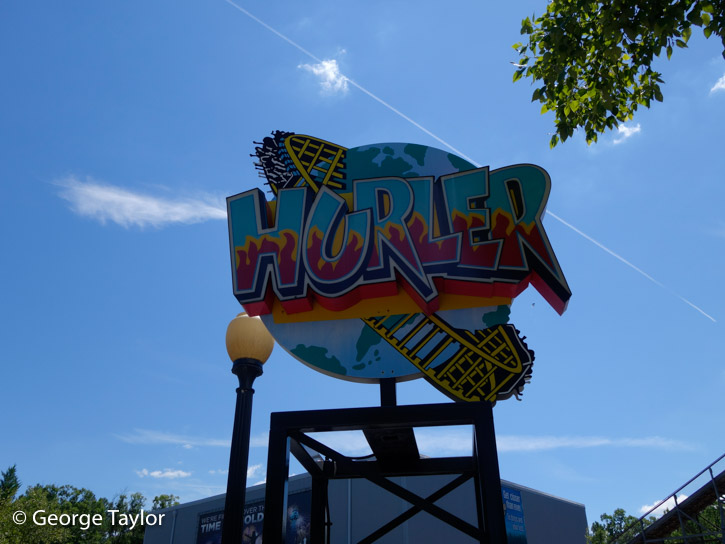 The Hurler was based on the popular Wayne's World film and Saturday Night Live sketch. It was part of a larger land themed to Wayne and Garth's hometown of Aurora, Illinois. When Paramount sold the parks, the theming was changed, but the name remained the same.
I've ridden The Hurler many times at Carowinds and I've always found it to be a lackluster wooden coaster. It's an International Coaster, built in 1994, and both versions are identical. It has extremely small seats and a lot of bounce, which makes it very uncomfortable. It's known for being very jerky and feels like it needs some maintenance. It feels like an old-fashioned wooden coaster that just isn't modern any longer.
It also had the most unnecessary queue in the world.
Kings Dominion Roller Coasters: Rebel Yell
I was very excited to try the Rebel Yell, since it was part of the triumvirate of coasters that included The Racer at Kings Island and Thunder Road at Carowinds. It sports an identical layout as Thunder Road at Carowinds and just like the Carowinds coaster, there was no way to get any good photographs of the coaster, itself.
Just like Thunder Road, The Rebel Yell is really showing its age. It's had some work done over the past five years, but it's still got that rickety feel that most wooden coasters get. After experiencing a handful of top-notch B&M coasters, it's hard to enjoy The Rebel Yell as much. It's got a pretty small footprint and it's in a weird location, so it might be safe for a while. I still liked it, but hoped for a smoother ride and better seats.
Kings Dominion Roller Coasters: Grizzly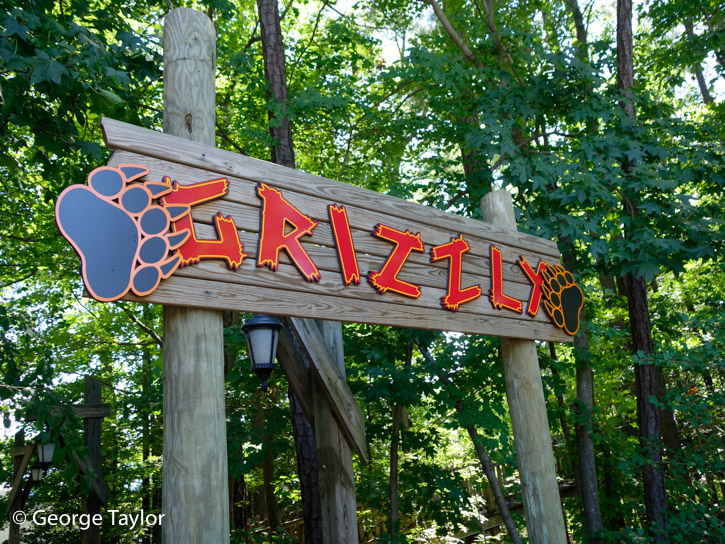 The Grizzly was the last coaster for the day. I'm still waiting for the perfect wooden roller coaster and I keep hearing the The Beast is the most impressive. My favorite is still Thunder Head at Dollywood. Sadly, The Grizzly just felt a little too old-fashioned and jerky, especially to someone used to the more modern coasters.
The Grizzly was another coaster that was practically hidden from view and I walked by the sign pointing to it three times (you go through the Dinosaurs Alive gift shop to get to it). The queue was very small, much like the cars of the coaster. By small, I really meant the width of the queue. It was not very accessible.
Still, The Grizzly is an example of why Kings Dominion, like Dollywood and Busch Gardens Williamsburg, is such a beautiful park: the trees that hide and shelter the coaster are pretty amazing.
Kings Dominion Roller Coasters: Anaconda, Flight of Fear, Ricochet and Shockwave
Sadly, Shockwave closed on August 9, so I missed the chance to add it to my list. As far as Anaconda, Flight of Fear and Shockwave, well, I was warned by several people that they're just not great experiences. I've had plenty of people tell me that Anaconda, an Arrow looper, would hurt me more than thrill me. I take certain people's advice under consideration when it comes to coasters. I've ridden Ricochet at Carowinds and I just wasn't up for a wild mouse coaster after riding The Hurler.
Kings Dominion Roller Coasters: Final Thoughts!
By far, my favorite coaster at King's Dominion was Dominator, followed by Volcano, The Blast Coaster and Avalanche.
The Dominator is a prime example of why B&M is the premiere coaster manufacturer. It's smooth, yet still retains so much power. The loop is an experience and not a painful one. It's also a beautiful site from anywhere you catch a glimpse of it.
Volcano, The Blast Coaster is such a fun ride and a surprise. Especially with two hidden launches. It offered some experiences that I'd not run across before and I'll definitely wait in line for it again.
The Avalanche was such a fun and exhilarating experience. It's such a non-traditional coaster and I spent as much time laughing as screaming. It doesn't go too fast or go very high, but it feels like it's fast and just a bit reckless. I loved it!
What are your favorite Kings Dominion Roller Coasters? Which one do you never miss and which one do you always avoid?