Fury 325 Wins Best New Ride
Fury 325 is one of the best roller coasters that I've ever ridden!
Carowinds won its first ever Golden Ticket award for the groundbreaking giga-coaster designed by Bolliger & Mabillard (B&M). I've ridden my share of B&M coasters this summer and B&M coasters are all in my top ten. Fury325 has a speed that's unparalleled and makes it truly stand out from all other coasters, even other B&M designed coasters.
CAROWINDS BRINGS HOME FIRST-EVER GOLDEN TICKET AWARD IN NYC
#Fury325 Winner of "Best New Ride for 2015"
CHARLOTTE, N.C. – For the first time in park history, Amusement Today readers awarded Carowinds with the prestigious Golden Ticket Award for Best New Ride in the world for Fury 325 as part of its 2015 Golden Ticket Awards ceremony held in New York City on Saturday.
Additionally, Carowinds was the only park in the world to have two of its rides (Fury 325 at #4 and Intimidator™ at #7) ranked in the top 10 Best Steel Roller Coasters of 2015. Fury 325 had the highest debut of any coaster in nine years on this annual ranking.
"It's both a privilege and honor to receive this well respected award for Best New Ride," said Mike Fehnel, vice president and general manager of Carowinds.  "It's the first time in Carowinds history we've been recognized with a Golden Ticket Award by Amusement Today. Fury 325 is a signature coaster that will forever define the skyline at Carowinds, and our team is very proud of what we have achieved together this season."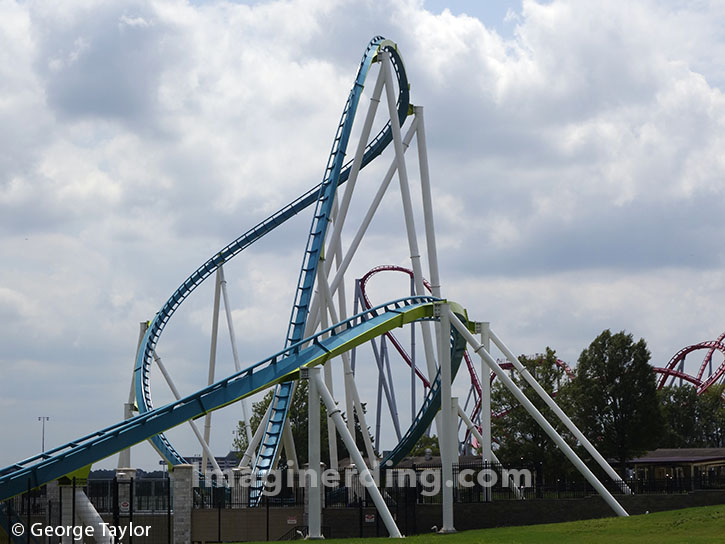 Fury 325 has given more than 1.5 million rides since its debut in March. It stands 325-feet tall – 20-feet higher than the Statue of Liberty – and drops riders down an 81-degree plunge at speeds up to 95 mph. The ride has been spotlighted by Condé Nast Traveler, it's been on the front page of the Wall Street Journal and it spurred Businessweek to feature a multimedia view of "How to Design a Roller Coaster That'll Make You Beg for Mercy."
Nearly 400 people attended the Golden Ticket Awards Ceremony on Saturday evening at Gargiulo's Restaurant and Banquet Center at Luna Park in Coney Island. These awards annually honor the "Best of the Best" in the amusement industry and are calculated from an international poll of park enthusiasts, conducted by Amusement Today, a respected industry trade publication. A list of all the Golden Ticket Award winners can be found at www.amusementtoday.com.
Have you had the chance to experience Fury 325? What do you think about Fury 325 winning best new ride?