Roland Mack: The King of Fun, a book review
Back in November, 2015, I had the opportunity to ride the VR Coaster at Funspot during IAAPA. (By the way, virtual reality is going to completely revolutionize the coaster industry.) The VR Coaster is a project of Mack Rides,which is owned by the Mack Family. They also own Europa Park, the largest theme park in Germany and the second largest in Europe, only behind Disneyland Paris. My post about the VR Coaster made it over to Mack and one of the company representatives reached out to me. After perusing ImagiNERDing, he offered to send me some company information that would fit my interests. I was thrilled when a book showed up!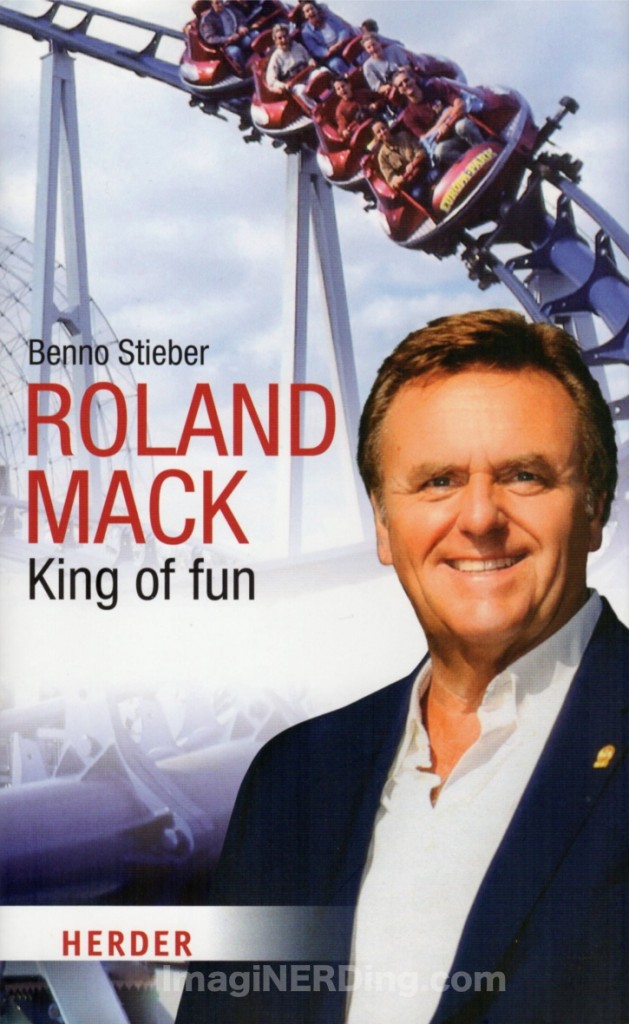 Roland Mack: King of Fun by Benno Stieber was originally published in German and this is an English translation, which is the only negative thing I can say about it. Occasionally, you'll run into an oddly phrased sentence. Still, if you're interested in the theme park business or in the development of Mack, then you need to grab a copy of this book.
The book intertwines the history of Roland Mack, his family, the Mack family business and Europa Park.
Fans of Disneyland and Walt Disney will also find a lot to like in this book. Although the Mack family has an industrial background, there are many similarities between Disney and the Macks. Franz Mack, Roland's father, was very much in control of the family business and his almost singular vision led the family to its successes. You always understood that Franz, and then Roland, was the head of the family, but everyone in the family was able to weigh in on decisions. Franz might have had the final say, but he listened.
The Mack family business goes back to the 1780s, when they started building carriages and stagecoaches. Eventually, they started building caravans for traveling showmen and wagons for organs. They built their first coaster in 1921 and their first car ride in 1936. They began exporting rides to America in 1952 after building their first bobsled ride in 1951. Kings Dominion still operates a Mack bobsled, the Avalanche. It's an incredibly fun coaster!
In 1972, Franz and Roland toured the US and visited a lot of theme parks. Franz really wanted to develop a theme park and wanted it to be able to support and show off Mack rides. Just like Disneyland, it took a lot of personal and family financing to get Europa Park opened. One anecdote was that Franz never forgot the bankers that turned him down and they were never invited to participate later, once Europa Park was successful.
The book does delve fairly deep into the family relationships, especially with how decisions were made and how each member of the family really worked hard to make the park successful. At times, the family members were taking tickets and park maintenance. We read a lot about how Europa Park faced challenges and how the Mack family rose to meet them. It's hard to express how hard the family worked to make the park extremely successful.
As we travel through the book, we see how Roland Mack and Europa Park are truly intertwined. Roland was always looking for ways to keep the park vibrant while keeping its historical roots. When steel became the expectation for coasters, they contracted with Bolliger and Mabillard to bring the Silver Star hypercoaster to the park, one of the few non-Mack rides there. They added hotels, despite concern that they would be empty in the off-season. The Macks found that they could offer seasonal events and fill the hotels with conventions.
As I read the book, I was surprised at how similar Europa Park was to Disneyland. Some of the success was based on Disneyland's success, but much of it was just the forward-thinking nature of Roland Mack and the Mack family. There are many anecdotes in the book that offer insight into running a modern theme park. anyone with a vested interest in theme parks and rides will find this a very intriguing and inspiring read.
Were you familiar with Roland Mack? Do you have a favorite Mack ride?