Jungle Cruise Crews: Join the Pach!
For our second look at the Jungle Cruise Crews, we are going check out The Pach!
The first door celebrated The Banana Troop, which clearly looked at the funnier side of the Jungle Skippers. The next door is a tribute to The Pach and features some books, photos, and mathematical formulas.
Knowledge Is An Adventure!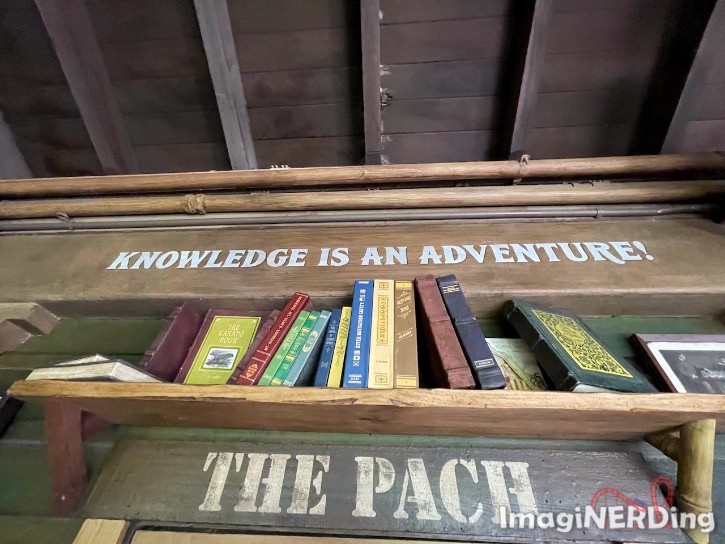 Written above the bookshelf abode The PACH door is the phrase, "Knowledge is an Adventure!" At ImagiNERDing, we  agree.
There are a handful of books, and knowing that the Imagineers like to craft hidden details, we need to look closer at the titles.
The Kakapo Book by K. Lively (obviously a reference to Kevin Lively). The kakapo is a flightless parrot.
My Interests Happily Lay Elsewhere MacGregor Houghton (a character from the 2021 live-action Jungle Cruise film)
Edible Fungi of the Amazon by J Albertson (could this be Jennifer Albertson at Imagineering?)
Stumped – Lessons from Trees by Professor K. Thomas (Kevin Thomas at Imagineering?)
A Self Portrait  by Sanchez (could this be Andrew Sanchez at Imagineering?)
The Math of Liquid Space by Dr. Durham (a reference to the Submarine Voyage)
Your Guide to Indian Culture by Kapur (a reference to Raakhi Sinha Kapur at Imagineering)
River Navigation Safety by Beiler (Matt Beiler is a producer at Imagineering)
The Pach Jungle Cruise Crew Poster and Photos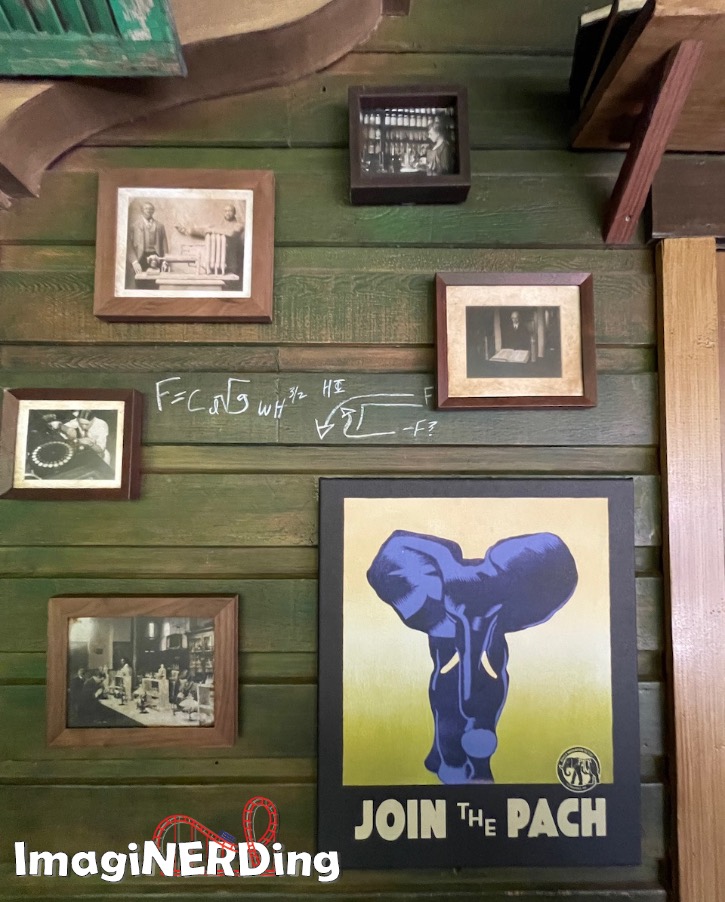 To the left of the door is a poster stating "Join the Pach" with an elephant as the logo, and several framed, black and white photos. The logo for The Pach is a smiling pachyderm and states: Jungle Navigation Co. LTD. Established 1911."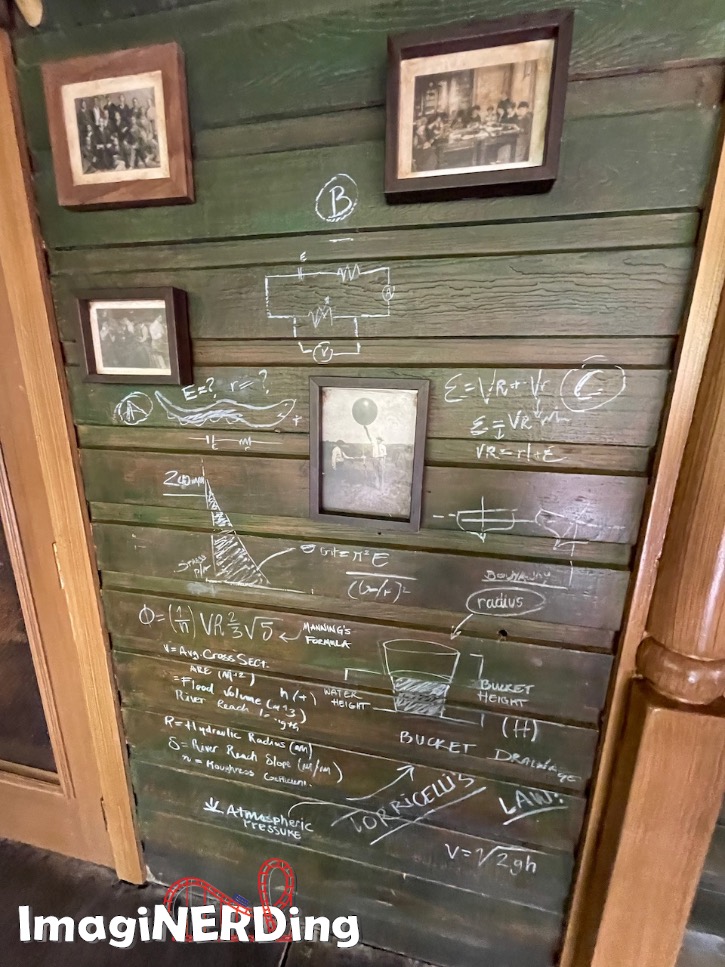 The new section has a plethora of mathematical formulas and the phrase Torricelli's Law, which is a reference to a theorem about fluid dynamics about water flow. Any explanation beyond that is more than I can understand, but kudos to the Imagineers for the reference!
The section also references Manning's Formula, which is an empirical formula estimating the average velocity of a liquid flowing in a conduit that does not completely enclose the liquid, i.e., open channel flow. This makes more sense to me, since the rivers of the Jungle Cruise could be considered like an open conduit.
Have You Seen These Tributes in the Jungle Cruise Queue?
---