Imagineering an American Dreamscape by Barry R. Hill, a Book Review
The history of Disney Parks and larger regional amusement parks, like Cedar Point and Six Flags, have been well-documented. But what about the other theme parks? The ones that helped usher in the idea of themed entertainment or were part of the 1970s amusement/theme park revival? How does the growth of regional theme parks fit into the landscape of the history of theme and amusement parks? With Imagineering an American Dreamscape: Genesis, Evolution and Redemption of the Regional Theme Park, author Barry Hill shares a well-written and well-presented history of America's theme parks. One that is sure to intrigue and take you on a wonderful stroll down memory lane of your favorite local park. Or parks.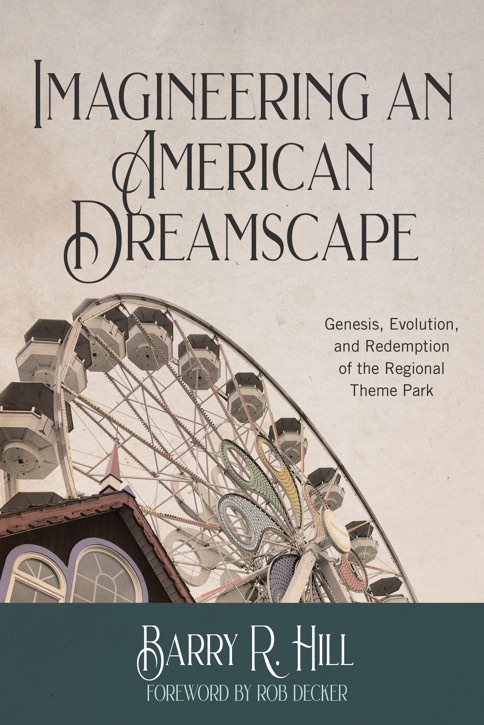 Why Do You Need to Read This Book?
Contrary to popular belief, theme parks didn't start with Disneyland in 1955. The term theme park was born with the opening of Walt's nascent park, but the idea of theme parks had existed in a few parks prior to Walt's creation. Barry wastes no time jumping into the history of parks by exploring pre-Disneyland, Walt's influences, and, then, the major players, like Angus Wynne, Busch, Randall Duell, and so many others.
I've been a Disney park fan for most of my life and a self-styled Disney historian since the mid-1990s. After being on an award-winning podcast for years and writing weekly histories of Disney, I started to wonder how we got to Disneyland and Walt Disney World. What about other world-class parks like Universal and Busch Gardens Tampa? Where did they start and how did parks change over the years?
And why do so many people know so little about theme park history?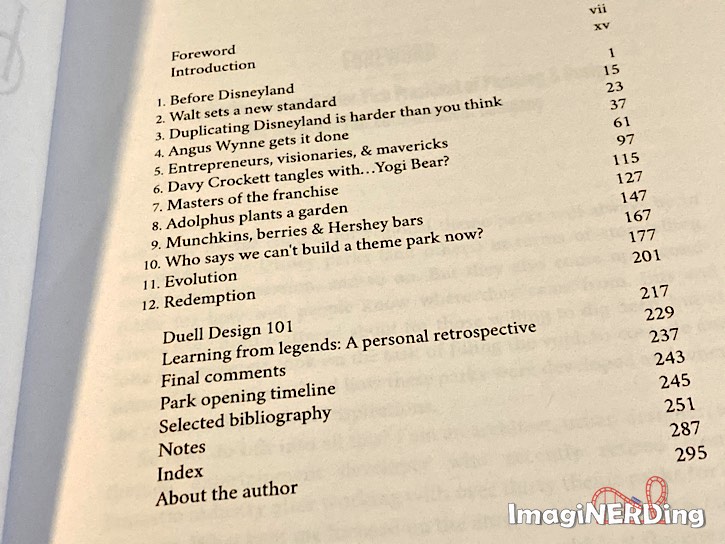 If you've ever visited a Six Flags park, Cedar Point, Kings Island, Holiday World, Great America, Hersheypark…or so many others, then this book is a treat. Barry takes the history of theme parks seriously and offers a condensed story of how the parks came to be, evolved, survived, and, in some cases, quietly slipped away.
If anything, this book will afford Disney fans the opportunity to broaden their perspectives and understand the larger tapestry of theme parks that exist outside of Disney and Universal. For most of the parks presented, Barry takes us back in time to wander the opening season of the park to look at the design and early attractions. It really is a stroll down memory lane.
What's Inside Imagineering an American Dreamscape?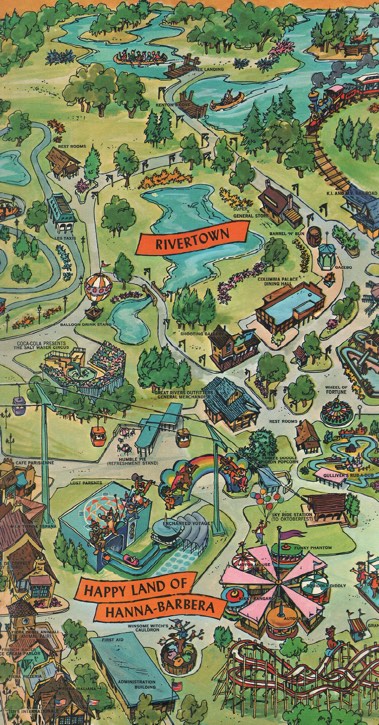 Barry ruminates on the successes and failures of so many parks and the forces behind the parks. When Barry talks about Carowinds (Charlotte, NC), he shares the inside story of E. Pat Hall, the Charlotte-area business man who planned to bring a Disneyland-style resort to the booming city. Massive plans included a short-lived monorail and hotels. The looming energy crisis changed everything, as it did with Taft, Marriott, and other regional parks. Some survived, some were bought out, and some just languished.
Obviously, Barry can't cover every park, but he does share the ones that influenced the themed industry more than others. My only complaint about the book relates to the lack of maps and photographs to illustrate the work. Barry addresses this in the book by directing readers to his website: Rivershore Creative.
Randall Duell and the Duell Loop: the Ultimate Theme Park Designer
We also get an inside look at some of the most important people in the theme park industry. Barry spends pages discussing Randall Duell, the architect responsible for the modern theme park. Duell was able to take the successes of Disneyland and translate them into early Six Flags parks. He became the most in-demand designer and is responsible for being able to integrate thoughtful design, architecture, and theming.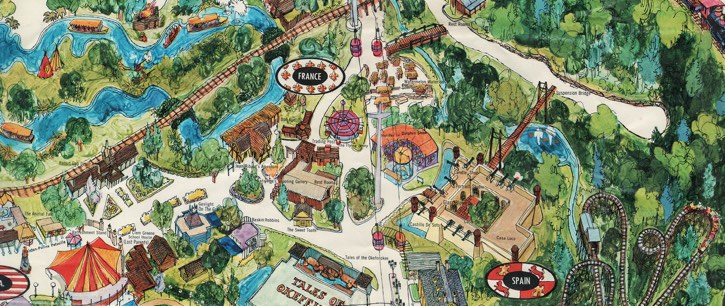 After the main sections of the book, Barry introduces us to Mel McGowan and Rick Bastrup. Both are McGowan is Co-Founder and Chief Creative Officer of Storyland Studios; Bastrup is President and Head Designer of R&R Creative Amusement Designs. Both offer salient chapters on Duell and other theme park design legends. McGowan and Bastrup share the stories as fans and industry insiders.
In all honesty, Imagineering an American Dreamscape is almost the story of Randall Duell. The warp and weft of the theme park industry is ingrained with so many of Duell's deft touches and ideas. I'm so glad Barry presented the book in this way.
So, yes, you should grab this book. And, yes, you will enjoy it. Barry has written a work on a staggering subject and he has distilled it to the most important concepts and people. You will learn something from Barry's work, regardless of your prior theme park experiences.
What is your favorite regional park? Mine is Kings Island.
---
FTC Disclosure:
 A copy was provided by the author for the purpose of this review. This post contains affiliate links, which means that ImagiNERDing receives a percentage of sales purchased through links on this site. Thank you for your support!