Waldameer Park, a Visit
Waldameer Park, located in Erie, Pennsylvania , opened in 1896 and is the tenth oldest amusement park in the United States. It was the middle leg of my Kennywood – Waldameer – Cedar Point trip and I was looking forward to experiencing this historic and unique park.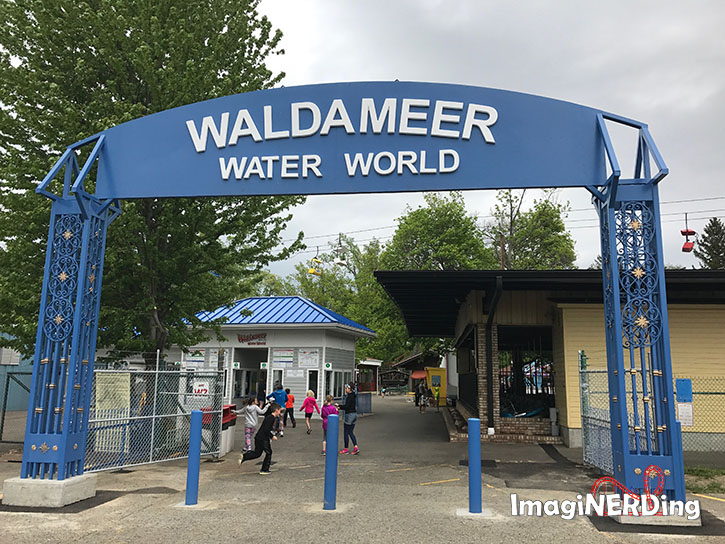 Waldameer offers free parking and free admission; you pay for each ride separately.  As of this writing, you can buy an unlimited daily pass for $36.00. Waldameer does not accept cash inside the park and you can only use a credit card to pay for food and souvenirs. Everything else requires a wristband or the Wally Card.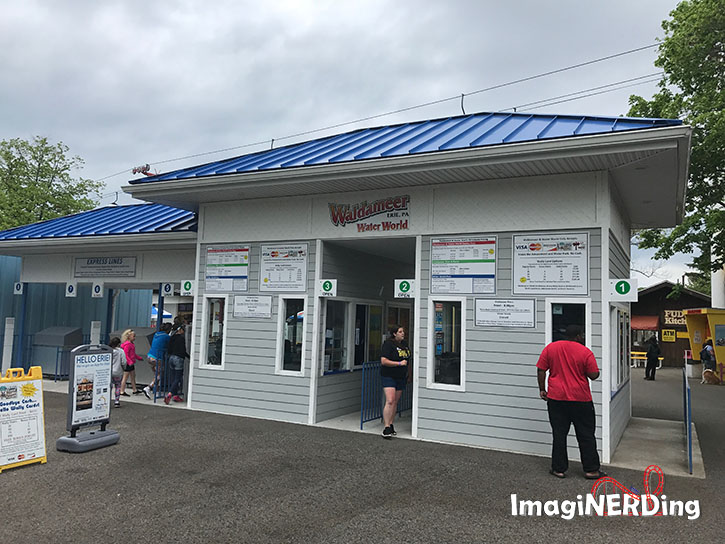 There are booths all over the park that will allow you to buy a Wally Card or add value to one. Each Wally Point is equivalent to one dollar, which makes the transactions simple. With each ride costing 1.5, 3.0 or 4.5 Wally Points, it's fairly simple. Basically, one ride on the Ravine Flyer II is going to coast $4.50, unless you buy the all-day wristband. I'm  an ACE Member (American Coaster Enthusiasts) and there is a special discount on the all day wristband for ACE Members.
There are currently 33 attractions in the park (including the water park) with enough variety for everyone in the group. My goal, of course , was to wrangle the three coaster credits for Ravine Flyer II, Steel Dragon and the Comet. I also wanted to experience a few of the unique attractions.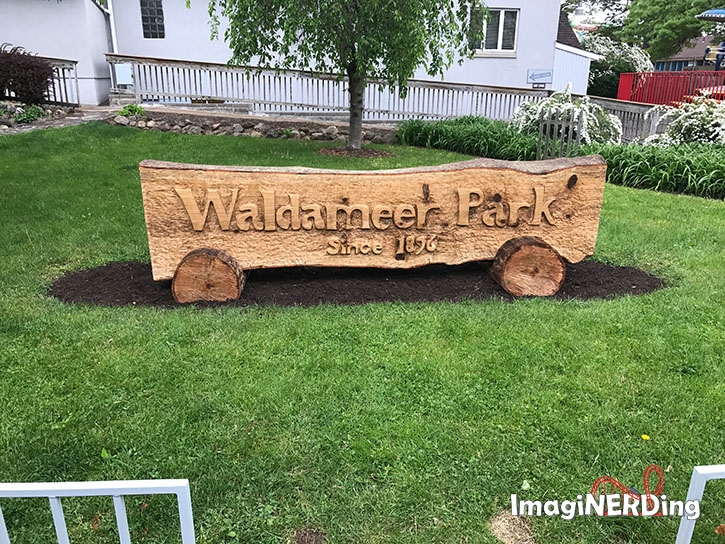 Based on Waldameer's history, I was excited to experience the entire park. Sadly, my visit was fairly rainy, but I was still able to experience most everything. After quickly orienting myself, I headed to Ravine Flyer II, the park's signature and very famous coaster.
Waldameer Park: The Ravine Flyer II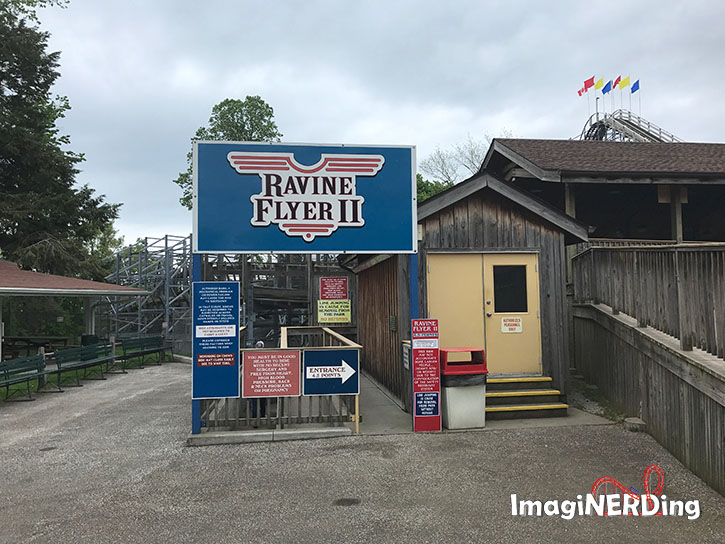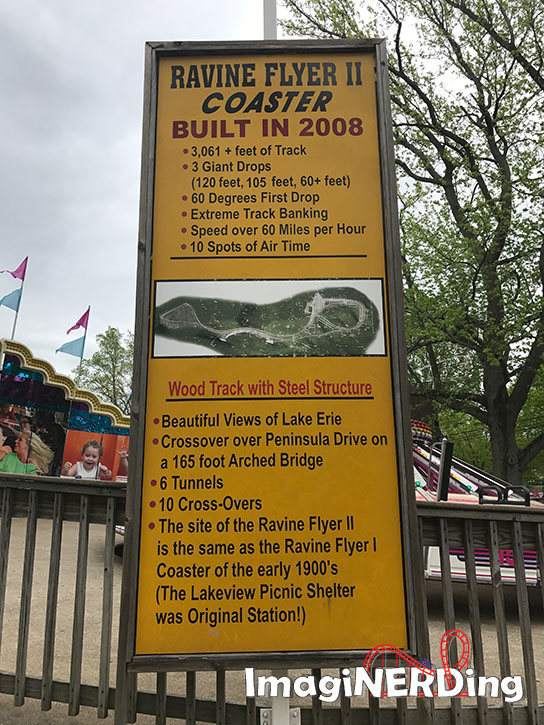 Ravine Flyer II has a history that is directly connected to the original Ravine Flyer, which had crossed Peninsula Drive. Sadly, a teenager fell from a stopped train in 1938 and was killed. Reports stated that the wooden track had been damaged from the heavy rains and the wheels had become stuck. The young man was standing up to make sure another train wasn't coming when the train he was on moved and he fell. The Ravine Flyer operated from 1921-1938 (check out this article about it, here).
Still, the Ravine Flyer II, which opened in 2008 and was completed by The Gravity Group, is a stunning coaster that's a lot of fun and offers several surprise elements. It's definitely worth the $4.50 and worth the trip to Waldameer, alone. There are plenty of other great attractions at the park, too.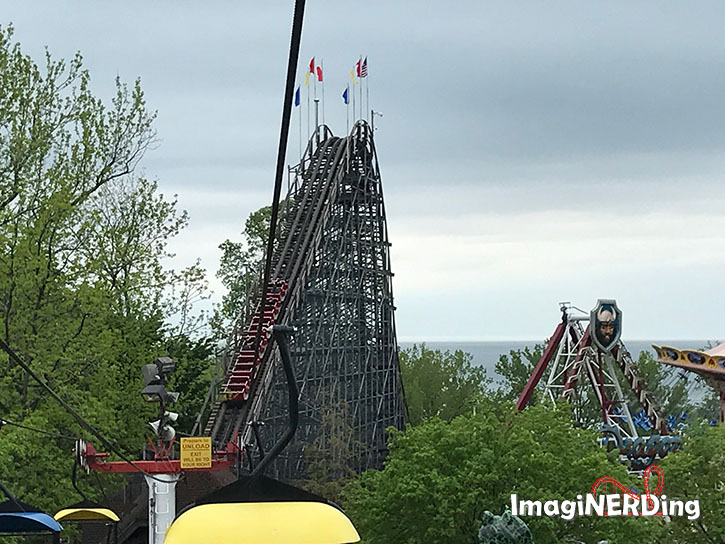 Waldameer Park: Steel Dragon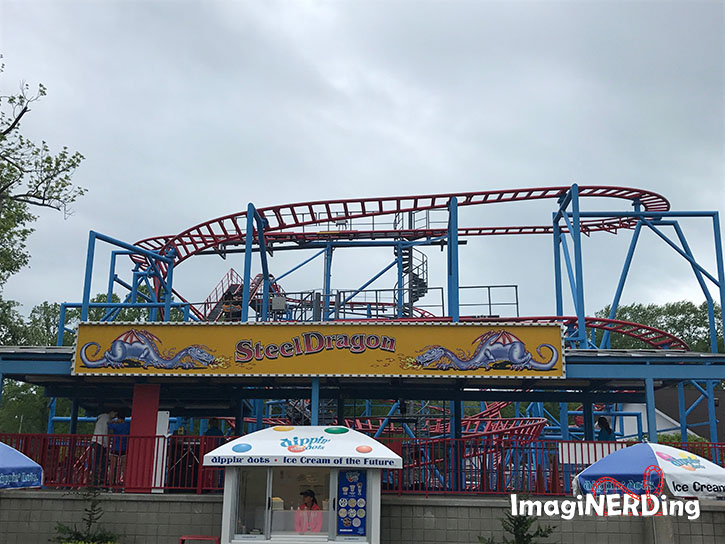 Steel Dragon is a spinning coaster that was built by Maurer Söhne in 2004. The track layout is similar to a crazy mouse coaster, like Exterminator at Kennywood and Primeval Whirl at Disney's Animal Kingdom. It was a lot of fun and more enjoyable on the second ride, once I was more familiar with the layout. Each car hold four people, who ride back-to back. Theoretically, it's a different ride each time.
Waldameer Park: The Comet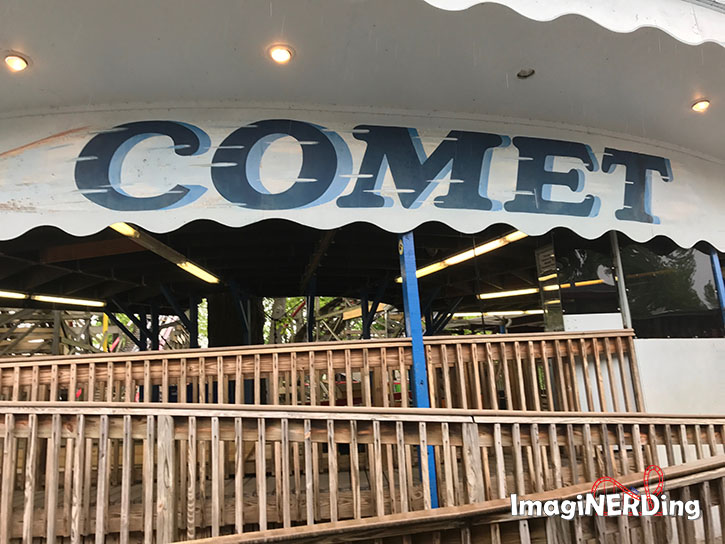 The Comet was built in 1951 by the Philadelphia Toboggan Company. It was designed by Herbert Schmeck. Unfortunately, the coaster was getting some refurbishments and wasn't operating.
It's a great looking coaster and I can see how it was the centerpiece of the park for many years. Especially if you could rent one of the picnic pavilions right next to it.
Waldameer Park: The Whacky Shack
I was not prepared for how amazing the Whacky Shack was going to be.
The Whacky Shack is a wonderful Bill Tracey designed dark ride. It was built in 1970-1971 and is a shining example of the evolution of dark rides from the Laff in the Darks to the more modern Disney dark rides.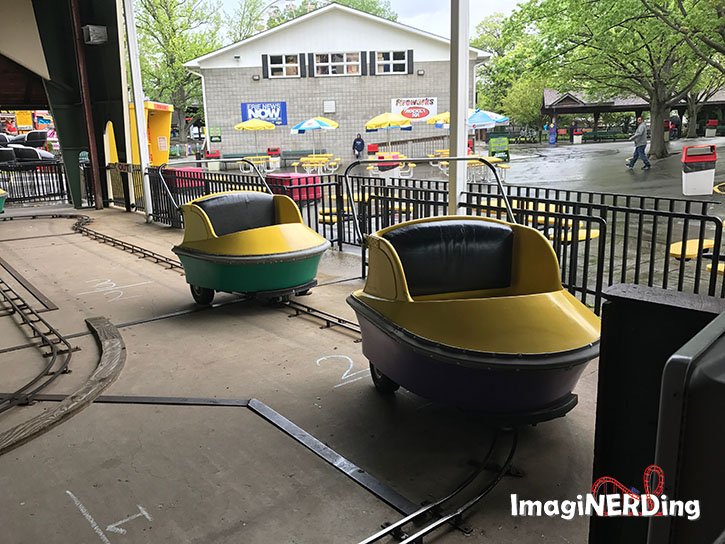 You do ride in in vehicles that travel along a track as you pass by various stunts. Some things do jump out at you, but most of the stunts are static. I loved it from the first few moments and enjoyed my second ride, as well. Along with Ravine Flyer II, the Whacky Shack is a must do!
Check this POV video of the Whacky Shack:
Waldameer Park: Pirate's Cove
Pirate's Cove is a Bill Tracey walk-through funhouse. Similar to the ones that you see at state fairs and traveling carnivals. It's only one of three left in the United States. It was fun and terrifying at the same time. The terrifying moments for me all came at the expense of my senses. The rooms that seemed crooked, the barrel mazes and the deceptively simple dark maze. I will gladly admit that I yelped quite a few times and I can see how these attractions were so popular. It was exhilarating to walk through it.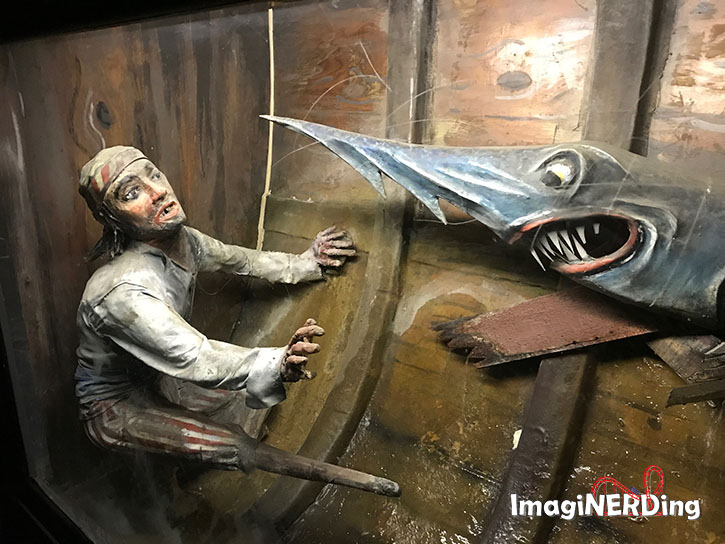 I'm always thrilled to run across attractions that showcase the changes and evolution of theme parks. Waldameer offers some wonderful attractions that can only be found at a smaller park.
Waldameer Park: The Rest of the Park
There are a lot of other attractions that deserve attention at Waldameer, as well.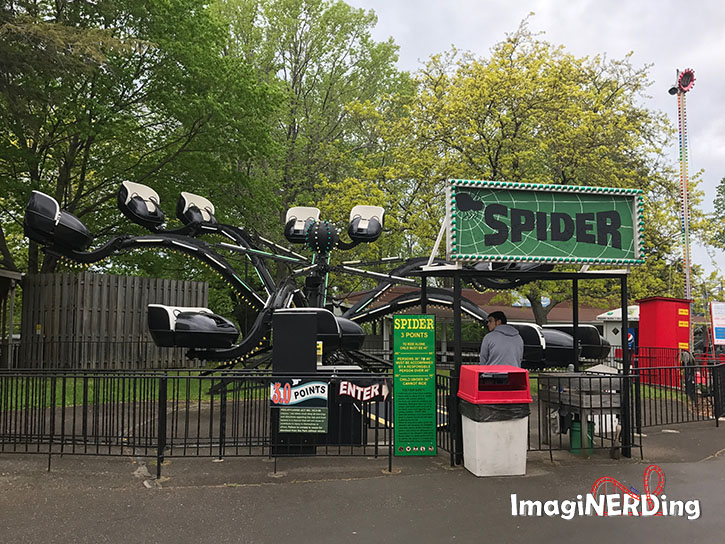 The Park offers several flat rides, including the Spider (one of my childhood favorites), a Music Express, Dodg'ems, Tilt-a-Whirl and more. You need to take the Sky Ride (3 Wally Points) to get a great over view of the park.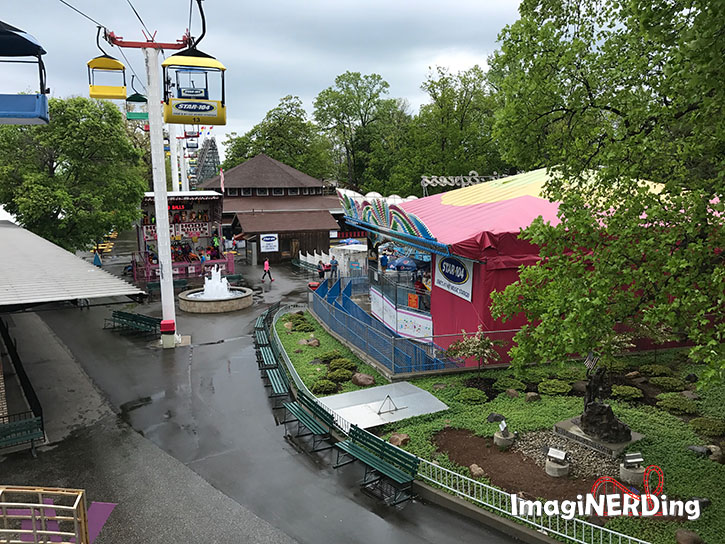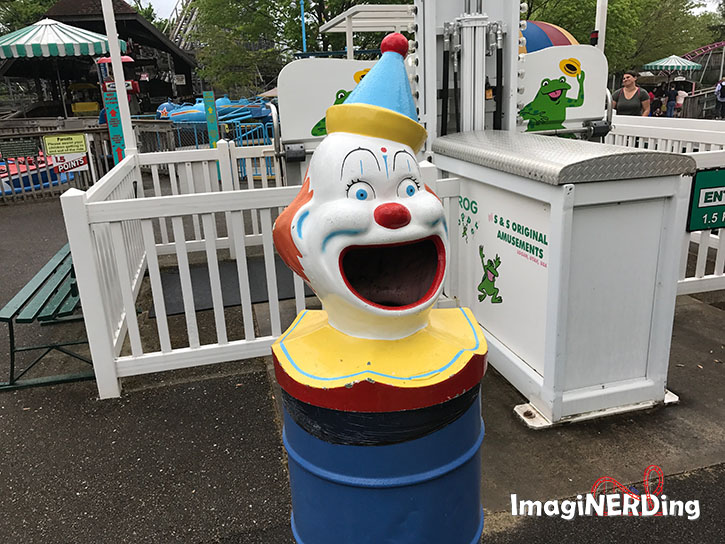 Yes, they did have a scary clown trash can. But Waldameer is a beautiful park with lots of trees and landscaping.
There are also sculptures scattered all of the park of children playing.
I highly recommend a visit to Waldameer if you find yourself in Northern Pennsylvania. You can do the park in just a few hours, but it does offer some experiences that you won't find elsewhere.
Have you had a chance to visit Waldameer Park?