Waldameer Roller Coasters
Waldameer Park and Water World in Erie, Pennsylvania, offers three roller coasters and some not-to-be-missed attractions (check out my article on Waldameer and the Whacky Shack). The roller coaster enthusiast needs to make a trip to Waldameer to experience the historic Comet and the Ravine Flyer II. But Waldameer is a charming and fun amusement park located on the shores of Lake Erie.
Check out my YouTube video on the roller coasters of Waldameer Park and Water World:
Waldameer roller coasters:
The Comet (1951) – wooden
Steel Dragon (2004) – steel
Ravine Flyer II (2008) – wooden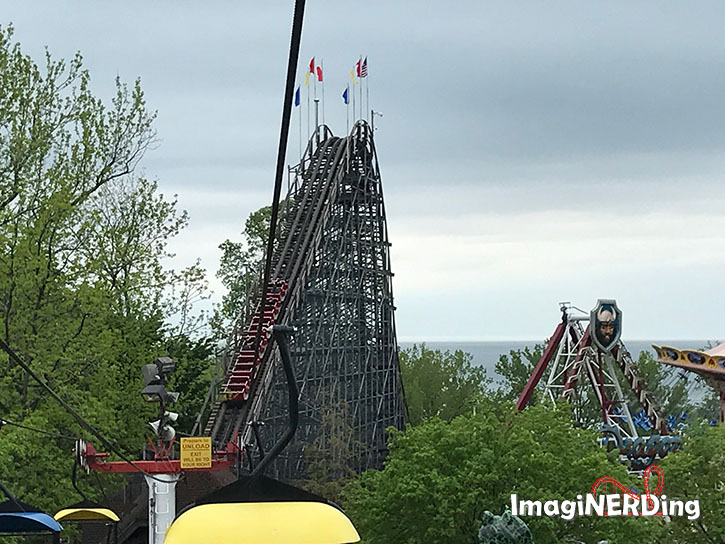 The Ravine Flyer II is a spectacular wooden coaster built by the Gravity Group. It has a connection to the original Ravine Flyer that I share in the video. Since there's not an admission fee to Waldameer, you pay for each ride. The cost of a ride on Ravine Flyer II is $4.50 (at the time of this writing), which is a great deal for such an amazing roller coaster.
I didn't get a chance to ride the Comet since it was having some work done on it. But it is a classic 1951 Herbert Paul Schmeck coaster, so it's going to offer a rumbly and fierce wooden coaster experience. And I do love the red of the railings.
Beyond the roller coasters, there are several classic attractions and a very large water park. Ravine Flyer II, the Whacky Shack and Pirate's Cove are all great reasons to make the pilgrimage to Waldameer. Plus, they let you bring a leashed dog into the park! (But they can't ride the coasters.)
Have you had a chance to experience  the Waldameer Roller Coasters? Which one is your favorite?