Treehouse Villas Open for Leasing!
The Treehouse Villas weren't always a Disney Vacation Club property. Originally, the 1973 plans for the Lake Buena Vista Community called for a residential development with four different community themes based on golf, tennis, boating and western (equestrian) activities. A lot of construction took place in 1974 that included 133 townhomes and 4 model homes. The following year, Disney announced a retirement community, additional townhomes and residential apartments for Lake Buena Vista. The 60 Treehouse homes (now called treehouse villas) were finished by 1975.
As the EPCOT Center plan changed in the mid-1970s, so did the idea for the residential community of Lake Buena Vista. In this article from the September 1975 WDW News, we see that the focus of the Treehouse Villas changed, as well. The images are from a 1970s brochure about the Treehouse villas. The Treehouse Villas must've been difficult to photograph since there aren't many great photos out there. A few of these images are amazing.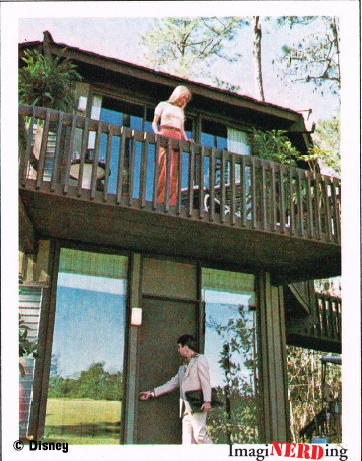 Villas Open For Leasing by Craig Murray

"Imagine entertaining clients and friends in a treehouse located in the Walt Disney World® Host Community of Lake Buena Vista."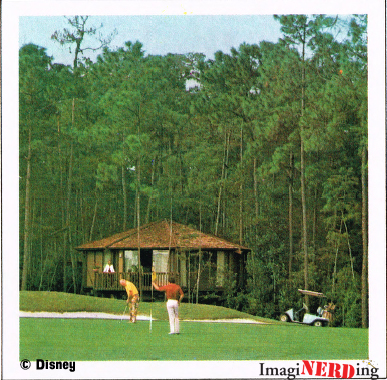 So said Dan W. Darrow, manager of sales and marketing for Lake Buena Vista, commenting on the new Lake Buena Vista corporate programs.
Executive retreats, customer motivation plans, board meetings, and incentive packages are a few of the corporate programs made possible by the Lake Buena Vista Treehouse (treehouse villas) and Townhouse Villas.
"Clients would be impressed by Staying in a Treehouse that overlooks a fairway" said Darrow. "And employees "would work harder if they could win a week's stay in a Townhouse."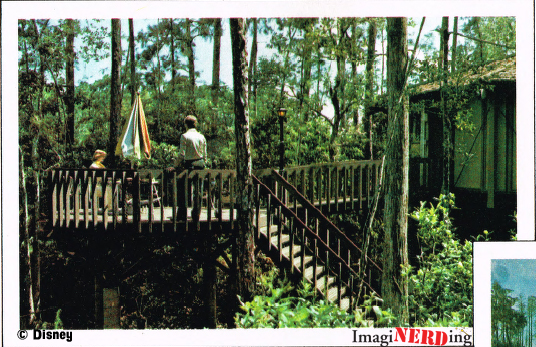 The Treehouse villas remarkable fairway or waterway views come from an Octagonal main living area that is hoisted high into the trees by a 10-footdiameter base.
---
Lake Buena Vista Community, The Original EPCOT Center Video
---
Inside the Treehouse Villas
A double set of cedar stairs leads to the "front" door some 10 feet above ground level. Inside the octagonal Treehouse, a kitchen, living room, two bedrooms and a bath are cozily situated.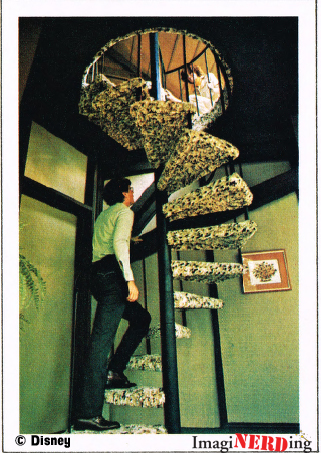 From the top level, guests may exit through a sliding glass door that opens to a balcony; or they may climb down a winding narrow staircase leading to the family room and an adjoining golf cart parking space on the ground level.
While the Treehouse villas are most popular with couples, the Townhouses are often inhabited by families and business "teams", according to Darrow.

"No doubt about it, the spacious one-, two-, and three-bedroom Townhouses are ideal for hosting client receptions, business discussions, or cocktail parties with friends," he said.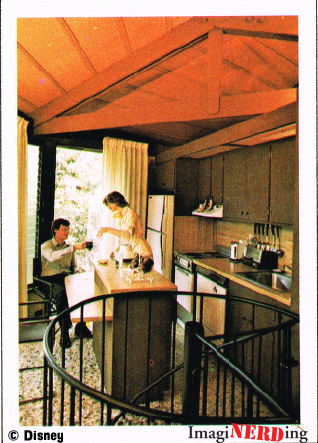 Each of the Townhouse villas and Treehouse villas comes with kitchen appliances. Also included are kitchen utensils, dishes, central air conditioning, shag carpeting, and outdoor patios with furniture.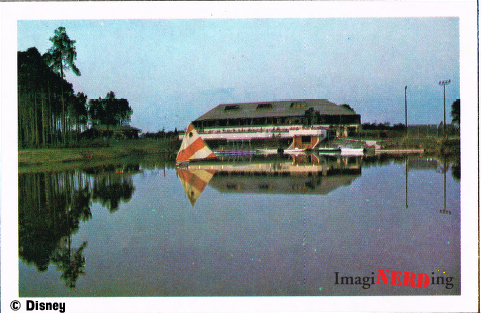 The Treehouse Villas are not all the Lake Buena Vista corporate program has to offer. The Lake Buena Vista Club has meeting and banquet facilities, plus a staff of business coordinators.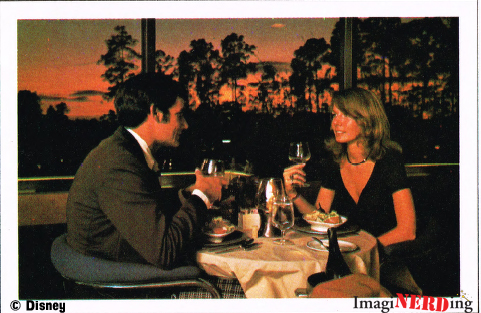 The Lake Buena Vista Hotel Plaza hosts many conventions, and its nightclubs are popular evening retreats for many Walt Disney World® guests.

For gifts, meals or relaxation, the Lake Buena Vista Shopping Village is a common destination for guests of all ages.
Says Darrow: "We feel we've put it all together—luxurious and unique accommodations, golf, tennis, swimming, a country club, four hotels and our incredible Shopping Village. Plus, we have beautifully landscaped grounds and the famous Disney hospitality. Then, to top it all off, we've got a Magic Kingdom in our backyard".
Today, the Treehouse Villas are part of Disney Vacation Club property at Saratoga Springs and remain a popular place to stay and play.
Did you ever get the chance to stay in one of the 
Treehouse

 

Villas

 before their 1987 redo? Do you have any great stories or photos to share?
---
Looking for a great book on the first few years of the Magic Kingdom and Walt Disney World? Check out the Story of Walt Disney World: Commemorative Edition.