The Dark Side of Disney by Leonard Kinsey, a book review
I review one of the more risque travel guides to Walt Disney World. Is this book for you? Read on to find out more.
---
The Dark Side of Disney by Leonard Kinsey. 2011. 158 pp.
Subtitled the Anarchist Cookbook of Disney Travel Guides, the Dark Side of Disney truly takes you where no other guide dares to go and dares you to go places you've never been. While reading The Dark Side, I was reminded of a quote that I am paraphrasing from Morris Day and the Time's seminal work, Jungle Love:
This book ain't for everyone, just the sexy folk!
Surprisingly, Kinsey offers fairly sage advice considering the types of activities that the book discusses. He wants you to have fun visiting Walt Disney World, but he also wants you to be smart. Kinsey elucidates on some semi-nefarious things to do at Walt Disney World while reminding you that certain things can get you permanently banned from property.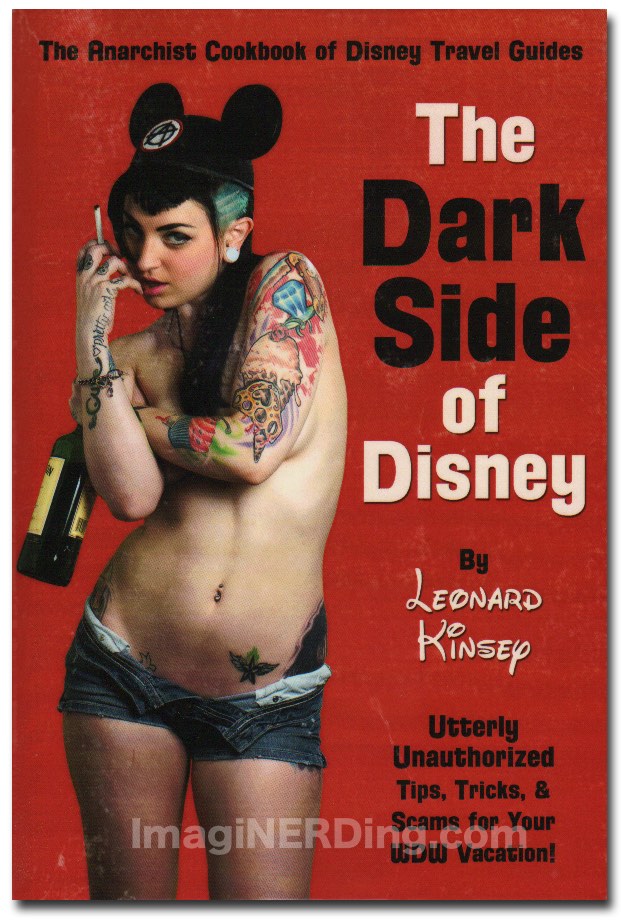 Caveat lector!
The book is divided into four sections:
Disney World, Done Dirt Cheap
Sex, Drugs, and Rock N' Roll at WDW
Assorted Tricks, Tips, Scams…and Bugs
Off-Limits Exploration
As can be surmised, this book does discuss many illicit and illegal activities. Beyond that, Kinsey never takes himself too seriously, except when he is talking about his love for Walt Disney World. A love that was cultivated at a very young age by his mother. A lot of what Kinsey discusses is going to resonate in different ways with different people. You don't have to partake in anything illegal yet you can still enjoy the book. You can live vicariously through Kinsey and his cohorts.
I took the book with me on my recent trip to Walt Disney World during the 40th Anniversary weekend. My friends all expressed a noticeable interest in the book and were more than happy to peruse the text. Since it was a guys only trip (no wives, no kids), we were able to put some of Kinsey's tips to the test. We did nothing illegal, but we did find that a few of the tips and tricks made the Disney experience more palatable for my non-Disney Geek friends.
Kinsey has a great style and he forces you to look at the parks in a different way. My favorite section was Off-Limits Exploration simply because Kinsey interviews and recounts the Horizons-based exploits of Chief and Hoot Gibson from Mesa Verde Times. (The Mesa Verde guys talk about meeting me and another blogger at D40.) At the time, the guys were just exploring one of their favorite attractions. Unbeknownst to them, they were documenting a Disney classic.
This book may or may not be for you (cryptic, eh?). This is a title I would recommend for someone who has seen it all and is looking for something different. It is also a great read for anyone that wants more than just the regular theme park experience. Or someone who thinks Disney is only for kids.
Are you going to pick up The Dark Side of Disney?
---
The author provided a promotional copy of the book for review.