1971 Vintage Florida Attractions Advertisements from WDW Vacationland
After the 1965 announcement that Disney was coming to Florida, the company made sure to let their future neighbors that the Disney project would be a 'good neighbor' and wouldn't overshadow the Florida tourism market. Until the arrival of Disney, Florida tourism was largely just roadside attractions and natural springs. There were some big players, like Dick Pope and Cypress Gardens, but there was nothing even like the scale of Disneyland or any of the Coney Island amusement parks.
For a fantastic look into Southern tourism before Disney, check out Tim Hollis' book: Dixie Before Disney. You will love it!
In the Fall 1971 WDW Vacationland magazine, there are many articles that introduce the Vacation Kingdom of the World, but there are also a multitude of advertisements for other Florida attractions. If you aren't familiar with the WDW Vacationland magazine, it was published a few times each year and you could find them all over the Southeast at hotels, motels, travel centers, and rest stops.
1971 Advertisements for Florida Attractions
First up is…
Tour Kennedy Space Center
In 1963, self-guided, driven tours were made available to the public. They were so popular, that an actual visitors center was built in 1965. The bus tours referenced in the ad were introduced in 1966.
Busch Gardens
Busch Gardens opened outside of Tampa in 1959 and quickly became of of the top tourist destinations in Florida. Much has changed at Busch Gardens Tampa over the past 60 years. check out the description on the ad:
A piece of Africa 8 miles from downtown Tampa. Big game monorail safari. The Trans-Veldt Railroad. Boma (small animal enclosure). The African Veldt where hundreds of animals roam free and uncaged. Trained bird circus. Storybook favorites in Dwarf Village and more.
Silver Springs and Weeki Wachee
Yes, that is an ABC Attractions logo at the bottom of that ad. It is the ABC television network that helped Walt Disney finance Disneyland and was eventually purchased by the Disney Company. Still Weeki Wachee and Silver Springs are long-standing attractions that helped fuel Florida tourism.
The Columbia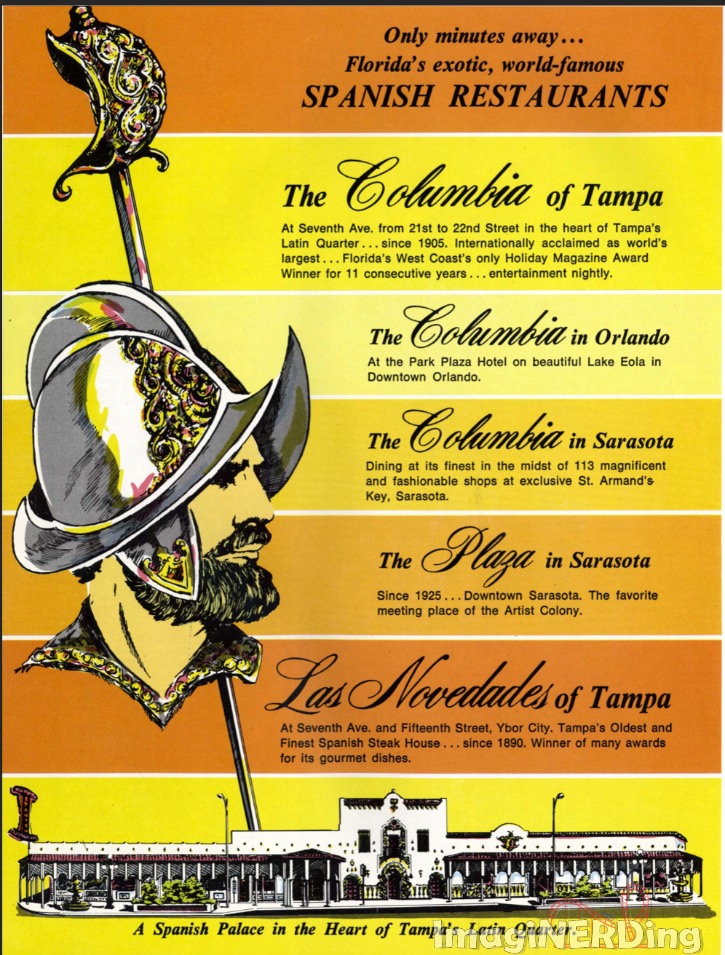 Spend any time in Central Florida and someone is bound to tell you about the amazing Columbia restaurants. The original location opened in Tampa in 1905 and is a must-do. There are several other located throughout the state, but only the Sarasota and Tampa locations from the ad still exist (there is one in Celebration).
Kapok Tree Inn
What a crazy ad! There's not much I can explain about this, um, restaurant. Check out this great link to read more about it.
Homasass Springs
Some of the ads gave mileage or time to drive from Walt Disney World. It's also interesting to see how they promoted themselves to tourists who might have been making their first trip to Florida because of Walt Disney World. Homosassa Springs is another natural attraction that has had several lives, so to speak.
Lion Country Safari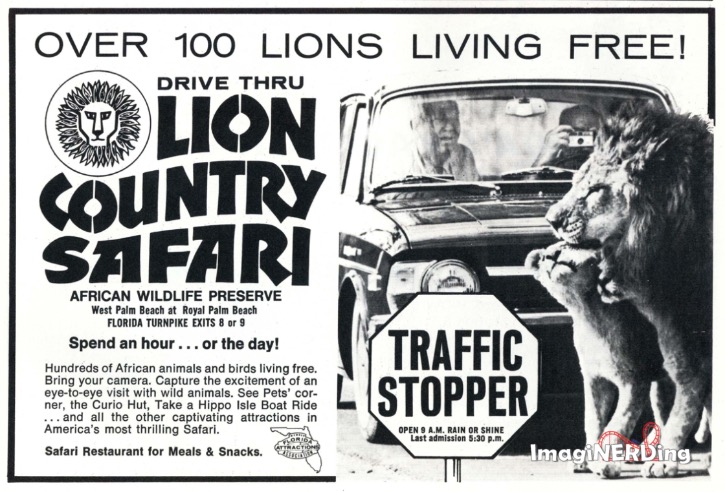 This 1967 attraction is first and only remaining Lion Country Safari (there were five others that all closed in the 1980s and 1990s). It was known for being one of the first careless zoos and visitors were cautioned no to open their doors or roller down their windows.
Daytona Beach Resort Area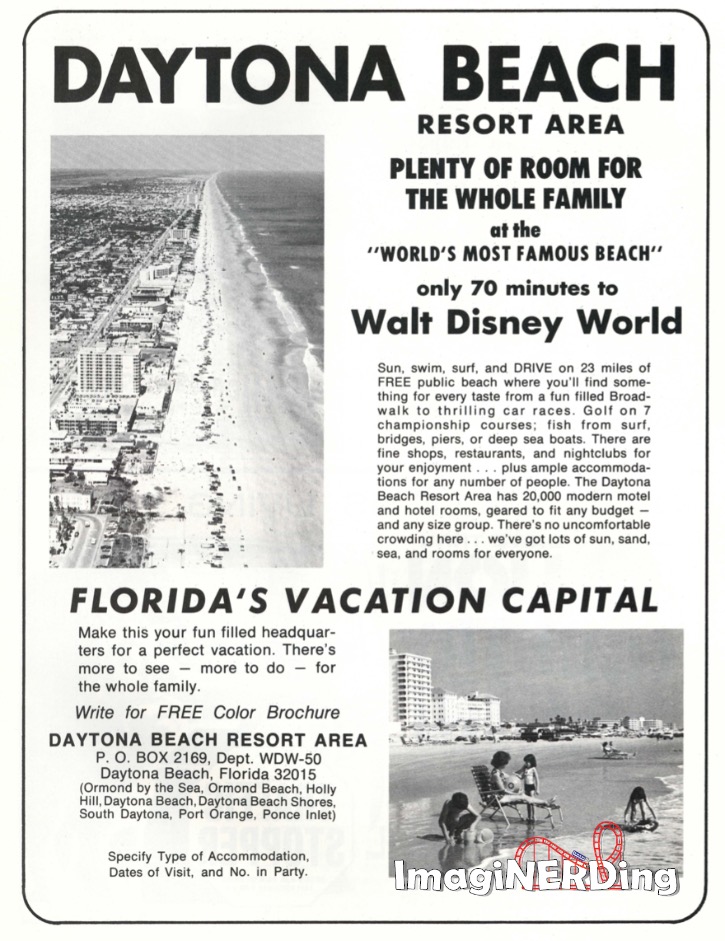 Noted as Florida's Vacationland Capital, Daytona would have been a standard place for families from the North to visit on an annual basis. The attractions noted in the article would be some of the reasons Walt never wanted to build his theme parks near the beach.
Marineland
Another long-standing Florida attraction, Marineland originally opened in 1937 and saw modest success. The opening of Walt Disney World increased traffic to Marineland, whereas the opening of SeaWorld in 1973 stared a gradual decline of visitors to the word's first Oceanarium.
Rainbow Springs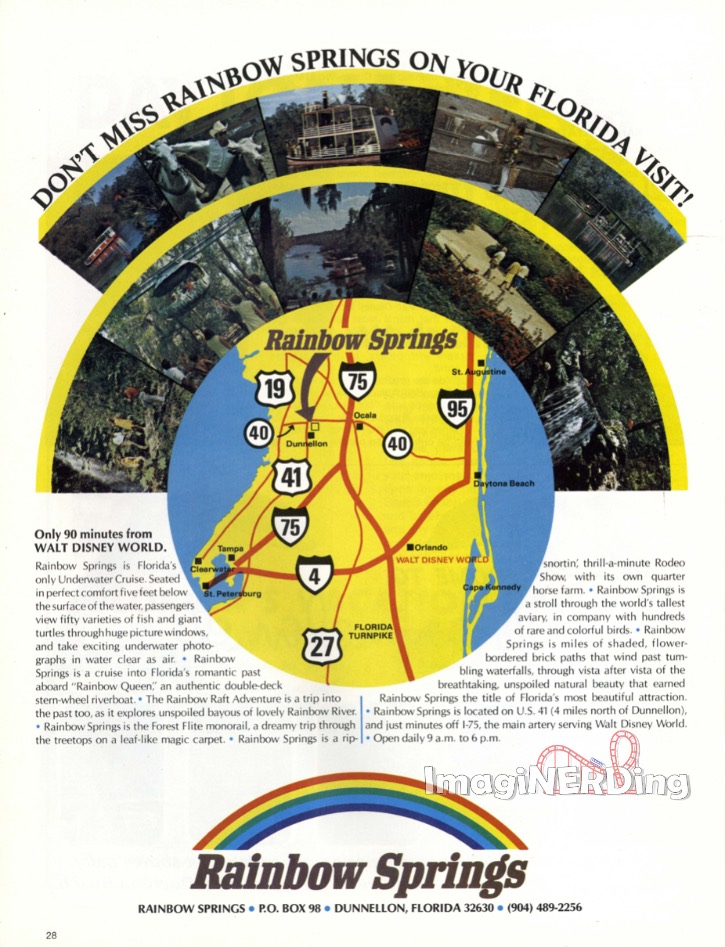 Like many of the other natural attractions listed here, Rainbow Springs has come under the auspices of the state. If you gamer at the ad copy, there was plenty to do here in 1971.
Cypress Gardens
Cypress Gardens is the grandaddy of all Florida attractions and its original owner, Dick Pope was monumental in the tourism business. Pope is directly tied to the phrase partially sunny. Cypress Gardens saw declines in attendance after Walt Disney World opened and finally shuttered after the 9/11 attacks. Fortunately for us, the property is still accessible as part of the Legoland Theme Park.
Masterpiece Gardens
I love the first line of the ad copy: Looking for an interesting and reasonably priced attraction geared for family fun?
The attraction no longer exists as it did, but still has the large 300,000 piece mosaic recreation of da Vinci's Last Supper.
Citrus Tower, Lake Wales and Miami Seaquarium
The next set of ads are grouped together, assuming for ad price, and represent different types of attractions. The Citrus Tower is located in Clermont (Lake County) and was built in 1956 to show of the miles of citrus. Now, the tower shows of miles of suburbia, but still worth a visit. And I never knew that Lake Wales was refreshing! But there are outstanding attractions and lakes. The Miami Seaquarium still exists and was the second Oceanarium in Florida.
Circus Hall of Fame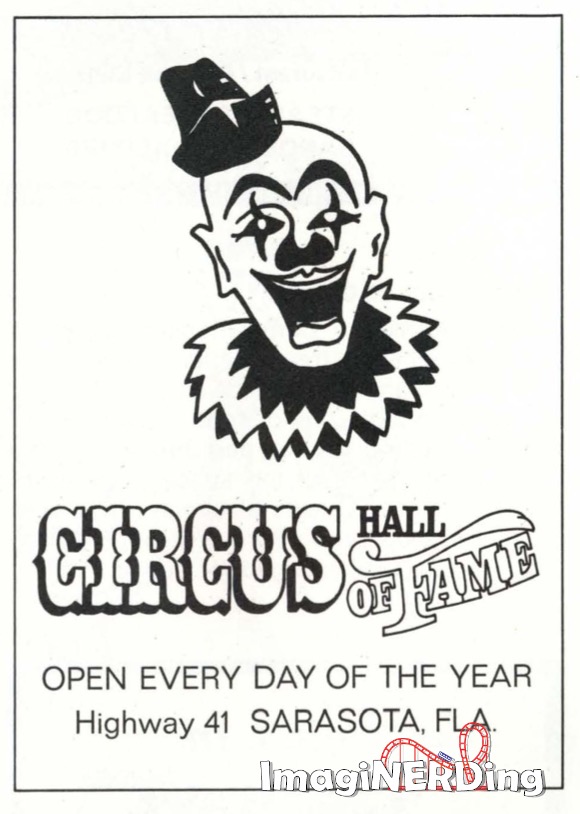 The Circus Hall of Fame opened in Sarasota in 1956 and closed in 1980. The original location of the hall of Fame was in Peru, Indiana until 1944. When the Sarasota location closed, supporters from Peru, Indian, purchased the displays and artifacts and relocated them to the new facility.
The Ringling Circus Museum is still in operation and well worth the visit!
Did you ever get to visit any of these vintage Florida attractions? Which was your favorite?