The First Disney Artist Display at Epcot
The Art of Disney Gallery at Epcot recently moved to the former Heritage Manor Gift Shop in the American Adventure Pavilion. The Heritage Manor space is much smaller than the former Art of Disney Gallery. During my visit, most of the art on display were canvasses and prints and not as many collectibles.
In one corner you see a display entitled The First Disney Artist. It's near an animation desk in which a Disney artists sits throughout the day and creates art, presumably for sale.
The First Disney Artist
Presented in a bookcase, there is a display of photos of Walt Disney in his pre-Disney Brothers Studios days. There are images from his World War I service and his time in Kansas City. There are also items and paraphernalia representing Walt's early days in cartoons and animation.
Walt Disney's Service Days
While working for the Red Cross during WWI, Walt was a driver for the American Ambulance Corps. In his free time, he drew caricatures of fellow soldiers and whimsical cartoons of the people and places he saw oversees.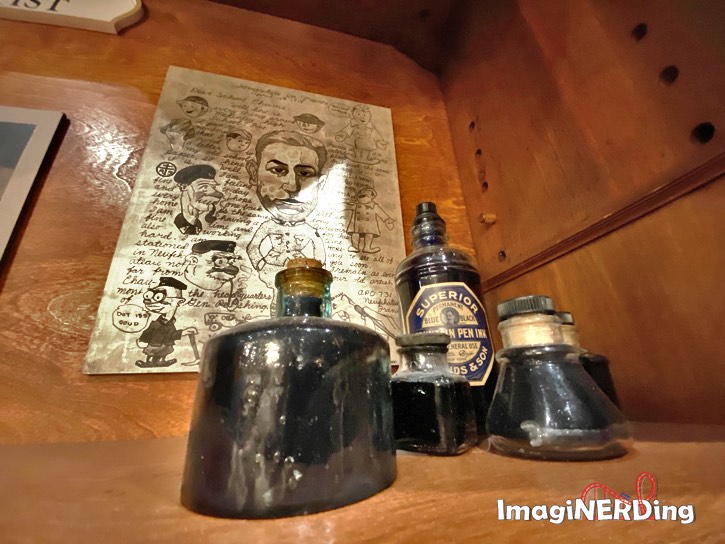 The letter behind the jars of ink was sent by Walt to his school in April of 1919. It includes various caricatures of doughboys and world leaders.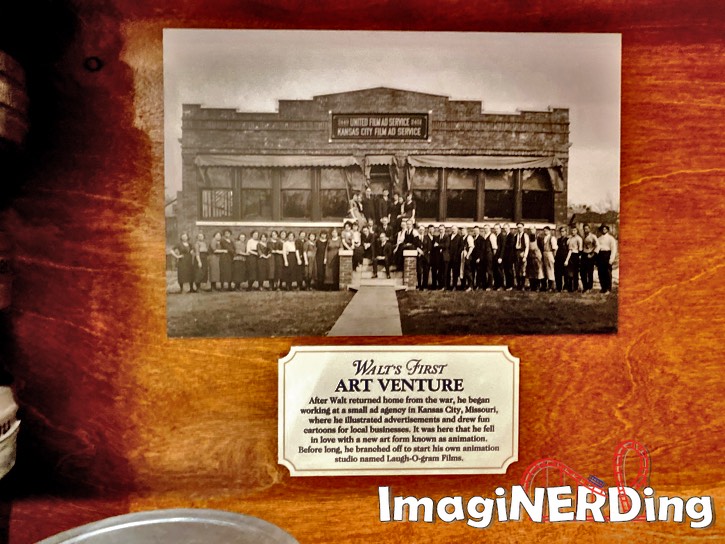 Walt's First Art Venture
After Walt returned home from the war, he began working at a small ad agency in Kansas City, Missouri,, where he illustrated advertisements and drew fun cartoons for local businesses. It was here that he fell in love with a new at form known as animation. Before long, he branched off to start his own animation studio named Laugh-O-Grams Films.
There's also a mock-up of a poster for Oswald the Lucky Rabbit in Ocean Hop. The studio artists would have created this bill as an advertisement, usually for a movie house display or poster.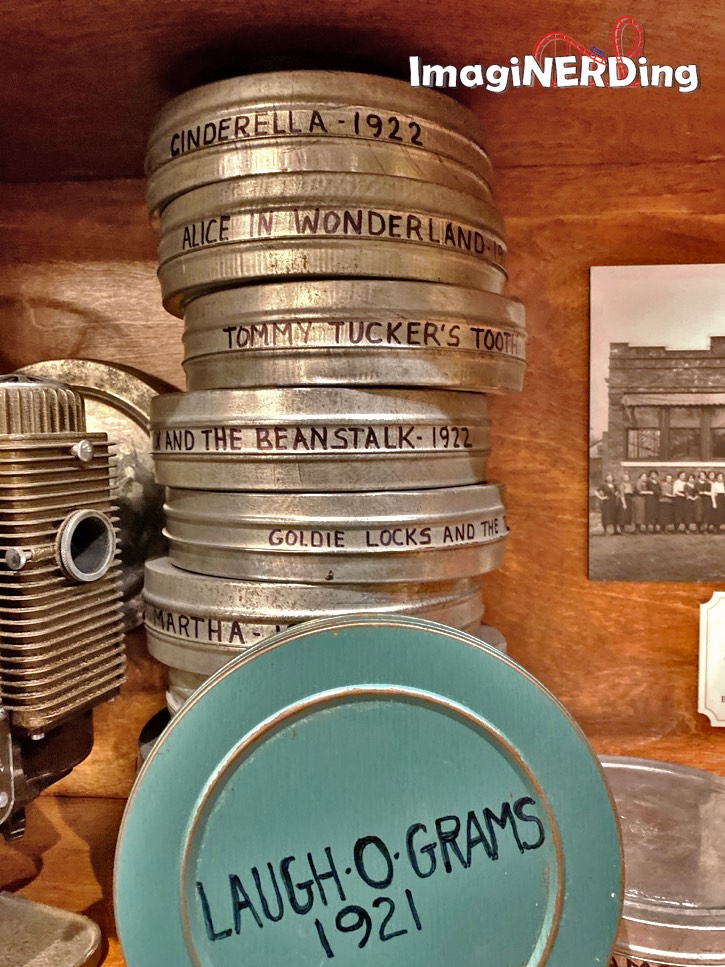 Laugh-O-Grams 1921
Part of the display is a series of film canisters featuring Laugh-O-Gram films:
Cinderella 1922
Alice in Wonderland 1923 (should be Alice's Wonderland–Walt used it to get a distribution deal with Margaret Winkler)
Tommy Tucker's Tooth 1922 (commissioned by Kansas City Dentist Thomas B. McCrum)
Jack and the Beanstalk 1922
Goldie Locks and the Three Bears 1922
Martha 1923 (presumed lost and no prints are known to exist)
It's not a complete listing of the eleven shorts created by the Laugh-O-Grams Studio.
As expected, what caught my eye was the series of books on the bottom shelf. Two of them should be very familiar to readers of ImagiNERDing.
Both of these amazing books focus on Walt's career before moving to Los Angeles and opening the Disney Brothers Studio with his brother Roy.
The other books feature Gedeon by Benjamin Rabier, a French illustrator, animator and comic book artist that was well known for animal adventures. He might have been an inspiration for some of the Alice comedies and other animal antics-styles films. There's a copy of Pinocchio and several titles about drawing and technology.
What Do You Think About This Display Featuring Walt's First Art Ventures?