Holiday World's 70th Birthday!
Celebrate Holiday World's 70th birthday with the theme park by visiting a special area set aside in the 4th of July section of the park. Holiday World & Splashin' Safari opened in 1946 and was originally called Santa Claus Land. Based in Santa Claus, Indiana, the theme park celebrates its unique identity and history in a charming display that's definitely worth a visit.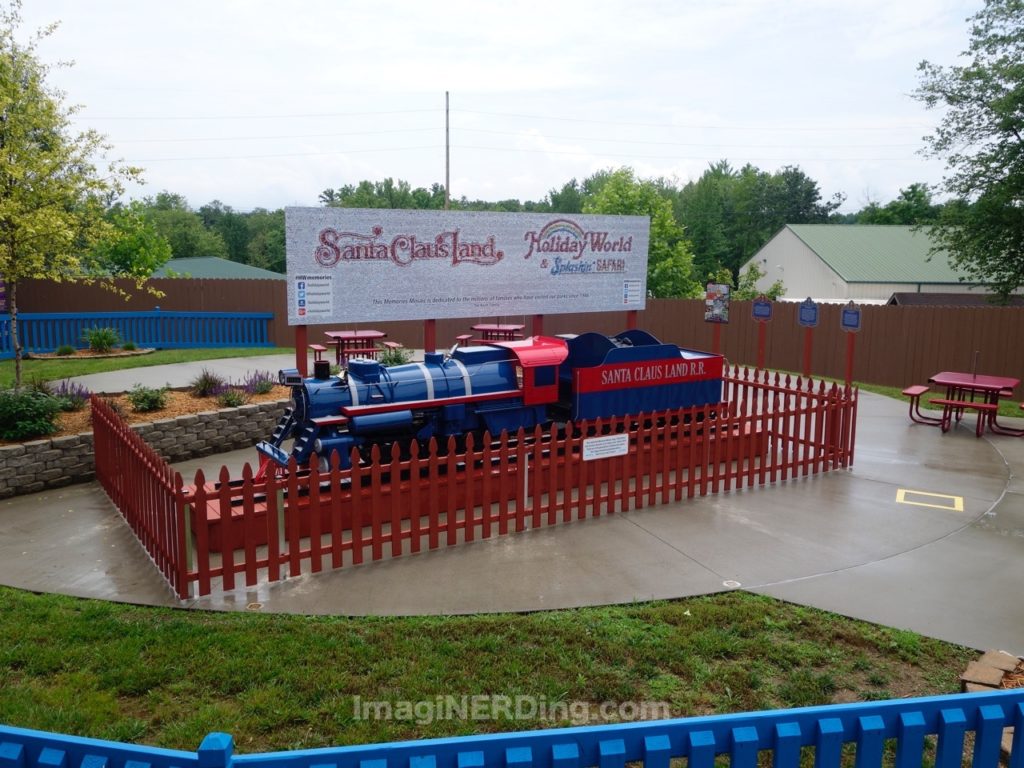 The Holiday World 70th Birthday Plaza is located near the Liberty Launchers. I was doing some theme parkeology to figure out what was in the area before, since there are obvious remnants of a queue and a ride operator building. According to online research and a park expert (thanks, Paula!), I was able to find that the Sparkler was in the area before being moved to Thanksgiving and being renamed the Crow's Nest.
Still, it's a wonderful area and deserves your attention while you're visiting Holiday World & Splashin' Safari.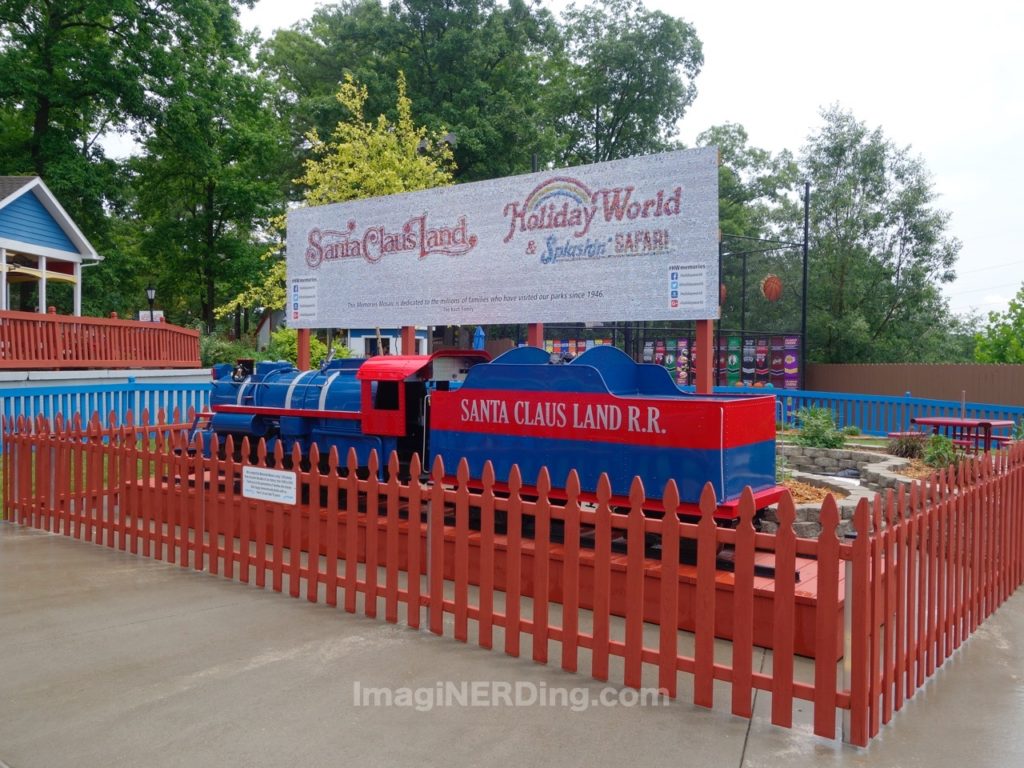 The sign on the fence reads:
We created this Memory Mosaic using 7,000 photos from all seven decades of our history, from 1946 to 2016. Thank you to the generations of families who shared their happy memories and photos with us. Here's to the next 70 years!
To the right of the train is an area with four signs about the history of Santa Claus Land and Holiday World.
It's a large display with  maps and brochures. I loved seeing it and wished that I could see more maps and brochures from the park!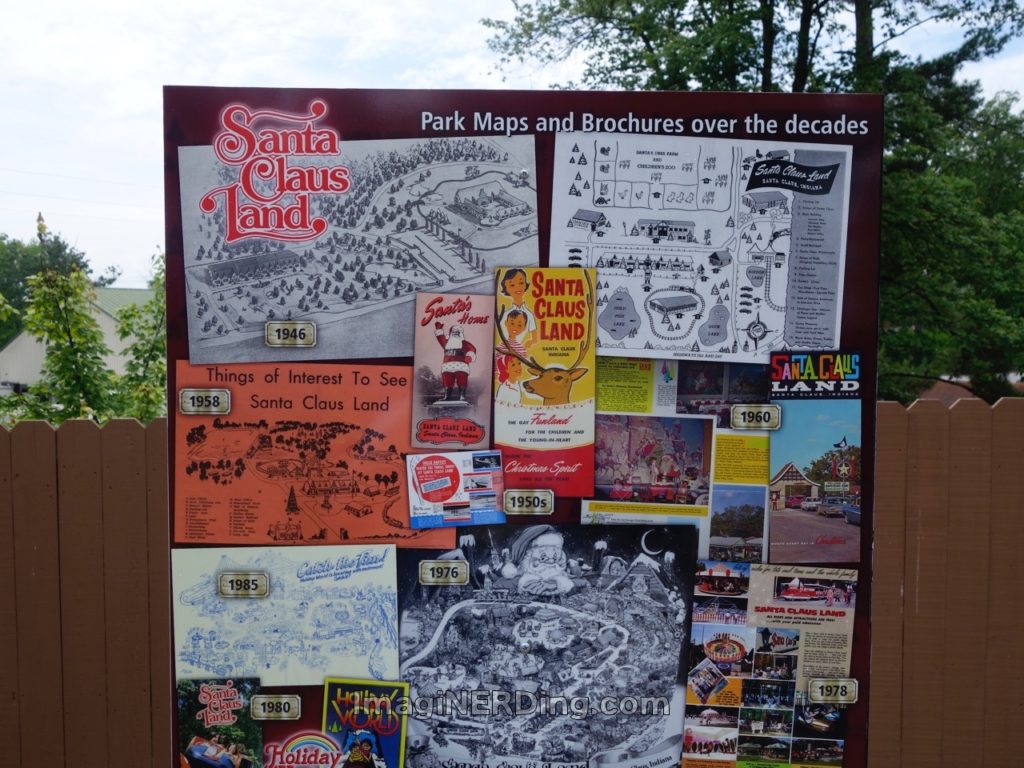 Holiday World's 70th Birthday: Santa Claus Land Railroad
Santa Claus Land Railroad
Santa Claus Land founder Louis J. Koch was a train aficionado. He hired Ted Buehn, a model railroad enthusiast, to build the Santa Claus Land Railroad for the park's first season. A 1/4-scale model of a Baltimore & Ohio locomotive, the train was constructed at George Koch Sons, Inc. in Evansville, Indiana, and included a coal car, passenger car, observation car and cast iron wheels. Although its name and color scheme changed several times over the decades, it's popularity with families never wavered.
Holiday World's 70th Birthday: Mother Goose Land Train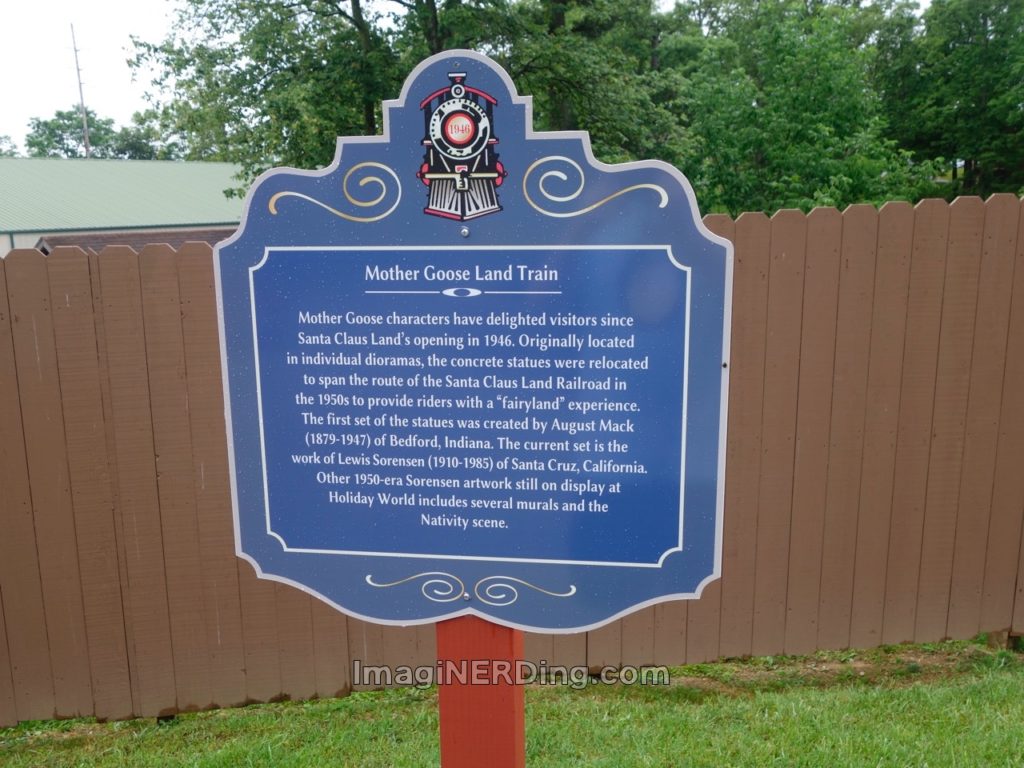 Mother Goose Land Train
Mother Goose characters have delighted visitors since Santa Claus Land's opening in 1946. Originally located in individual dioramas, the concrete statues were relocated to span the route of the Santa Claus Land Railroad in the 1950s to provide riders with a "fairyland" experience. The first set of the statues was created by August Mack (1879-1947) of Bedford, Indiana. The current set is the work of Lewis Sorensen (1910-1985) of Santa Cruz, California. Other 1950-era Sorensen artwork still on display at Holiday Worlds includes several murals and the Nativity scene.
Holiday World's 70th Birthday: FreedomTrain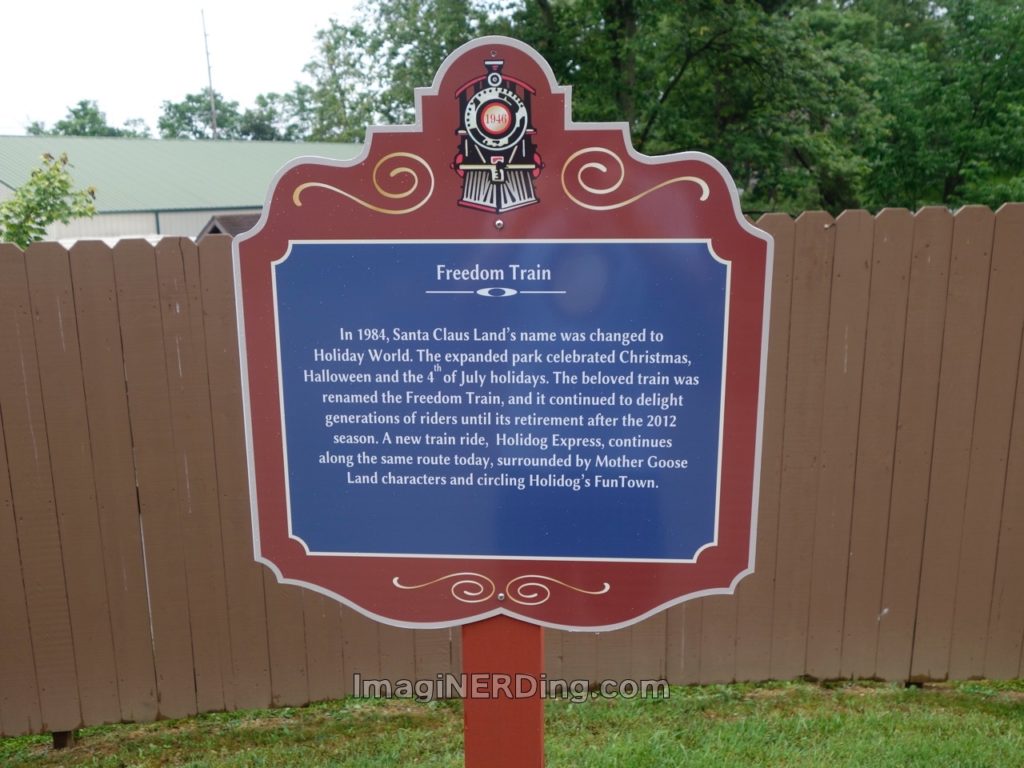 Freedom Train
In 1984, Santa Claus Land's name was changed to Holiday World. The expanded park celebrated Christmas, Halloween and the 4th of July holidays. The beloved train was renamed the Freedom Train, and it continued to delight generations of riders until its retirement after the 2012 season. A new train ride, Holidog Express, continues along the same route today, surrounded by Mother Goose Land characters and circling Holidog's FunTown.
It think it's absolutely amazing when a theme park celebrates its history. Especially a park with such a rich and important history as Holiday World & Splashin' Safari. I fell in love with the park on my recent trip and I highly recommend a visit for theme park and roller coaster fans!
Have you ever visited Holiday World? Do you have any special memories of the park?