Disney Sketchbook by Ken Shue, a review
A Disney Sketchbook by Ken Shue was originally released in 2012. I reviewed it on Communicore Weekly (the Greatest Online Show™) during the 2012 release. This is a beautiful and large books about Disney sketches from some of the most admired animators in the world. Is A Disney Sketchbook worth picking up?
A Disney Sketchbook is a new Disney art book on animated films. Is there anything else the Disney Company can release? Should you plop down your hard-earned money on this book? All will be revealed!
So, is A Disney Sketchbook, a large and expensive book, worth it?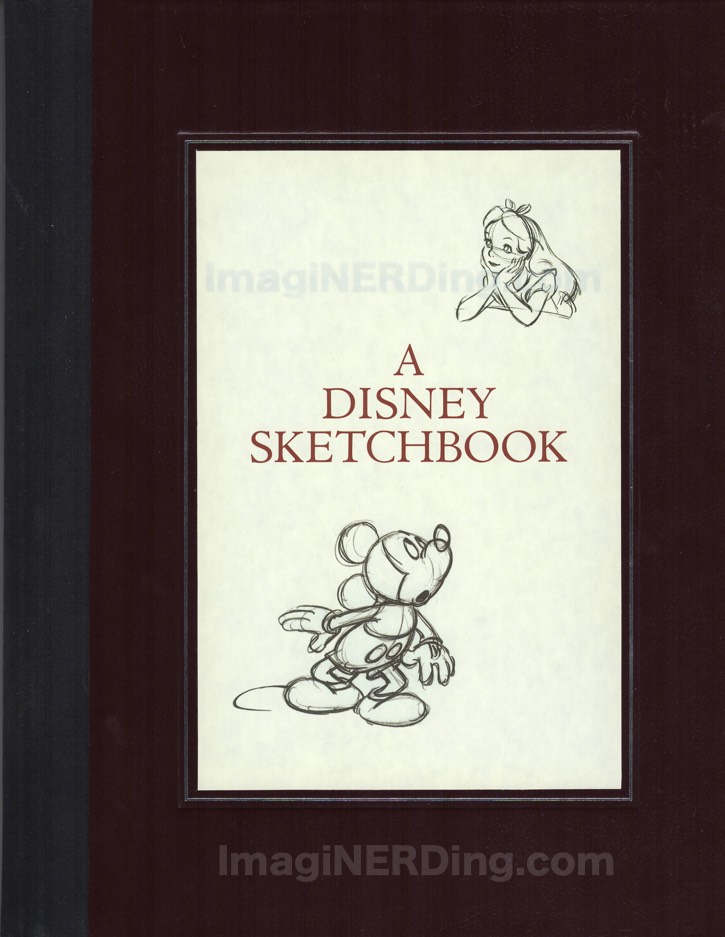 Disney Publishing has had a pretty good track record recently, especially with the release of the wonderful Disney Poster book. When I heard about the upcoming slate of animation-related titles, I was pretty excited. Disney has started to mine their vast animation history with a few titles that are on the upscale side of the price tag. The Archives Series was a beautiful set that was well received but didn't get a lot of mainstream publicity.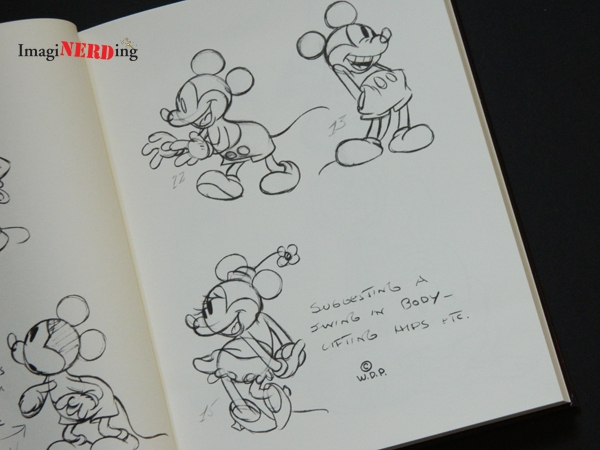 So, is A Disney Sketchbook by Ken Shue worth picking up with it's $50.00 retail price?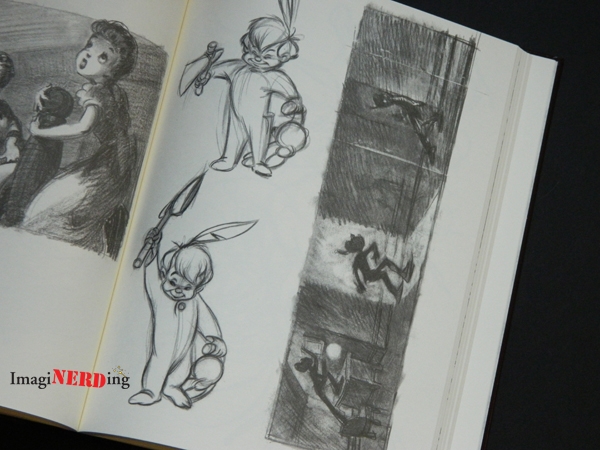 The concept for the title, as explained by Shue is to imagine if there had been a Disney sketchbook created and handed down by the artists through the years. Sadly, such an item doesn't exist, so Disney decided to put one together.
Unprocessed, uninked, unpainted, and un-rendered, a selection of Disney drawings is reproduced here as if drawn into a sketchbook. This Sketchbook celebrates the very early stages of Disney filmmaking, in which the human touch defines both a character's performance and its role in telling a story. -Ken Shue, Foreward.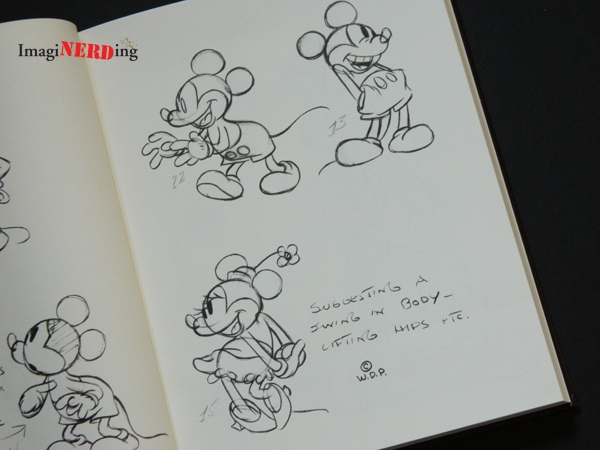 A Disney Sketchbook is gorgeous; there's no doubt about it. At 152 pages and its large-scale format (roughly 11′ X 14′), it is a hefty book but it's very well-constructed. The pages are printed on a heavy, artist's-style paper that is wonderfully textured. The black and white sketches and drawings simply pop off of the beige-colored paper. You feel like you're holding something special.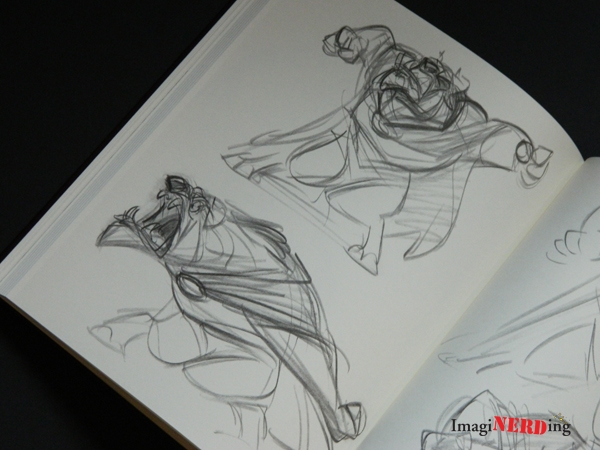 When you start your journey with A Disney Sketchbook, you really get a sense of depth with the Company's animated history and the growth of the artists. From the first drawings of Mickey Mouse (that share the proper techniques for drawing and moving the mouse) to Rapunzel from Tangled, every major film and period is covered. It's amazing to see the sense of movement and emotion with each character sketch. The artistry is striking and primal.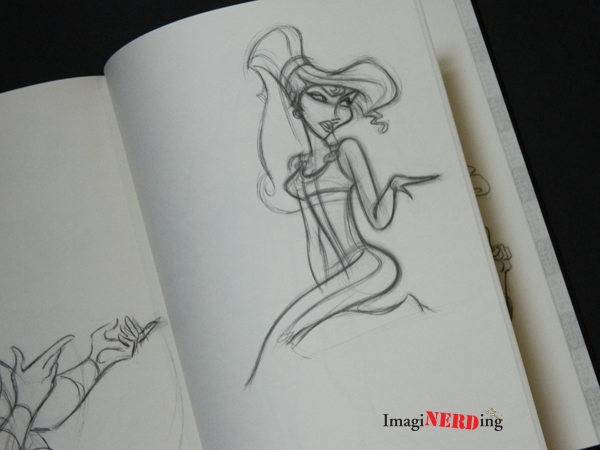 In some cases, it is quite obvious who the artist was: Marc Davis; Mary Blair; Ollie Johnston; Glen Keane; Andreas Deja and more. I just wish that all of the artists had been identified. Anyone using this book for research is going to need to know their favorite artists. Honestly, this book is a wealth of drawings that will leave you spellbound and wanting to watch your favorite films again.
This is a book that you'll leaf through a lot. Any fan of animation or animation student is going to want to get their hands on the book. When you realize that these are reproductions of the actual hand drawings used to create those classic films, you will be amazed. It's like flipping though pieces of history and seeing the origins of our favorite stories. It really is a perfect representation of a sketchbook handed down by artists through the years; one studied and cherished by animators.
As I mentioned earlier, it is a pretty expensive book, but it really is stunning. Like most Disney books, the print run is low enough that it will increase in value. Of  course, who sells their Disney books anyway? So, if you are interested, pick up a copy now, before the price gets too high on the secondary market. I'm glad to see Disney offer varied titles to sate the interests of their fans. This is another title under the D23 Imprint and, sadly, seems to be about the best thing that D23 is involved with. Of course, I think the Disney Company still has plenty in their archives to release.
Have you bought A Disney Sketchbook, yet? Are you interested in picking it up?
---