EPCOT Shapes up!
For years, the press, government officials, the public, and cast members continually asked Disney executives where was the EPCOT Center that Walt and roy had promised.
In a previous post, I discussed Card Walker's statement from 1976 about EPCOT Center. In explaining how the company proceeded with Walt's plans for EPCOT Center after his passing, then-Disney President Card Walker stated:
"The first phase has been the rec­reational community," he said. "The Magic Kingdom, the hotels and lakes and campgrounds. Now we are launch­ing the second phase of Walt's idea: the scientific, industrial, communica­tion, world co-operation aspects of EPCOT." — Spring 1976 Disney News
Basically, Disney tried to showcase that all of the behind-the-scenes technology and advancements that already existed in the Walt Disney World Resort were Walt's vision for EPCOT. From the automated trash disposal, central energy plant, fiber optic telecommunications, the sewage treatment, and more, Disney was proud to tout all of the technological achievements of the Florida project. But it still wasn't enough to quell the EPCOT hungry masses.
From a 1981 Sentinel Star article: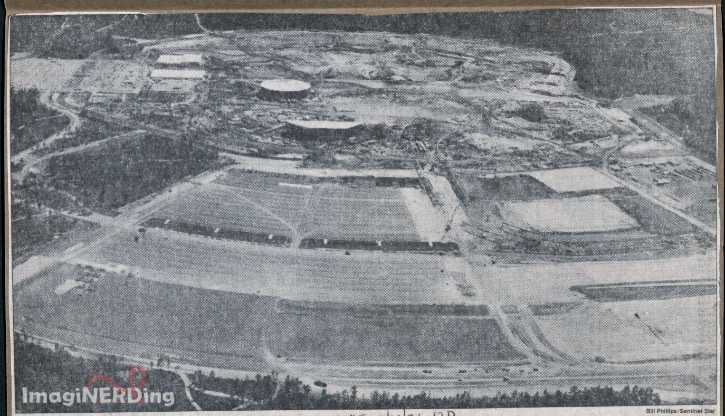 EPCOT Center, Walt Disney World's $800 million project that will become a part of the Experimental Prototype Community of Tomorrow, is rapidly taking shape. The fan-shaped parking lot in the foreground will accommodate 6,000 guests' vehicles when the attraction opens in October 1982. The wedge-shaped building at the front of the parking lot is to be "The Universe of Energy," with Exxon Corp. as the participant. The circular building behind it is Transarama 2000, with General Motors as the participating company. Eighteen American and foreign firms will sponsor pavilions in the park. The flat-topped buildings at the upper left are service structures.
I love the early name for the World of Motion. Transarama 2000 isn't a name that's bandied about often in EPCOT Center history. With General Motors as the sponsor, it's easy to make the jump that this pavilion will feature transportation and be about the future (hence the awe-inspiring 2000). A predecessor to the attraction could be the various Circarama attractions in that those experiences involved cars to film the 360-degree video. Or maybe I'm just making too big of a leap with the -arama suffix.
Imagine being a young child and seeing this glimpse of the future in your local paper.
Check out The Ultimate EPCOT Center Book!
---