A Mountain Rises in Florida
The Dec, Jan, Feb 1980/1981 issue of Disney News has a fascinating article about Big Thunder Mountain coming to the Magic Kingdom. The Disneyland version of the attraction opened September 2, 1979 and the Walt Disney World version opened a year later on September 23, 1980. The following article shares some interesting tidbits about the Florida Big Thunder Mountain, including the differences between both versions.
Enjoy the article!
---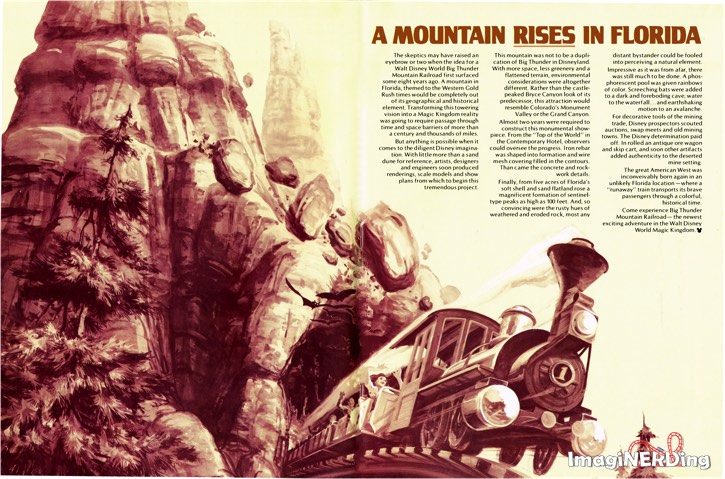 The skeptics may have raised an eyebrow or two when the idea for a Walt Disney World Big Thunder Mountain Railroad first surfaced some eight years ago. A mountain in Florida, themed to the Western Gold Rush times would be completely out of its geographical and historical element. Transforming this towering vision into a Magic Kingdom reality was going to require passage through time and space barriers of more than a century and thousands of miles.
But anything is possible when it comes to the diligent Disney imagina­tion. With little more than a sand dune for reference, artists, designers and engineers soon produced renderings, scale models and show plans from which to begin this tremendous project.
This mountain was not to be a dupli­cation of Big Thunder in Disneyland. With more space, less greenery and a flattened terrain, environmental considerations were altogether different. Rather than the castle­ peaked Bryce Canyon look of its predecessor, this attraction would resemble Colorado's Monument Valley or the Grand Canyon.
Almost two years were required to construct this monumental show­ piece. From the "Top of the World" in the Contemporary Hotel, observers couId oversee the progress. Iron rebar was shaped into formation and wire mesh covering filled in the contours. Than came the concrete and rock­ work details.
Finally, from five acres of Florida's soft shell and sand flatland rose a magnificent formation of sentinel­ type peaks as high as 100 feet. And, so convincing were the rusty hues of weathered and eroded rock, most any distant bystander could be fooled into perceiving a natural element.
Impressive as it was from afar, there was still much to be done. A phos­phorescent pool was given rainbows of color. Screeching bats were added to a dark and foreboding cave; water to the waterfall…and earthshaking motion to an avalanche.
For decorative tools of the mining trade, Disney prospectors scouted auctions, swap meets and old mining towns. The Disney determination paid off. In rolled an antique ore wagon and skip cart, and soon other artifacts added authenticity to the deserted mine setting. The great American West was inconceivably born again in an unlikely Florida location-where a "runaway" train transports its brave passengers through a colorful, historical time. Come experience
Big Thunder Mountain Railroad-the newest exciting adventure in the Walt Disney World Magic Kingdom.
---
I love the artwork of the train escaping from the mountain with multiple bats pursuing.
Check out my post featuring a brief history and POV of Big Thunder Mountain Railroad at the Magic Kingdom!
WDW Bits & Pieces is a series dedicated to sharing ephemera, bits, pieces, and other odd moments from Walt Disney World history.
---
FTC Disclaimer:
This post contains affiliate links, which means that ImagiNERDing receives a percentage of sales purchased through links on this site. Thank you for your support!