Pirate's Point Excursion
Have you heard of Pirate's Point Excursion at Disney World? I'm amazed at the things that get lost to history, so to speak, including this item in a 1980 publication that referred to Pirate's Point.
The WDW News fromSummer 1980 had an ad for an excursion to Pirate's Point for young buccaneers. After doing a deeper search of my ephemera and the internet, I was only able to come up with one other reference: a brochure I found on pinterest.
Check out the article from the Summer 1980 WDW News:
Young Buccaneers Set Sail For Adventure
Set sail for adventure! Beginning June 8, join a swashbuckling crew for an evening voyage to Pirate's Point. You'll sail the Seven Seas Lagoon, hunt for buried treasure, enjoy refreshments, and even have a marshmallow roast and sing-along with Pirate hosts and hostesses.
Buccaneers ages 5 through 12 are invited to head out at 8 p.m. from the Polynesian Village Marina rental dock. The excursion lasts 1 1/2hours and the cost is $2.00. Reservations are necessary and can be made by calling 824-2000, or stopping by the Guest Services desks in the Walt Disney World resort hotels.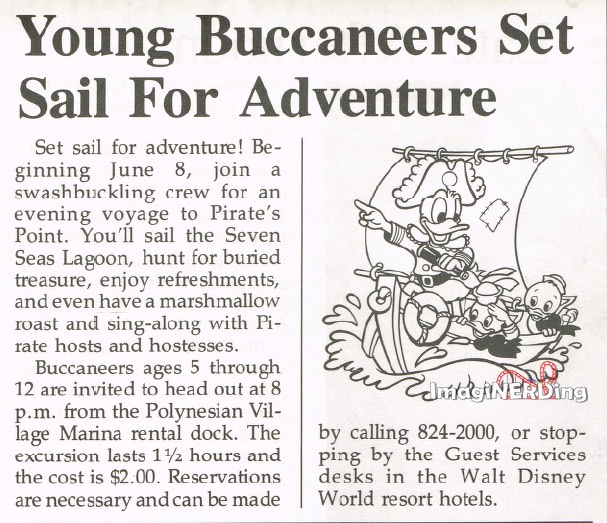 ---
The only other mention I found was part of a pamphlet or info card that was shared on Pinterest, which gives similar information as the article. Too bad the rest of the pamphlet wasn't available.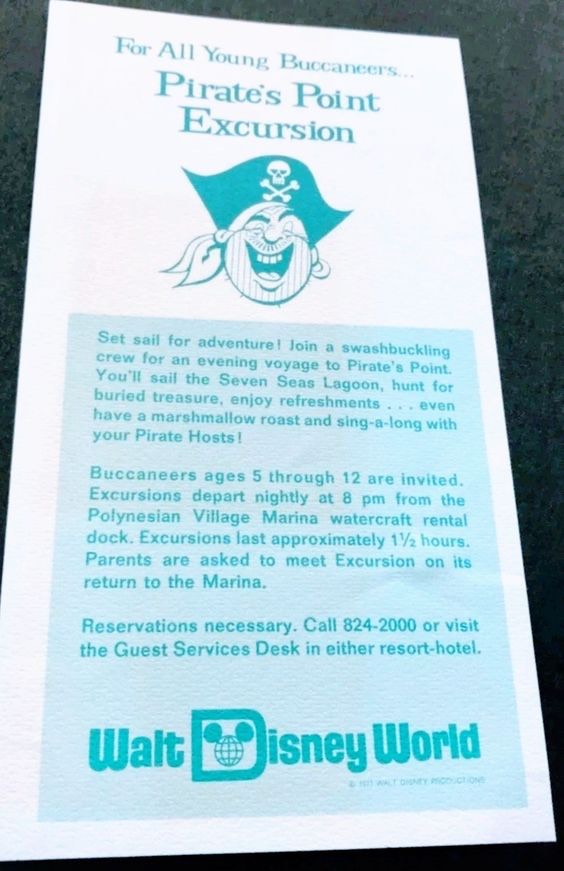 Did You Ever Experience The Pirate's Point Excursion?
WDW Bits & Pieces is a series dedicated to sharing ephemera, bits, pieces, and other odd moments from Walt Disney World history.
---
Check out this amazing book about Walt Disney World's construction and first few years!
FTC Disclosure:
In some cases, a copy might have been provided by the company for the purpose of this review (but not on this post). This post contains affiliate links, which means that ImagiNERDing receives a percentage of sales purchased through links on this site. Thank you for your support!