Sarah from Carolina Blogging is back with another installment about her August (2017) trip to Walt Disney World. Let's take a tour of Disney's Pop Century Resort and check out some of the family friendly amenities that it has to offer. As one of Disney's Value Resorts, Pop Century was both affordable and convenient for a family of four visiting for the weekend.
View her previous posts: 8 Questions Answered about Jedi Training at Disney's Hollywood Studios,  6 Questions Answered About MagicBands and Planning a Trip to Remember- Walt Disney World
---
Location: Walt Disney World Resort in Lake Buena Vista, Florida
History: First opened in December 2003 and is considered one of Disney's Value Resort Hotels.
Theme: 1950's through 1990's
Featuring family favorites like Lady and the Tramp statue, a transistor radio, Yo Yo's, a Baloo statue with Mowgli, a giant Play-Doh statue, Mr. Potato Head, a giant fooseball set, roller blades and 8-track tape staircases.
Having never visited or stayed on property at a Disney resort, we left it up to our Disney cast member to help pick the best place to stay during our visit to Walt Disney World. Our only requirements were that the resort have a family friendly pool and room to comfortably sleep a family of four. We were also looking for the most affordable resort to stay in without breaking the bank. I am happy to say that our stay at Pop Century Resort was a pleasant one with a few things learned that I will share with you in this post. If you are considering a stay at Pop Century Resort, here are the things you will want to know.
A note from Sarah: We did a lot of price shopping before planning our trip. We checked travel agents, big box membership stores and more. Our best experience and ultimately the travel planning option we choose was to plan directly with Disney.
There are 4 types of resorts to choose from at Walt Disney World. Here are the types and price structures.
Resort Check-in
Start your check-in online beginning 60 days before your stay at select Walt Disney World Resort hotels. Then when you arrive, simply head to the Online Check-In Desk, where your Welcome Folder and MagicBand will be waiting. Show your valid photo I.D., complete your check-in and you're on your way! Begin your Online Check-In now on disneyworld.com or with the My Disney Experience app. – source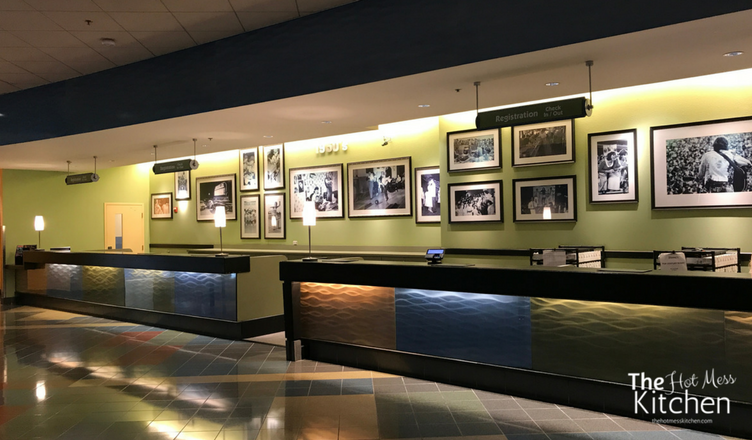 Check-in was a breeze at Pop Century Resort. Having the opportunity to check in 60 days before our arrival cut down on the time spent at guest services. Check-in time at Pop Century is 3:00 PM, and check-out time is 11:00 AM. We did stop at the guest services desk to get our "first time visitors" pins and refillable mugs. The mugs came with our Disney Dining Plan.
3 pools to enjoy
Hippy Dippy Pool – This 60's inspired pool is the main pool that is accessible when walking out of the Everything Pop dining area from Classic Hall. Some window seats from within the Everything Pop dining area offer a view of the edge of the pool and the Petals Pool Bar. Noted attractions for this pool include over 235,613 gallons of water, flower-shaped water jets and poolside accommodations such as poolside fresh towels and life jackets for little swimmers. Cast members will often hold pool side trivia and host games for swimmers to participate in. A smaller kiddie pool is located near the Hippy Dippy Pool for kids to enjoy.
This is the pool that hosted the nightly Movies under the Stars with a large outdoor movie screen and lounge chairs to relax in.
Bowling Pin Pool – This pool was second largest holding 144,352-gallons of water. With accents of bowling balls on racks and bowling pins affixed to the pool gate, this pool celebrates the 1950's. Of the pools we visited, this was the least crowded and offered large steps where you can sit and lounge in shallower water.  Younger swimmers can also find life jackets pool side.
Computer pool – Nostalgic hints from the 90's surround this pool with a giant floppy disk and keypad. We did not get to visit this pool as it was on the opposite side of the resort.
Check out the Pop Century Resort from my point of view.
Dining and Shopping
Everything Pop Shopping and Dining located in the Classic Hall of the Pop Century Resort. As one of Disney's quick service locations (from the Disney Dining Plan), the Everything Pop dining area offers breakfast, lunch and dinner options along with snack options. You can use one quick service meal to eat here or pay out-of-pocket with cash or credit.  We found it easy to navigate the menu and there are many types of food options to choose from. There is a large dining hall area with table and booth seating throughout. On our first night stay, we enjoyed chicken nuggets, bacon cheeseburgers, pizza and hot sandwiches. Each menu item comes with two sides and they are large sides. I got double fries with my bacon cheeseburger and had to share them due to the large quantity. There were also healthy snack options available including celery and carrots, hummus and pretzel chips, worm dirt pie ( chocolate pudding layered with Oreo crumbs and gummy works) and yogurt parfaits. Prices without the dining plan were about $7 to $8 per item while a large family style pizza was priced at $13.
Shopping within Classic Hall is a breeze with a large storefront before the entrance to the dining hall. Here you can find everything from Mickey Mouse Ears, t-shirts, reusable mugs, souvenirs and plenty of snack credit worthy snacks. Cast members are located throughout the shop to answer questions.
Personalized in-room celebrations
If you are planning to celebrate a special event during your stay at Walt Disney World, the Pop Century Resort offers personalized in-room celebrations. Some noted celebration moments include birthdays, anniversaries, holidays and first visits. With the options to personalize your gift or using the custom gift builder feature, your in-room celebrations will be a unique addition to your stay at Pop Century Resort. I've got my eye on the Minnie Mouse Canvas Tote or a Mickey's Kool Cooler and have hinted to my husband that it would be the perfect addition to our next visit to Disney. Filled with Mickey Mouse ears, tiaras and snacks would be perfect!
Transportation to and from the parks
As one of Disney's Value Resorts, transportation to and from the parks is by bus. If you are coming from the airport to stay at Pop Century, transportation provided will be through one of Disney's Magical Express buses. We did learn that the Minnie Van services are not yet set to stop at Pop Century for pickup and drop off. In order to catch a Minnie Van, we would have had to catch a bus over to a park, then catch the monorail to a deluxe resort where the Minnie Van services were located. Since our stay, we have learned that the Minnie Van service has grown to include more resorts. If you have not already heard, a Minnie Van is the latest in travel at Disney. It is a Chevy Traverse that is painted red with white polka dots to resemble our favorite Minnie Mouse! The Minnie Van seats 6 and they can each come equipped with two car seats to accommodate younger passengers.
Most areas throughout Walt Disney World Resort, including theme parks, water parks, Resort hotels and the Downtown Disney area, are accessible by complimentary bus transportation. The bus stop at Disney's Pop Century Resort is located in front of Classic Hall.  – source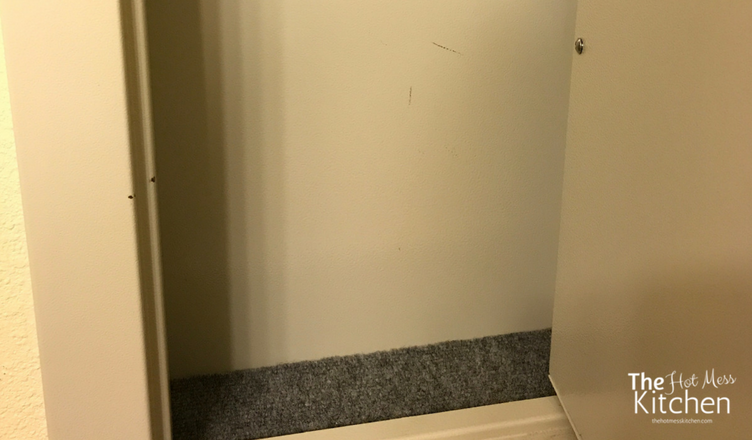 Things we really liked about Pop Century Resort
clean rooms
guest services were easily accessible throughout the day and night
pools stayed open late (until 11pm, weather permitting)
movies under the stars
quick guest service requests
the option to decline Mousekeeping (trial)
Mousekeeping Trial: While at Pop Century Resort, we were able to take advantage of the trial where we could decline room service. We got a gift card valued at $15 per night for each night we declined Mousekeeping. There is a maximum number of nights that you can decline and this option is only available at select resorts. Be sure to ask a guest services cast member to see if your resort is participating. Each night once after arriving back at Pop Century, we only had to make a quick call down to guest services and within about 10 minutes a cast member would bring up fresh towels, wash cloths and toiletries.  Guest services asked for our feedback at the end of our stay and I was happy with our choice.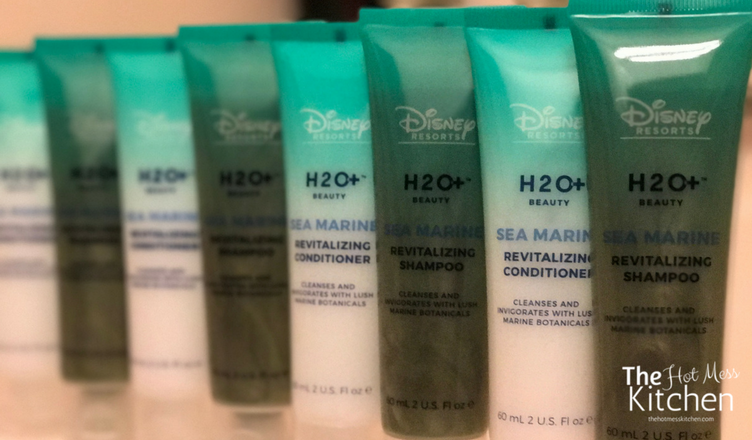 Things we didn't know
transportation to the parks from Pop Century Resort is exclusive to the bus
(Minnie Vans do not currently pick up at Pop Century Resort)
at most Disney transportation bus locations, Pop Century Resort is last on the list making it farther to walk to get to your bus stop
Epic selfie spots at Pop Century Resort
standing in front of the giant Lady statue in the 1960's section
in front of the giant foosball table with Mickey as a photobomb
in front of Lady from "Lady and the Tramp"
beside the giant play-Doh container
coming down the stairs inside the giant yo-yo
Overall we were very satisfied with out stay at Pop Century Resort. Pop Century Resort is going through a renovation period where the rooms are getting outfitted with new furniture, wall decorations, bathroom hardware and other magical surprises. We left for the parks early in the morning and returned late at night. I do not remember seeing any construction vehicles or experiencing any travel delays due to construction. For the value and the cleanliness, I would recommend Pop Century Resort as a value resort for your stay while visiting Walt Disney World.
Have you stayed at Pop Century Resort? Do you have any pictures or memories to share while enjoying the Hippy Dippy Pool or posing with one of the larger than life statues? Leave us a comment below!
---
Sarah is a frugal and food blogger over at TheHotMessKitchen.com. A corporate employee by day working in the field of technical support and blogger by night; Sarah talks about recipes, kitchen tips, sensible and frugal living on her blog. She can also be found writing about her travels and sharing tips for bloggers at CarolinaBlogging.com.  And now for the fun facts: first roller coaster with her dad was the Lock Ness Monster at Busch Gardens, first date with her husband was at Howl O Scream at Busch Gardens in October 2004 and one ride she will never ever ride is the Ring of Fire at the fair.