VR Drop Tower at Six Flags Over Georgia! Press Release
I'm always up for a new experience at a theme park. I loved the VR Coasters experience that I rode at FunSpot during IAAPA in 2015 and 2016. I think adding the virtual reality to the drop ride concept is a great next step. Except I'm not so sure about spiders…why did it have to be spiders?
---
North America's First Drop Tower VR Ride Launches for 50th Anniversary Season at Six Flags Over Georgia
North America's first-ever permanent drop tower – Drop of Doom VR with mutant spiders – to debut 

March 11

Park to fulfill Atlanta Falcons bet with sister park Six Flags New England
JUSTICE LEAGUE: Battle for Metropolis 4D construction on time for scheduled May opening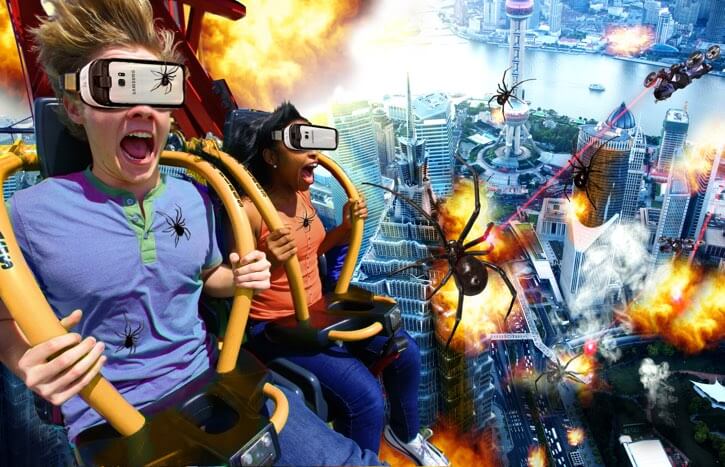 AUSTELL, Ga. — March 3, 2017 — Six Flags Over Georgia, in partnership with Samsung Electronics America, Inc., the "Official Technology Partner of Six Flags," today announced an all-new virtual reality experience, Drop of Doom VR. The country's first-ever permanent drop tower VR attraction is a thrilling, immersive encounter with giant, mutant spiders and makes its debut on March 11, as part of the park's 50th anniversary season.
"We continue to explore new opportunities utilizing Samsung Gear VR technology and this drop tower concept is a great example of the ability to change content for different rides," said Six Flags Atlanta Properties Park President Dale Kaetzel. "We look forward to having our guests experience Drop of Doom as we kick off the beginning of a very special year, filled with new thrills, new reasons to visit and new memories to be made with family and friends."
Riders, using Samsung Gear VR powered by Oculus, will become the pilots of a futuristic gunship under attack by mutant spiders. This intense, interactive adventure features:
A high speed virtual vertical ascent up 100 stories, while teetering off the edge of a helicopter;
A 360-degree rotating view high above massive city skyscrapers that are under siege by enormous spiders;
A high-intensity gun battle against a giant arachnid, spewing baby spiders that virtually crawl all over the rider's body;
A thrilling virtual 100-story fiery plunge straight down between towering skyscrapers; and
The final showdown with a spider the size of a van, teeth-gnashing and in full attack mode.
For a limited time only, guests can experience the Drop of Doom virtual reality attraction free with paid park admission.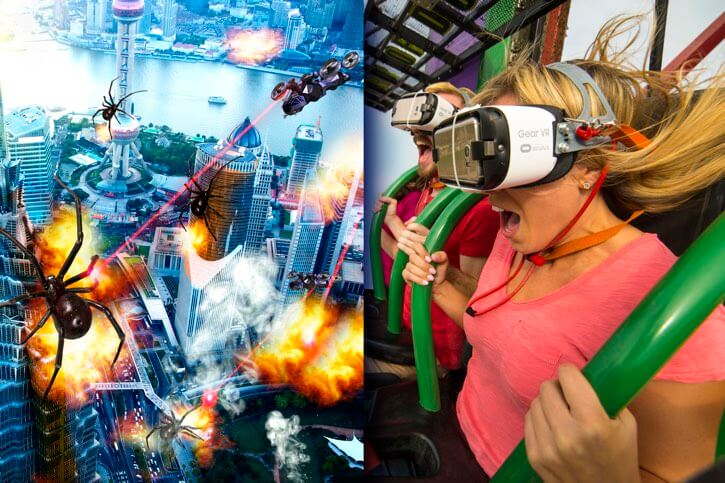 For Opening Weekend, Six Flags Over Georgia will honor the Big Game bet with its sister park, Six Flags New England. As a result of the Atlanta Falcons' loss, the park will rename its 240-foot tall swing ride, The Patriots SkyScreamer and Park President Dale Kaetzel will ride the thrilling attraction, wearing a Patriots jersey. The park will sell a limited amount of New England clam chowder to All Season Dining Plan guests.
Later this Spring, the high-action thrill ride JUSTICE LEAGUE: Battle for Metropolis in 4D will make its debut. JUSTICE LEAGUE: Battle for Metropolis is an engaging, full-sensory action ride, with guests joining forces with BATMAN™, SUPERMAN™, WONDER WOMAN™, THE FLASH™ and GREEN LANTERN™, using stun blasters to defeat Lex Luthor™, The JOKER™ and his henchmen. Recently named by USA Today as one of the 12 most anticipated theme park rides for 2017, construction on this state-of-the-art attraction and the all-new Metropolis Park is nearly complete.
Six Flags Over Georgia is open on weekends March 11 through May 14 and daily for Spring Break April 1 – 9. Summer daily operation begins on May 20. Season Passes and the All Season Dining Pass to Six Flags Over Georgia and Six Flags White Water in Marietta, which provide unlimited visits and meals all season long, are available online.
---
Are you going to visit Six Flags Over Georgia to try out the new VR Drop Tower?