Muppet Mobile Lab at Epcot at Walt Disney World
I ran into the Muppet Mobile Lab with Dr. Bunsen Honeydew and Beaker during my IAAPA 2016 trip. I'd just finished Ellen's Energy Adventure (which I hadn't down in over 15 years) and I was heading across the plaza by the Fountain of Nations when I heard the Muppet music. Even though I had plenty of time before my Soarin' FastPass, I still would not have missed this for anything. The Muppet Mobile Lab came out of Communicore, er, Innoventions West and they stopped between Spaceship Earth and the Pin Trading station.
I was picked to be one of the participants of the Muppet Mobile Lab Demonstration and it was wonderful to be up close to Honeydew and Beaker. Its part of Imagineering's Living Character Initiative (anyone remember Lucky the Dinosaur?) and was a spectacular demonstration. Turtle Talk with Crush is another example of the Living Character initiative.
Check out My Muppet Mobile Lab Video!
The details of the Muppet Mobile Lab were intriguing. I grabbed a screen cap that made me wonder about previous incarnations.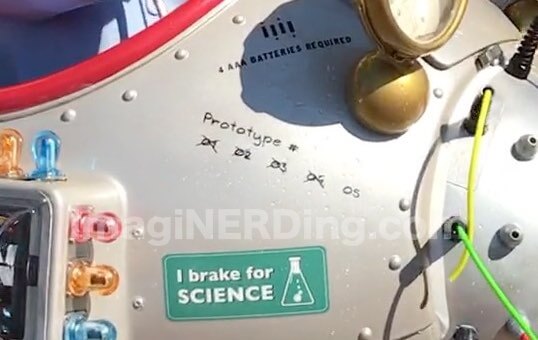 4 AAA Batteries Required;
Prototype # 01, 02, 03, 04, 50 (with all but 05 exed out). Does anyone know if there were four other prototypes of the Mobile Lab?
I brake for Science
Overall, the Mobile Muppet Lab was amazing. I grew up on the Muppet Show and Honeydew and Beaker were two of my favorite characters. I was surprised that the voice was so realistic and the timing was dead-on. Honeydew interacted with all three of us and used our names. It was very impressive.
I've heard from other people that it's often seen around lunchtime. It's definitely worth hanging out to see it!
Have you had the chance to experience the Muppet Mobile Lab at Walt Disney World or anywhere else?