Disney Channel's Adventures in Babysitting
Disney Channel's Adventures in Babysitting is the 100th Disney channel film. That's actually a  big milestone, but there's nothing special on the DVD release to celebrate it. This was a nostalgic opportunity that Disney missed to look back at the milestone. Still, that's not the reason to pick up this DVD.
So, this is not the cult classic Adventures in Babysitting from the 1980s with Elizabeth Shue. The 1980 film did inspire the current Disney channel release. And it loosely follows the same plot, but with two babysitters having to take their charge of children to the scary and dangerous city, even when they were admonished not to. Of course, everything goes terribly wrong but all seems to work out in the end. I think. Are all big cities scary?
Disney Channel's Adventures in Babysitting stars Sabrina Carpenter and Sofia Carson as two teens who accidentally bump into each other and are as different as night and day. Or as different as blonde and brunette, apparently. They're both Disney Channel stars and it shows.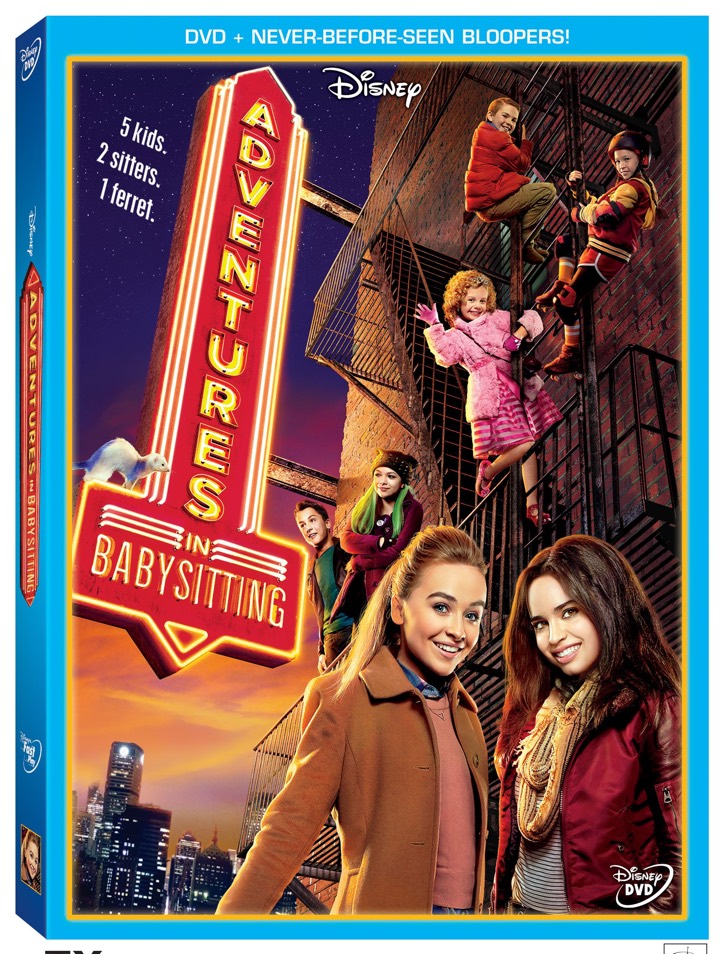 One teen runs off to the scary city. Therefore, the two babysitters and the four other kids have to take off to find them. Bad things happen, which include a ferret, and two guys who weren't good enough to get parts in any of the Home Alone films. Also, there was a tow-truck driver and a bunch of people at a gala. I know there's an audience for this film, but it wasn't anyone in my household. We've enjoyed some of the Disney Channel films, like Lemonade Mouth, but this one didn't really stand out.
When the group reunites they stumble into a very antiseptic nightclub. To me, it might be the low point of the film. And the emcee won't let them leave until they rap. Sigh. (I would always fall back on the Kid N Play rap from House Party). Sadly, it's awkward and there's no way a young girl could pull this off without a lot of training.
But, I'm not the target audience for this—and I loved the 1987 original, which I haven't seen in more than 20 years. So, maybe I need to revisit it. Are the kids in your household big fans of the Disney Channel movies and shows? If so, this is a great release for them. Disney Channel's Adventures in Babysitting offers a few exciting chase scenes and the rap song at the club might not be as bad as I thought. But it's still not a film that I can recommend wholeheartedly. This movie isn't for me.
Did you catch Disney Channel's Adventures in Babysitting? What did you think about it?
---
FTC Disclosure: Copies were provided for the purpose of this review. This post contains affiliate links, which means that ImagiNERDing receives a percentage of sales purchased through links on this site.