Heroes United: Iron Man and Hulk
Heroes United: Iron Man and Hulk was released on blu-ray in December 2013. Jeff and George originally reviewed this disc on Communicore Weekly during it's initial release. Is this disc for more than just the superhero set?
George: Marvel, like Pixar, has been on a continuous roll since the release of Iron Man in 2008. They've expanded their forays into animation thoughtfully, offering great product with great storylines. Marvel's Iron Man Hulk: Heroes United is a new release that includes The Marvel Initiative, so this is official canon for the Marvel Universe. It showed up on Disney XD first and, honestly, I avoided it because I didn't like the visuals presented. When we got our review copy, it sat for a few days before we opened it and I was pleasantly surprised.
Jeff: The visuals, like George said, are reminiscent of the old Spider-Man show from the early 2000s that was on MTV. Honestly, that's not all that long ago, but technology has evolved quite a bit since then, so I was a bit turned off by them at first. But, once I saw the things they did with it, I put my misgivings to rest. And, this being "official canon" helped quite a bit, too.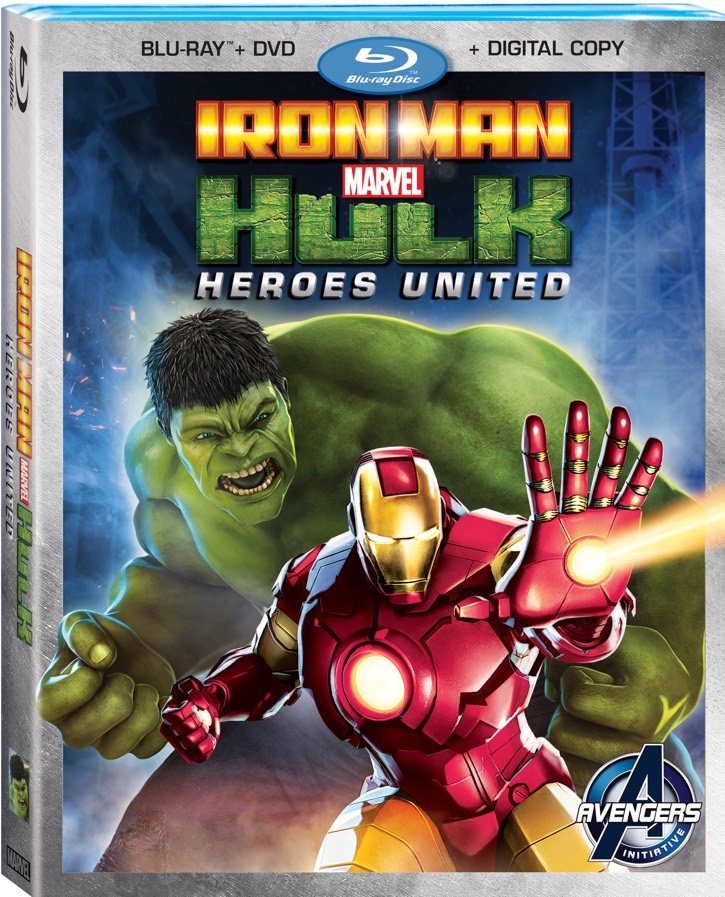 George: It's odd because the backgrounds are almost photo-realistic and the characters are almost caricatures. One of the first things that my wife and ten year-old commented on, though, was that the Hulk spoke in full sentences and with good grammar. It was odd. To me, the differences between the backgrounds and the characters was a little too jarring. Once I got into it though, I enjoyed the story and seeing Iron Man and Hulk trying to work out their differences.
Jeff: It was pretty much non-stop action, though. I mean, there was zero let up. It seemed like every piece of dialogue had a punch thrown along with it, and Hulk was always smashing something. It was kind of bizarre at first, but of course, my ten year old loved it. Who doesn't love when Hulk smashes everything in sight?!
George: My ten year old loved it, too. I thought the best part of the blu-ray was the Marvel "Inter-Missions." Like we saw with the Muppets release, whenever you pause the film, you are thrown into an intermission. It's become semi-standard and really adds to the blu-ray experience. The only negative is that no one wants to get me my drink refill when the intermission comes up. We need a way to pause the intermission! The Marvel "Inter-Missions" were mashups of the older, mid-1990s animated series Iron Man and the Incredible Hulk. To me, they were the best part of the disk!
Jeff: There was also an interview with Joe Quesada, Marvel Comics honcho, which as a comics nerd, I found pretty neat as well. But I agree, the intermissions that are becoming more and more common on Disney blu-rays are definitely starting to steal the show.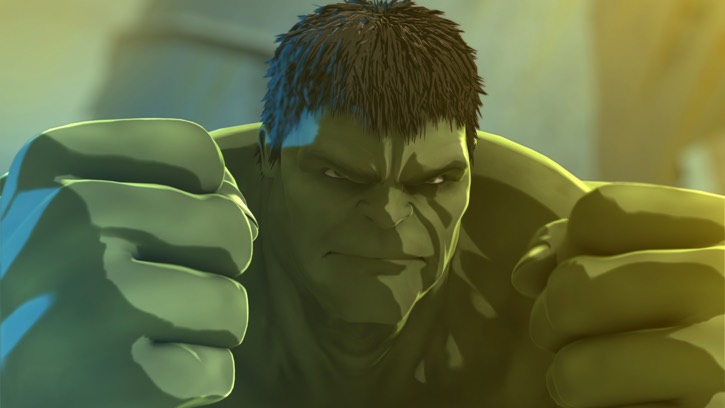 George: I enjoyed the Heroes United blu-ray more than I thought I would. The animation style through me off at first, but the overall story and extremely dense action scenes pulled me through. Most Marvel fans are going to find this blu-ray as a great addition to their collection.
What did you think about Heroes United: Iron Man and Hulk? Are you a fan of the Avengers Initiative?
---