Eastern Winds at Walt Disney World
The Eastern Winds is one of those great Walt Disney World historical details that people run into eventually. It's the perfect representation of what the Vacation Kingdom of the World was like in the 1970s.
I'm obsessed with 1970s Walt Disney World. I think a lot of it boils down to the simple fact that people didn't document their vacations the same way they did at Disneyland in the 1950s (due to the bad economy of the 1970s and the poor cameras) or how they do today.
The Eastern Winds, a Walt Disney World boat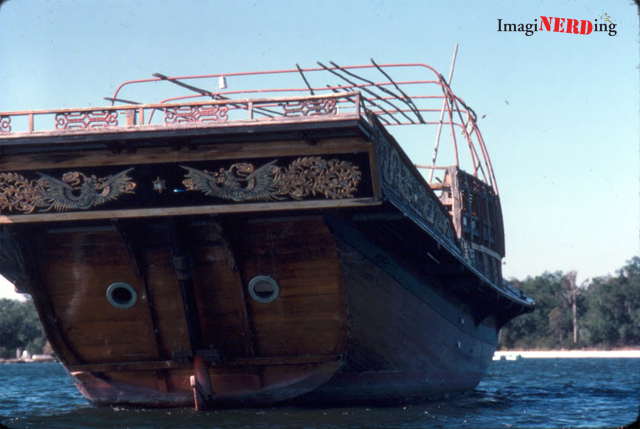 I got this set of three amazing photos from a secret source. The Eastern Winds was at Walt Disney World from 1971-1978.
These photos were taken in January 1977 from one of the Water Sprites/Aqua Cats. The Eastern Winds, a former 65′ party boat which suffered various problems and was retired from service, was moored off the Polynesian for atmosphere purposes before being sold. The painted eyes are part of the design of Chinese junks so that the boat can see where it's navigating.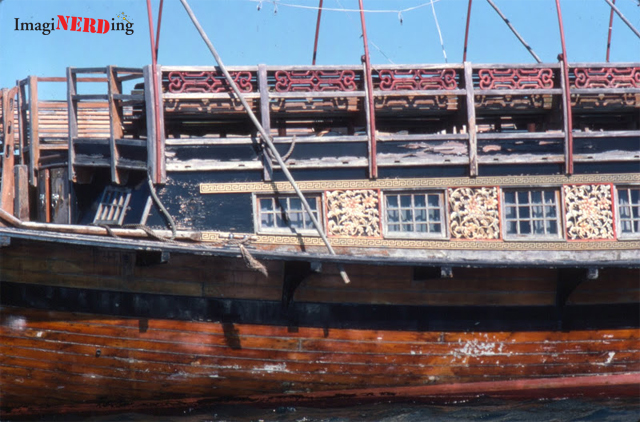 [The] Eastern Winds, the Polynesian's very own floating cocktail lounge that came in the form of a 65-foot long Chinese junk. While it was normally tethered dockside at the hotel's marina, it was a real boat. It included deck and cabin lounge areas, staterooms and "lovely serving hostesses." If Jack Lord and Nancy Kwan had ever conceived a love child, it would have been on this boat. Sadly, the Eastern Winds didn't manage to float its way into the 1980s. Widen Your World.
I ran across this great postcard at Big Brian's Walt Disney World, a History Through Postcards site. He's got some fantastic images and one of the most complete collections of Walt Disney World postcards.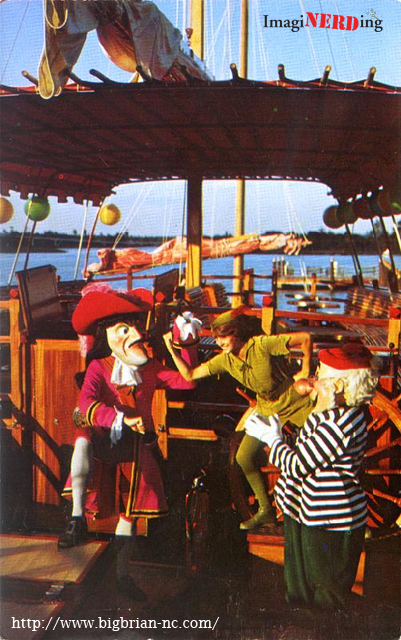 "East Wind" Chinese Junk
Peter Pan and crew prepare to cast off aboard the East Wind, an authentic Chinese junk moored at the Polynesian Village marina. (http://www.bigbrian-nc.com/wdw-pc19.htm)
Enjoy cocktails in authentic Oriental atmosphere — aboard Walt Disney World's Eastern Winds junk.
When you're doing original research with primary sources, you never know what you're going to find. I've scanned over a decade of Eyes & Ears and Walt Disney World News to find very little information about this Walt Disney World ephemera. So, when I ran across the following ad in a WDW News, I knew I had struck gold!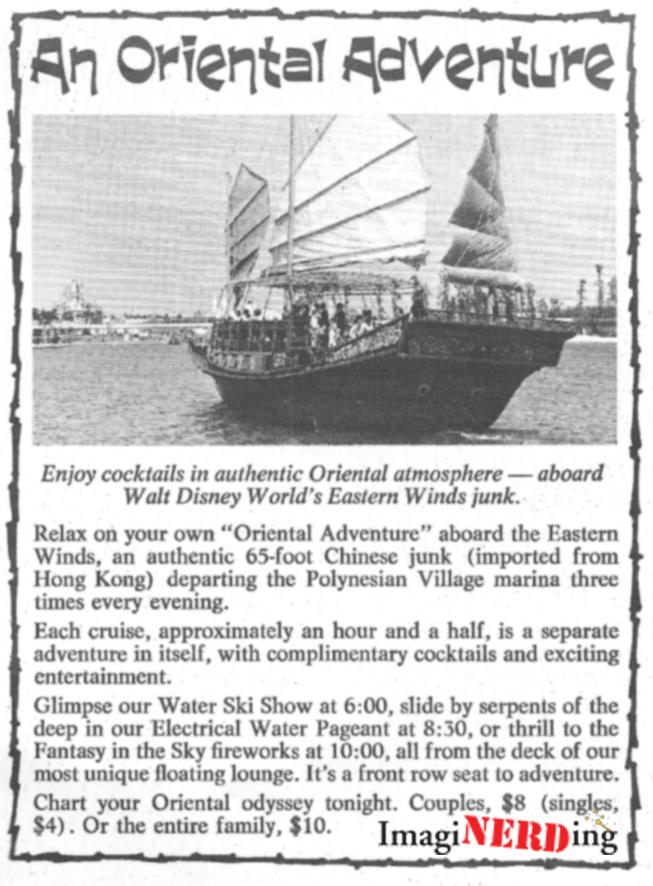 Relax on your own "Oriental Adventure" aboard the Eastern Winds, an authentic 65-foot Chinese junk (imported from Hong Kong) departing the Polynesian Village marina three times every evening.

Each cruise, approximately an hour and a half, is a separate adventure in itself, with complimentary cocktails and exciting entertainment.

Glimpse our Water Ski Show at 6:00, slide by serpents of the deep in our Electrical Water Pageant at 8:30, or thrill to the Fantasy in the Sky fireworks at 10:00, all from the deck of our most unique floating lounge. It's a front row seat to adventure.

Chart your Oriental odyssey tonight. Couples, $8 (singles, $4). Or the entire family, $10.
I can only imagine what the exciting entertainment was!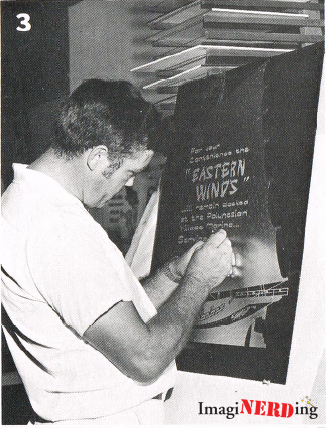 From a 1972 Eyes & Ears is an article on the Walt Disney World Sign Shop. I'm assuming this poster was displayed in the lobby of the Polynesian Village!
3 – "A steady hand is something I've got to keep," says John Barnett who must carefully paint English letters — with a Chinese flair no less! John's sign is a gold leaf display whose center portion is 23 Kt. gold. Lettering takes nearly four hours and if a mistake is made, this is one sign that can't be thrown out! (1972 Eyes & Ears)
As a postscript, the Eastern Winds was sold by Disney after being moored in the middle of Seven Seas Lagoon for several years. It was relocated to St. Thomas in the US Virgin Islands where it was used for recreational cruises.
Did you ever get to experience the Eastern Winds?
---
Check out this great book about the first decade at Walt Disney World.