Little Mermaid II and Ariel's Beginning
Little Mermaid II and Ariel's Beginning were originally released on blu-ray in November, 2013. Jeff and George reviewed this set during its blu-ray release on Communicore Weekly. They take a look at 2 of Disney's direct to DVD Little Mermaid films. Do they sink or swim?
George: So, these other two films have just been released on blu-ray. Wait, are they serious?
Jeff: That's some way to start the review, George. It's almost like the entirety of what we're about to say can be summed up by that alone.
George: We both loved the blu-ray release of the Little Mermaid (read our review , here). I missed the release of the Little Mermaid II: Return to the Sea and Little Mermaid: Ariel's Beginning when they were released at some point in the past. There's good reason for that. After seeing both films, I can't really recommend a viewing order. The Little Mermaid II takes place a few years after Little Mermaid while Ariel's Beginnings is an obvious prequel. I will say that there was an obvious difference between the two films that was quite jarring.
Jeff: I guess we should start with The Little Mermaid II: Return to the Sea. The basic plot is a reverse of the original film. Ariel's daughter, Melody, is a human who wants to play all day in the ocean. But, due to Morgana (Ursula's crazy sister), who tries to kidnap the child when she is young, she is forbidden to go near it. Of course, disobeying her mother's wishes, Melody escapes to the sea, learns her mermaid heritage, and finds out why it's hotter under the water. On paper, I love the concept. Is it a good film, though? Short answer: nope. I feel like they disrespect the original in a few ways, reducing Ariel to a supporting character role and almost changing her entire personality completely.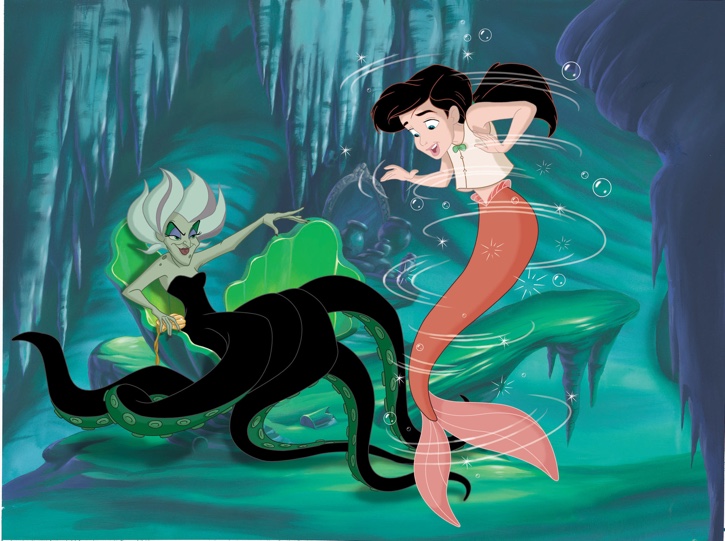 George: I was completely unnerved by Ariel and Prince Eric's lack of parenting in this film. In order to save Melody from skinny Ursula, the build a fortress that destroys the "look" of the castle and forbid Melody from seeing her grandfather, the Sea King. What? And they never tell Melody that her mom was a Mermaid when most everyone in the castle saw the transformation at the end of the first film? Ok. Well, the animation was truly subpar, even compared to the animated show and the music was incredibly lacking. And what happened to Prince Eric's voice?
Jeff: The only upside (as small as it may be) is that Jodi Benson returns to voice Ariel. But again, her role in this is so small that it didn't really matter all that much. I will give some extra points for the transfer, as it's not terrible, but it's not the best, either. It's truly run of the mill, typical direct to video, and they don't usually look all that good in high definition.
George: The second film in the set, which is a prequel, so it's the first film of the trilogy…wait, my head hurts…was actually a tremendous surprise. Ariel's Beginning is about, well, the beginning. We find King Triton, his wife and their mer-brood enjoying life in the royal court. Tragedy strikes and we understand why there's no Queen Triton in the Little Mermaid. Basically, music is outlawed under the sea and Ariel has to find her voice and bring love back to the kingdom. At least this film kept my attention and seemed miles above (fathoms below?) the Little Mermaid II and many of the other direct-to-video sequels.
Jeff: I did enjoy this film marginally more than the sequel, but at the end of the day, it's still a subpar and unnecessary look into a story we didn't really need. Sure, it was neat to see how things came to be in the original film, but it still was missing a lot of the charm that the original had.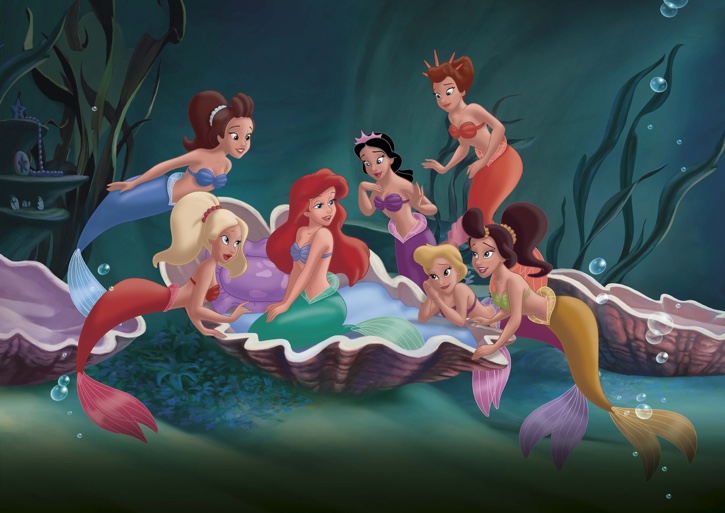 George: That's true and it's really hard to recommend a blu-ray purchase when only part of the it is decent (and that's being generous). This is squarely aimed at diehard Little Mermaid fans. I know that Disney only releases a few major films each year, but there are still plenty of films that haven't been on DVD that deserve more attention than these two films.
Jeff: There are a handful of new extras on the disc that pertain to both films. There is a story, read by Jodi Benson, the voice of Ariel, a deleted song, some deleted scenes, some sing alongs, and not much else. Nothing really should compel you to purchase the disc, though, as they are just like the films themselves: sub par and kind of disappointing.
George: So, another subpar release from Disney? Unless you're a Little Mermaid fanatic, there's no reason to pick these up. You're much better off purchasing the blu-ray release of the Little Mermaid from earlier in the year. Or just watching Communicore Weekly over and over and over…
What do you think about the Little Mermaid II and Ariel's Beginning on blu-ray?
---