Phineas and Ferb Star Wars, a DVD review
Phineas and Ferb Star Wars  IV: A new Hope Retold and Re-FERBished gets reviewed by Jeff and George. Is this a DVD that Star Wars fans are going to enjoy?
George: With all the hype about awakening the force, I'm really glad to see this release. Phineas and Ferb Star Wars has the greatest subtitle of all time: Star Wars IV: A New Hope – Retold & ReFERBished. We're both huge fans of Phineas and Ferb and we were both super-excited to see this release. But, would it be half as good as the Marvel mash-up?
Jeff: The Marvel mash-up, in my mind, was going to be hard to top. But man, oh, man…did they ever deliver. They not only met my expectations, but they far, far exceeded them…in a galaxy far, far away. The reFERBished re-telling of the tale has got to be one of the most cleverly written, laugh out loud hilarious episodes of Phineas and Ferb, ever. EVER.
George: Everything you'd expect from a Phineas and Ferb episode is here, including a handful of great songs and all of the characters from the show making appearances. The almost hour-long special follows the plot of Episode IV and shows how Phineas and Ferb were essential to helping the Rebel Alliance. Or the Empire, depending on which character it is. Of course, the incredibly intelligent writing is there, spoofing (very reverently) the Star Wars Universe and their own show.
Jeff: Did we mention how crazy smart the writing is? I mean, the jokes just kept coming, over and over again. I was amazed. These guys are great. And it was incredible to see how easily they integrated the Phineas and Ferb characters into the Star Wars universe. This entire thing makes me want an ENTIRE trilogy of these. Heck, I'd even watch it if they did they prequels…they would make them bearable!
Extra Episodes on Phineas and Ferb Star Wars:
For Your Ice Only/Happy New Year!
Steampunx /It's No Picnic
Terrifying Tri-State Trilogy Of Terror  (Parts 1 

and

 2)
Doof 101 /Father's Day
Tales From The Resistance (Parts 1 

and

 2)
George: Picking up the Phineas and Ferb Star Wars special is a no-brainer for us. It will keep the kids and caregivers entertained at the same time. Even if you don't have kids, Phineas and Ferb is a brilliant show that is worth checking out.
Jeff: Agreed, also, it comes with a nifty "Perry in Carbonite" keychain that is currently hanging from my keys. HOW CAN YOU GO WRONG?!?!?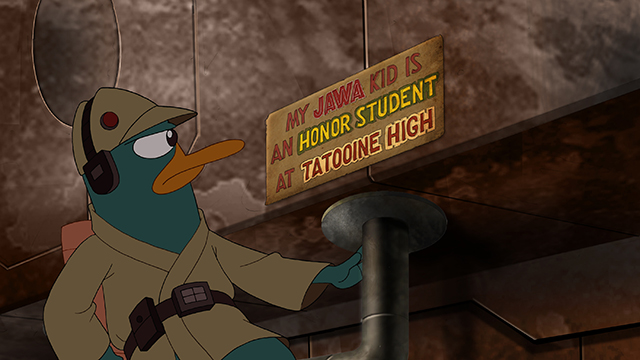 George: well, you might have to buy TWO DVD sets of Phineas and Ferb Star Wars if someone else in your family wants the "Perry in Carbonite" keychain.
---