Busch Gardens Tampa Roller Coasters
I've been visiting Disney theme parks for more than 20 years and, sadly, it wasn't until the past two years, that I started visiting other theme parks in Florida and the ones closer to home. I visited Busch Gardens Williamsburg this summer (I hadn't been there in over 20 years) and I was very excited to experience Busch Gardens Tampa. 2015 was the summer of roller coasters for me and my total coaster count (at the time of writing) is 67. When I started 2015, I'd only done 24 coasters. I knew that Busch Gardens Tampa has some world-class coasters and I was ready for them. What I wasn't ready for was how spectacular the park was, even without the coasters.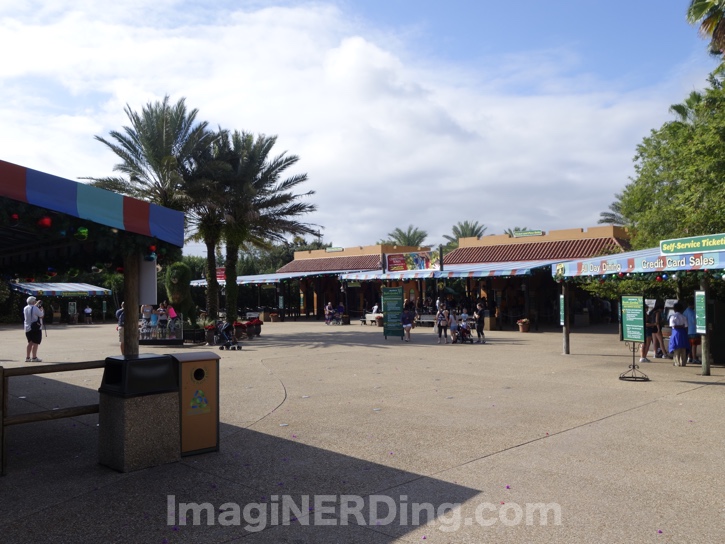 I was surprised the the entrance to the park wasn't very iconic, but it worked well once you were inside. It sort of prepares you for the understated beauty of the park.
Busch Gardens Tampa Roller Coasters: Cheetah Hunt
Cheeta Hunt was the biggest roller coaster surprise for me. It's got an incredible design and is used in the park advertising quite a bit.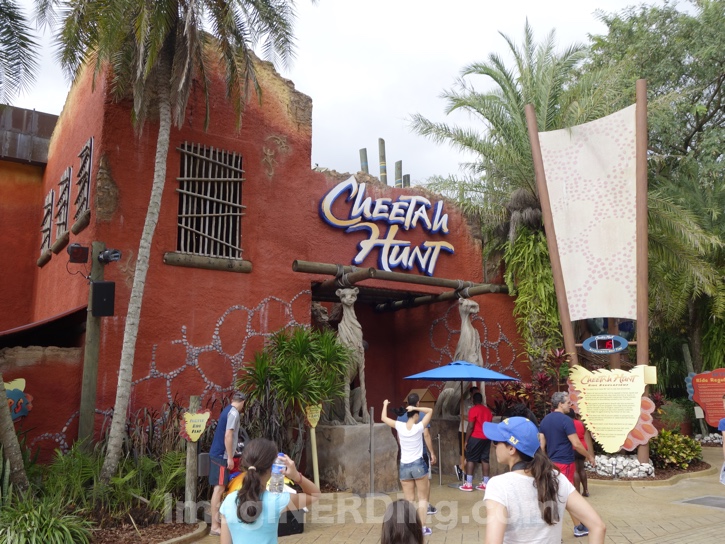 Cheetah Hunt is an Intamin steel launch coaster opened in 2011. Intamin created Volcano, the Blast Coaster at King's Dominion, which turned out to be a fantastic experience. They're also responsible for California Screamin' at Disney California Adventure. The Cheetah Hunt building is the former monorail station and is also home to the Skyway ride.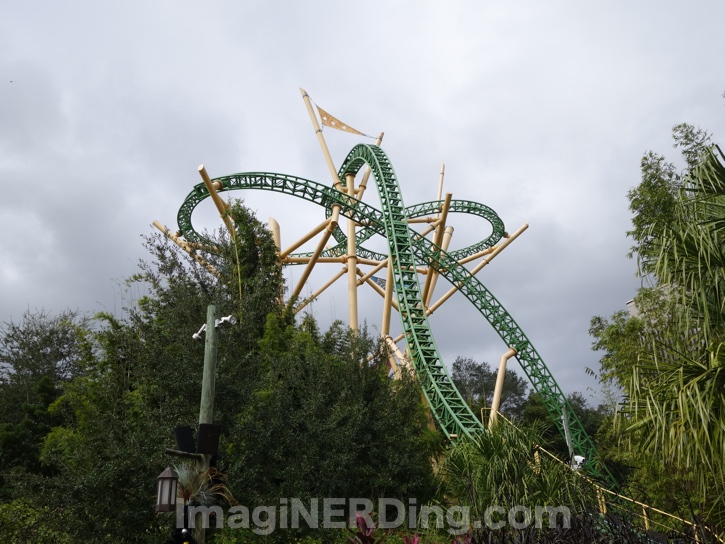 Cheetah Hunt also has a pretty great theme, especially combined with the design. The premise is that you are the cheetah that's on a hunt through the African plains. The dynamic figure eight and helixes simulate the cheetah going through the tree before exploding onto the plain. It's easy to imagine that you're leaping up the tree and snaking around the branches looking for your prey.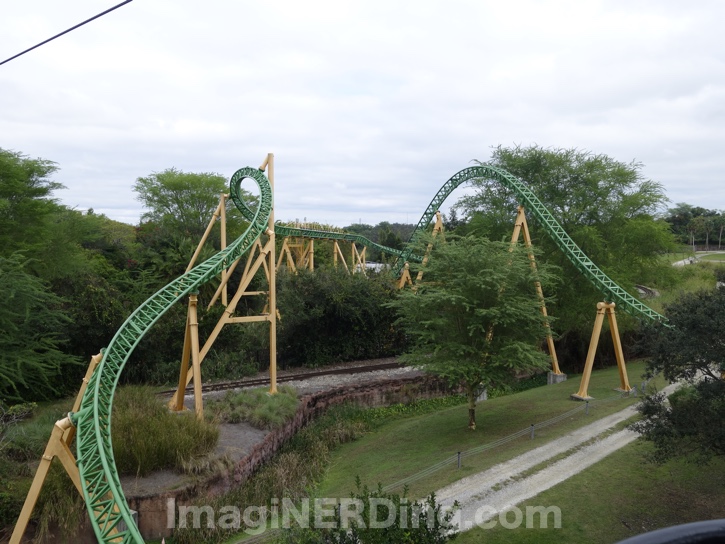 There are three launches, each at a different speed, that happen at different parts of the ride. The coaster really impressed me with how much space it took up and the great vistas of it throughout the park, especially from the skyway ride. The front of the trains were actually pretty. The first trip on a coaster is always interesting because you don't know what to expect and it's harder to brace yourself. With Cheetah Hunt, I was smashed into the restraints on one part and actually bruised my shoulder. I still wouldn't let this stop me from riding it again.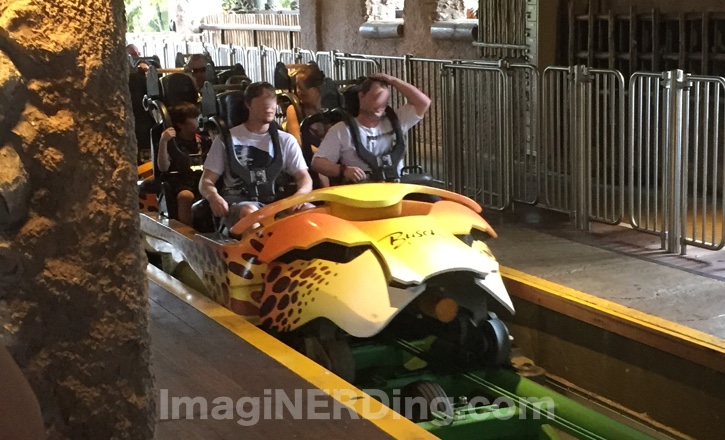 Busch Gardens Tampa Roller Coasters: Montu
I'm always up for a roller coaster by Bolliger & Mabillard. Montu was opened in 1996 and is an inverted steel coaster. It was the tallest and the fastest until Alpengeist opened at Busch Gardens Williamsburg. Montu is the name of the Egyptian falcon-god.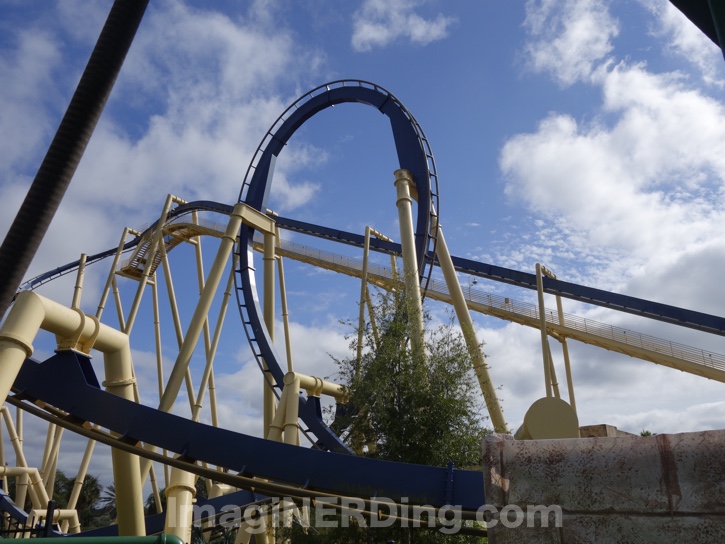 It's a gorgeous coaster, but doesn't afford the same views from the park as some of the other coasters (although the train does go through it). They are also doing construction on Cobra's Curse in the area, which made the area feel a little claustrophobic.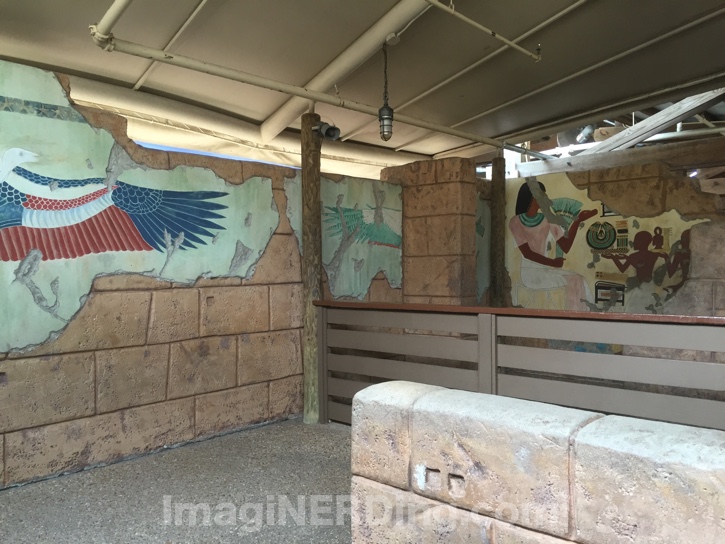 I have to admit that I enjoyed the theming of the queue. It doesn't compare to most of what Disney does, but it was still so much better than a typical queue for a roller coaster. The day I visited was not very crowded and everything was a walk-on. Fortunately, I was able to ride in the front of most of the coasters, which is always great on an inverted.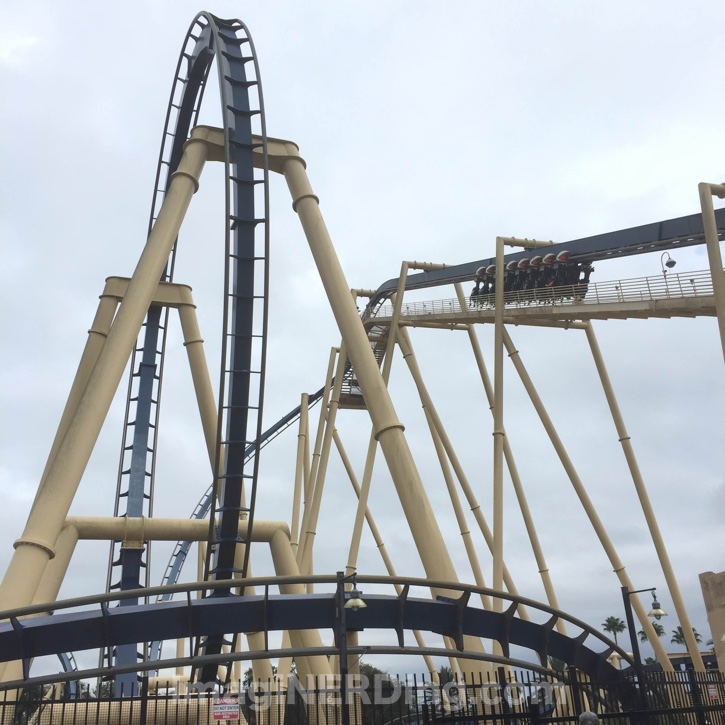 Montu is a great B&M inverted, especially since it doesn't have the same g-forces as Alpengeist or the Dragon Challenge coasters at Universal. I love Alpengeist, but it's one of the few coasters that makes me dizzy. Like Apollo's Chariot (at BGW), it's a great coaster that shows off a lot of B&M elements without being too overwhelming.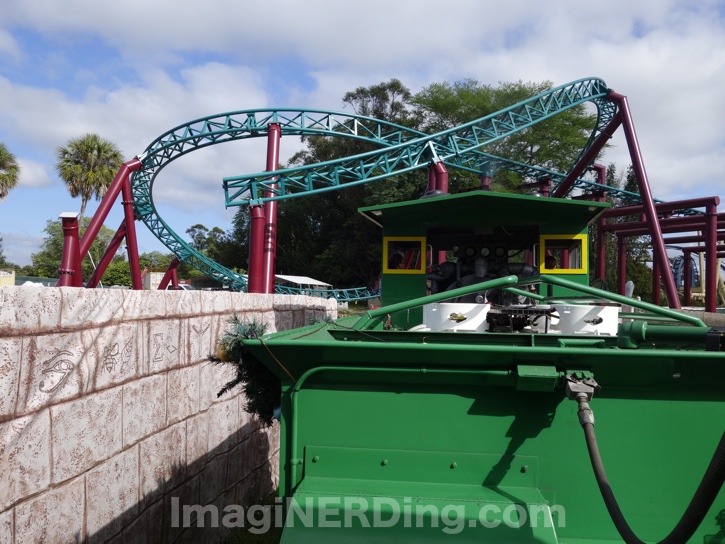 I'm very excited for the debut of Cobra's Curse! The fact that the train is going to go through Cobra's Curse and Montu is pretty amazing.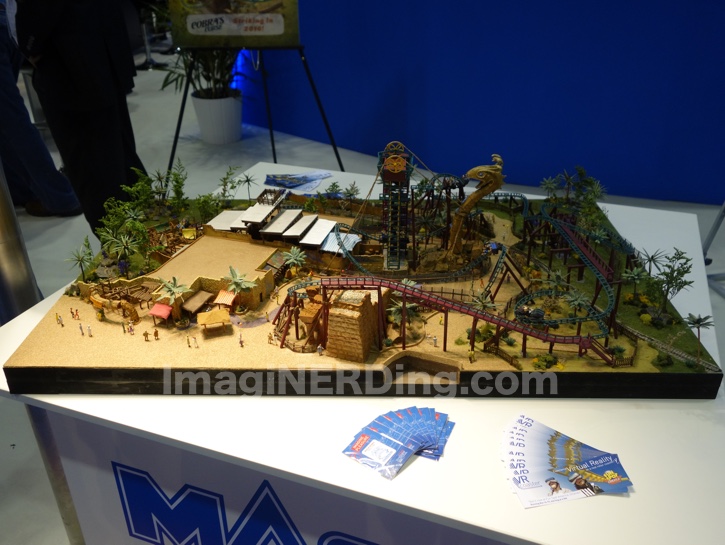 Busch Gardens Tampa Roller Coasters: Sand Serpent
Sand Serpent is a Mack steel wild mouse coaster that was originally built for Busch Gardens Williamsburg in 1996. It was supposed to be temporary but had long lines and stayed at BGW until it was moved to BGT in 2004. It was originally called Cheetah Chase but was renamed in 2011 to not be confused with Cheetah Hunt.
Sand Serpent offers a pretty standard mouse coaster experience. If you've ridden one wild mouse coaster, then you've ridden them all. Still, I was glad to add it as a coaster credit.
Busch Gardens Tampa Roller Coasters: Kumba
Opened in 1993, Kumba was the first Bolliger and Mabillard coaster for BGT. It's a steel sitting coaster with seven inversions (a world-record at the time) and a vertical loop that goes around the lift hill. Kumba is from the African Kongo language and translates as roar.
Kumba is another coaster that's hard to photograph. It also feels like a transitional coaster from B&M to me. It's extremely powerful and I felt like I really had to focus to keep from being jostled, which usually doesn't happen on the modern B&M coasters. The more modern B&M coasters have a power and smoothness that is so hard to duplicate.
Seven inversions was pretty intense, though!
Busch Gardens Tampa Roller Coasters: SheiKra
Griffon, a floorless dive coaster was my favorite roller coaster at Busch Gardens Williamsburg. I was excited to ride SheiKra, even though it isn't as tall as Griffon.  SheiKra was the first drop coaster built in the U.S. and was the first coaster to offer a splash down feature.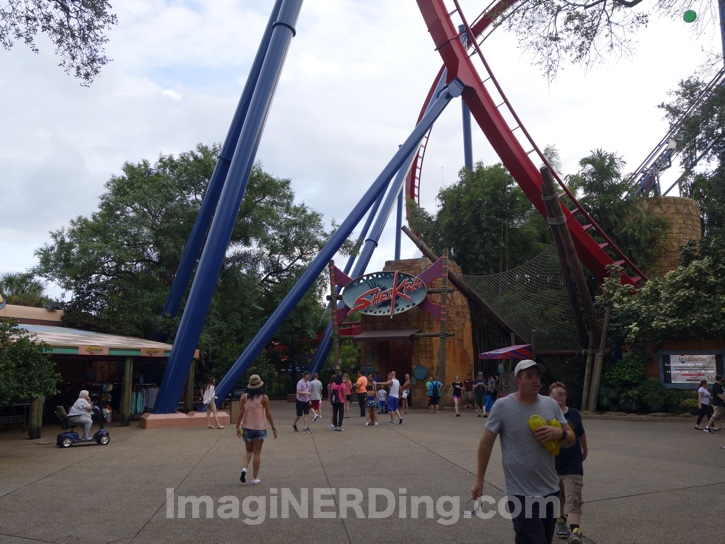 SheiKra opened in 2005 as a dive coaster. It was converted to a floorless model in 2007 after Griffon opened. It was repainted in 2013 and looks gorgeous! It was named after a shikra, an Asian-African hawk that dives for its prey.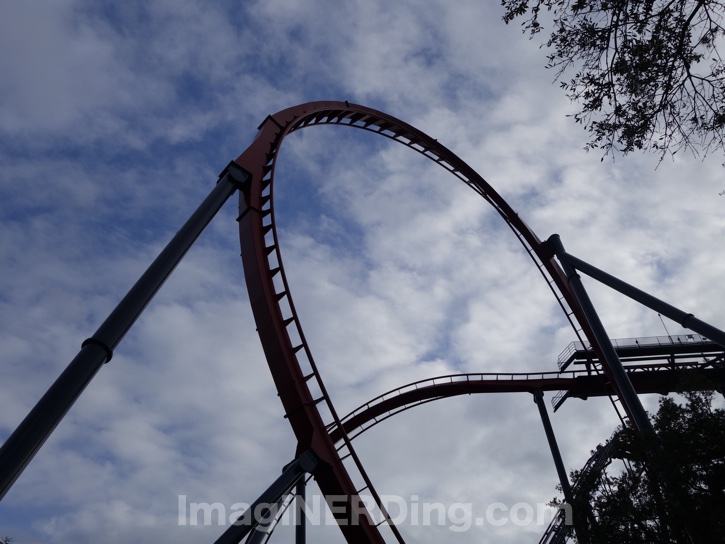 SheiKra is another beautiful B&M coaster that's wonderful just to watch, especially because it can be seen from so many different areas in the park. The dive was good, but did feel short. Although seeing most of Tampa splayed out below during the brake period before the drop makes the lift hill feel much taller than the 200 feet.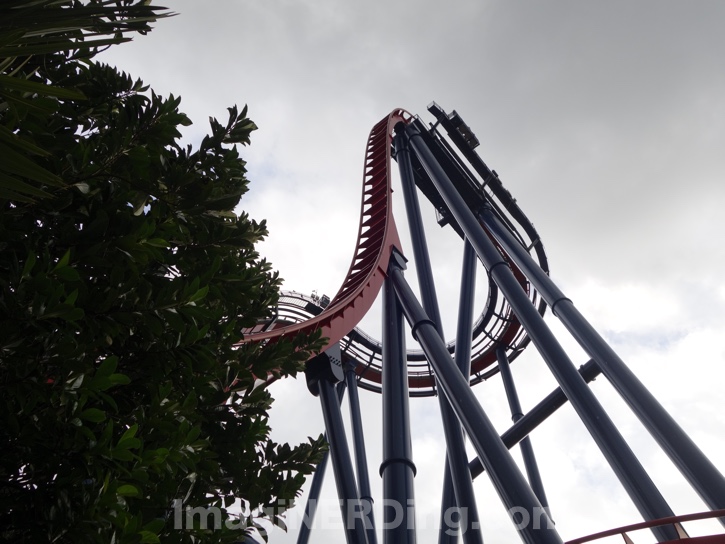 The dive element is amazing and so hard to explain. You're held over the edge of the curve for just under five seconds. And then you're released. The air time is wonderful.
https://youtu.be/jghEo61HS5Y
Busch Gardens Tampa Roller Coasters: Final Thoughts
I didn't get to ride the Scorpion due to timing, but I'll ride it on a future visit. Overall, the coasters were as good as expected but nothing that really stood out. Cheetah Hunt and Montu were my favorites and the coasters I wanted to ride a second time.  It's definitely worth the trip for coaster junkies.
But…
I walked away from Busch Gardens Tampa in love with the park and the animals!
Busch Gardens Tampa originally opened in 1959 and expanded quite a bit from its humble beginnings as a bird sanctuary and brewery tour. The animals are still center-stage and should be one of the main reasons to visit the park. The animal encounters were completely unexpected. I was able to pet a four month-old flamingo and feed older flamingos from my hand. The tiger experience was extremely up-close and offered varied viewing options.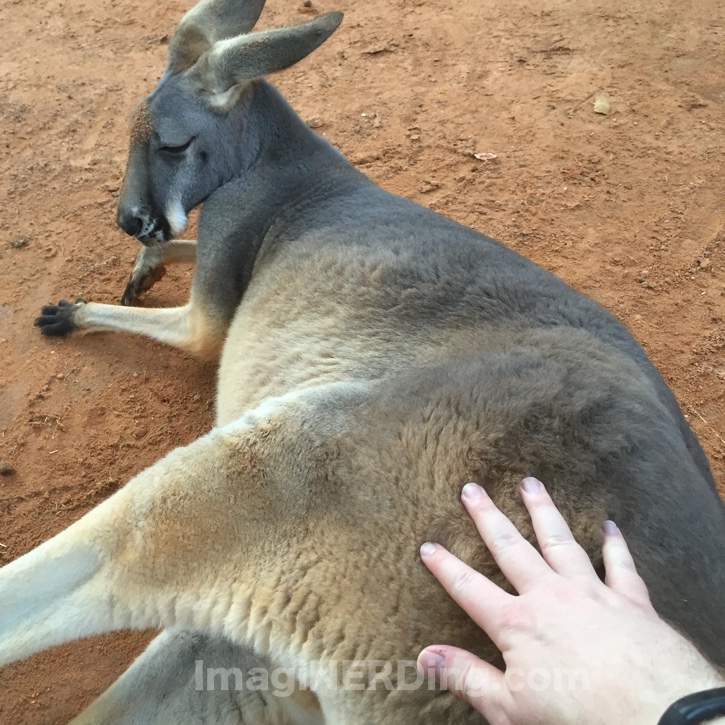 And I got to pet a kangaroo!
I would definitely add a day trip to Busch Gardens Tampa on my next Orlando vacation. It's just over an hour drive and it's a park that you can get a good taste of in a single day. That being sad, I will spend much more time visiting the various animal exhibits on my next trip. Also, I felt it was a much better experience for animal lovers than Disney's Animal Kingdom!
Have you visited Busch Gardens Tampa? What's your favorite Busch Gardens Tampa roller coaster?