Dick Pope: The Mastermind Behind Florida's Tourism Industry
At ImagiNERDing, we're thrilled to feature a remarkable individual who played a pivotal role in shaping Florida's tourism landscape— Richard Downing "Dick" Pope, Sr. Known as the "Father of Florida Tourism," Pope's vision and tenacity transformed a marshy piece of land into Cypress Gardens, one of Florida's earliest and most beloved tourist attractions.
Early Life and Career Beginnings
Born on August 14, 1900, in Iowa, Dick Pope moved to Florida with his family at the age of seven. Growing up amidst Florida's natural beauty, Pope developed a deep appreciation for the state's unique landscapes and climate.
Before embarking on his journey in the tourism industry, Pope dabbled in various fields. He worked as a newspaper reporter, a publicist, and even as a speedboat racer. However, it was during a visit to Bok Tower Gardens in Lake Wales that he found inspiration for his most significant venture – creating a botanical garden that showcased Florida's natural beauty.
The Birth of Cypress Gardens
In 1936, Pope and his wife, Julie Downing Pope, opened Cypress Gardens on the shores of Lake Eloise in Winter Haven. They transformed a swampy, snake-infested area into a stunning botanical garden filled with exotic plants, vibrant flowers, and towering cypress trees.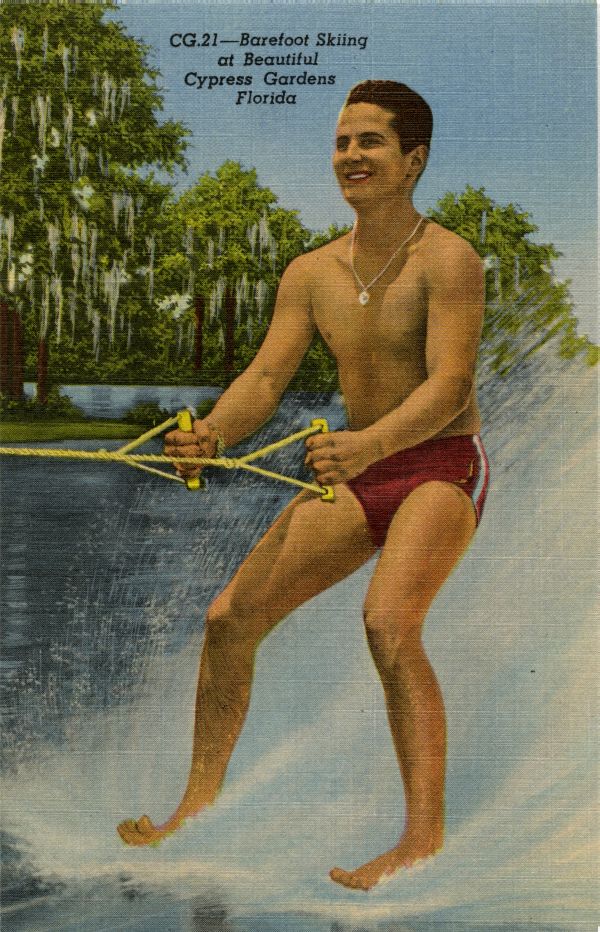 Cypress Gardens was more than just a botanical garden; it offered water ski shows, Southern Belles in antebellum dresses, and electric boat tours through the park's winding canals. These attractions provided visitors with an unforgettable experience, making Cypress Gardens a must-visit destination in Florida.
A Pioneer in Marketing and Public Relations
Pope was not only a visionary in creating Cypress Gardens but also a master marketer. He understood the power of publicity and made sure Cypress Gardens received national and international attention. He invited journalists to the park, resulting in features in major publications like the Saturday Evening Post and National Geographic.
Pope also capitalized on the emerging medium of television. He ensured Cypress Gardens was featured in numerous TV shows and films, further enhancing its appeal and recognition. His innovative PR strategies significantly contributed to promoting Florida as a premier vacation destination.
Dick Pope and His Contributions to Florida's Tourism Industry
Dick Pope's Cypress Gardens played a crucial role in boosting Florida's tourism industry. It attracted millions of visitors annually and put Winter Haven on the map. Furthermore, it set a precedent for future theme parks in Florida, including Walt Disney World, Busch Gardens Tampa, SeaWorld, and Universal Studios.
Pope's efforts extended beyond Cypress Gardens. He co-founded the Florida Attractions Association and served as a consultant to several Florida governors on tourism issues. In recognition of his contributions, he was inducted into the Florida Tourism Hall of Fame.
When Dick Pope Met Disney
The University of Central Florida created an exhibit brochure that detailed when Pope met Walt and Roy Disney. It is an expected tale about Walt and a charming one between Roy and Dick.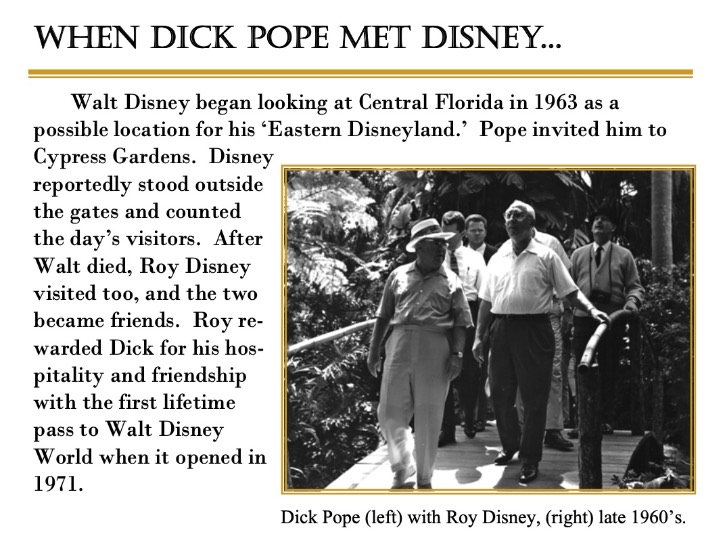 Walt Disney began looking at Central Florida in 1963 as a possible location for his 'Eastern Disneyland.' Pope invited him to Cypress Gardens. Disney reportedly stood outside the gates and counted the day's visitors. After Walt died, Roy Disney visited too, and the two became friends. Roy rewarded Dick for his hospitality and friendship with the first lifetime pass to Walt Disney World when it opened in 1971.
Leaving a Lasting Legacy
Dick Pope passed away on January 18, 1988, but his legacy lives on. Although Cypress Gardens closed in 2009, parts of it still exist within the Legoland Florida Resort, allowing new generations to appreciate the beauty Pope sought to preserve.
Through his vision and relentless dedication, Dick Pope transformed Florida's tourism landscape. He showcased the state's natural beauty to the world and paved the way for the flourishing theme park industry that Florida is well-known for today.
From his New York Times obituary: Mr. Pope was noted for his efforts in behalf of the entire state, handing out Florida-shaped pins and persuading weather forecasters to describe the weather as partly sunny instead of partly cloudy.
Thank you for joining us on this journey through the life and career of Dick Pope, Sr. His story serves as a testament to the power of vision, determination, and innovative marketing. Be sure to check back for more fascinating insights into the world of theme parks and attractions, only on ImagiNERDing.com!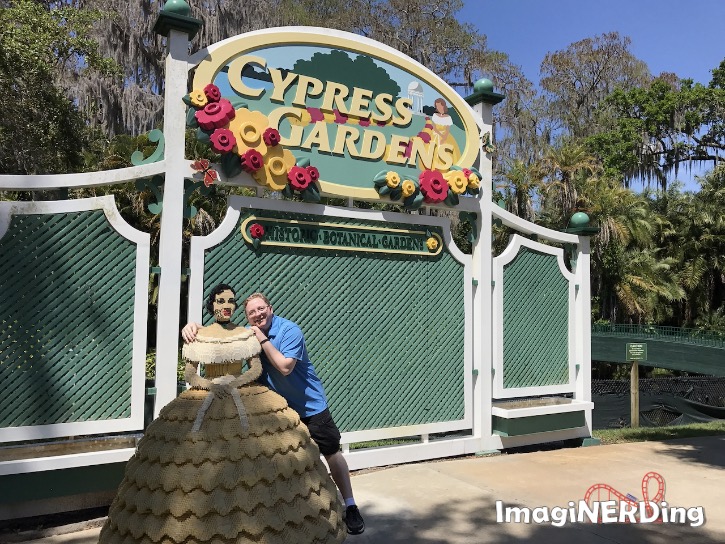 Video on Cypress Gardens and Legoland