Do you remember Skyleidoscope?
Did you know that Dreamfinder was part of this daytime spectacular in the World Showcase Lagoon?
From the October 11-25, 1985 Walt Disney World NEWS is a blurb about Skyleidocope at EPCOT Center: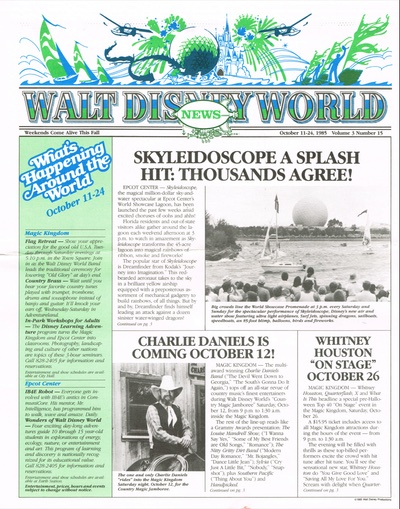 Skyleidoscope a Splash Hit: Thousands Agree!

EPCOT CENTER – Skyleidoscope, the magical million-dollar sky-and- water spectacular at Epcot Center's World Showcase Lagoon, has been launched the past few weeks amid excited choruses of oohs and ahhs!

Florida residents and out-of-state visitors alike gather around the la- goon each weekend afternoon at 3 p.m. to watch in amazement as Sky- leidoscope transforms the 45-acre lagoon into magical ribbon, smoke and fireworks!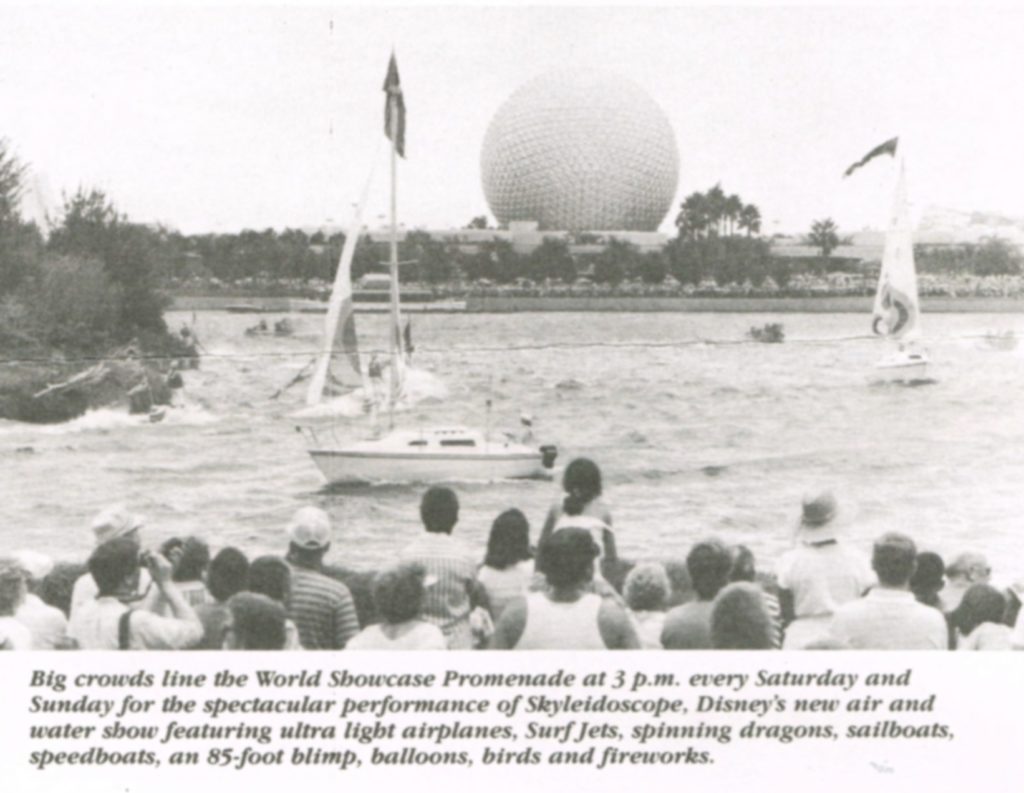 The popular star of Skyleidoscope is Dreamfinder from Kodak's "Journey into Imagination." This red-bearded aeronaut takes to the sky in a brilliant yellow airship equipped with a preposterous assortment of mechanical gadgetry to build rainbows, of all things. But by and by, Dreamfinder finds himself leading an attack against a dozen sinister water-winged dragons!

Making Magical Rainbows

Crowds around the lagoon as more than 70 whirling and sailing craft, plus a flying armada of ultra-lights, repel the dragon invasion and proceed to create magical rainbows.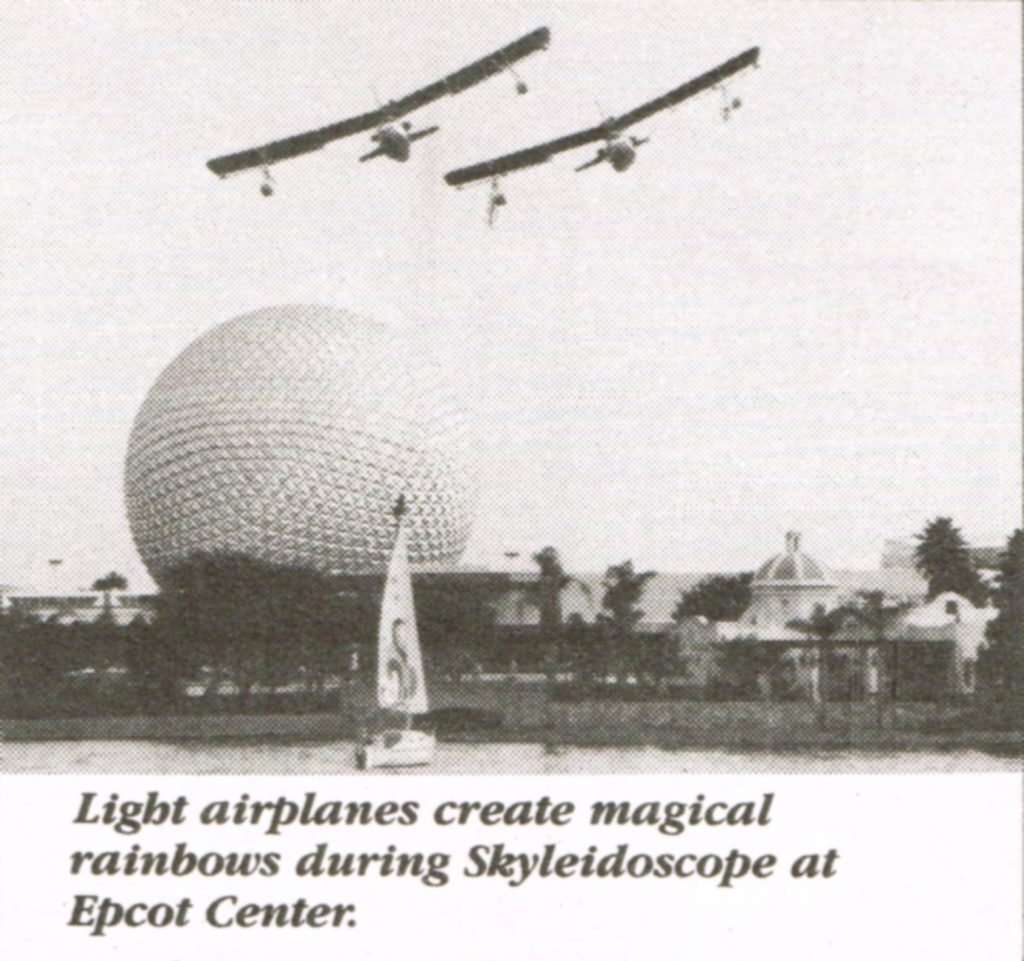 Skyleidoscope is an extravaganza bursting with action and song, and a splash hit billowing with rainbows of silk and smoke. There's no other show like it anywhere in the world!

Skyleidoscope begins each Saturday and Sunday at 3 p.m., so get to your favorite World Showcase vantage point. See for yourself why there's so much excitement in the air—and in the water.
Bonus Dreamfinder Airship Image!
The header for the October 1985 Walt Disney World NEWS features a fairly ornate image that pays tribute to Skyleidoscope. You can see the ultralights, boats, fireworks, and surf jets (think jet ski) pulling dragon tails. But check out the word NEWS.

Buried in the very artistic header for the Walt Disney World News is a hidden Dreamfinder airship,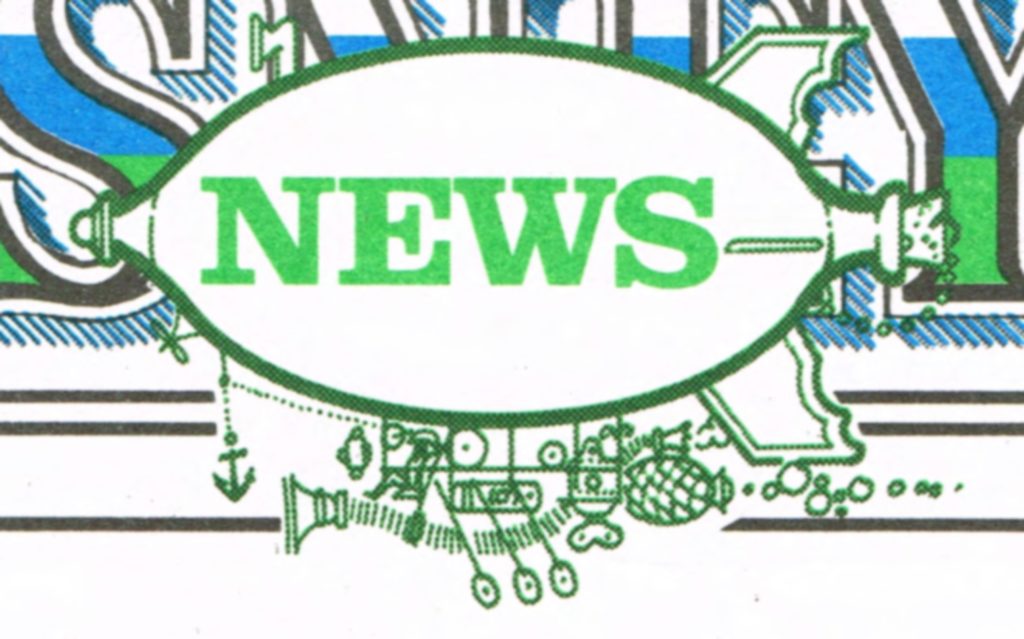 Pretty neat tribute, right?
---
Check out my video review of the 1982 must-have EPCOT Center book!
There are three different editions of this book. Make sure you pick up all three if you want complete your collection. Check out this link to see the three different editions.
What's Your Favorite EPCOT Center book?
---