Vinyl Leaves: Walt Disney World and America by Stephen M. Fjellman
The movie Swiss Family Robinson—based on Johan Wyss's takeoff on Daniel Defoe's Robinson Crusoe—is one in which, as in all "Disney versions," art and history are transformed by dilution. So we have a fake tree holding a fake treehouse, representing a fake story told in a different medium from, but alluding to, a classic piece of literature, in an amusement park visited by 30 million people a year, most of whom are, like myself, enchanted.
I love that quote from page two of Vinyl Leaves. It is a great summation of what to expect from the rest of the book.
Author Stephen Fjellman is Professor of Sociology and Anthropology at Florida International University. It was obvious that he spent an inordinate amount of time visiting Walt Disney World and he turned his passion into one of the first academic works on Walt Disney World.
Vinyl Leaves can be seen as two different books:
A sociological look at Disney, Walt Disney World and America's view of Disney. Fjellman spends time looking at how Disney tells stories through film, theme park attractions and buildings.
A time capsule of Walt Disney World from (around 1989 to) 1991. Fjellman offers a walk-through of almost every attraction at Walt Disney World. It is actually a pretty impressive feat to have documented Walt Disney World and it is amazing to read the attraction descriptions 20 years later.
It is hard to describe Vinyl Leaves outside of the context presented above. It is a socilogical/anthroplogical treatise that wanes between graduate level discourse and an overly-detailed travel guide. Most Disney enthusiasts will find themseslves skipping entire chapters of the book when Fjellmean wades into serious discourse that doesn't discuss the parks at all. It is mainly a look at sociological constructs and Americana.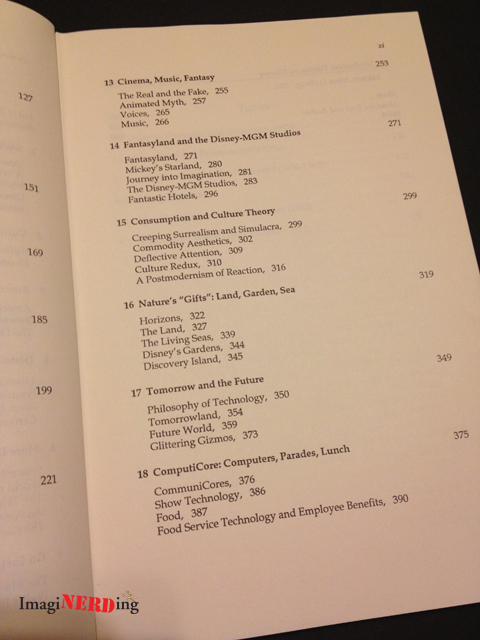 One of the most amazing parts of the book is the Notes section. Laugh all you want, but the Notes section is 87 pages (roughly 18% of the total book) dedicated to every source Fjellman used as well as more detailed notes about attractions. I can appreciate Fjellman not using footnotes, but I found myself spending as much time reading the notes as the actual text. I hope that this book will be converted into an appropriate ebook where the notes could be a more streamlined part of the book. Still, Walt Disney World researchers and historians are going to be praising Fjellman for years.
---
Vinyl Leaves is for three different types of people: sociologists and anthropologists; Disney fans looking to explore older attractions; and Disney enthusiasts and historians that are looking for primary sources. Fjellman has written a lot of theoretical explanations for why Disney presents something in a certain way or why guests react to an attraction in specific ways. It is quite enlightening and might cause you to see the attractions in different lights. Especially when a corporate sponsor is at the helm of an attraction, like during the early days of EPCOT Center.
Fjellman approached the book as a fan of Walt Disney World that has the ability to point a critical eye at his surroundings. He never bashed Disney and he never donned rose-colored Mouse Ears. He sits comfortably as a very well educated Disney fan that can discern what Disney is presenting and still enjoy it.
Vinyl Leaves is not for the casual Walt Disney World fan. Based solely on the sections that describe the attractions, this book easily makes it into my top ten books about Disney. If you have a vested interest in studying the theme parks' history then this is a definite must have.
Have you read Vinyl Leaves? What's your favorite book about EPCOT Center and the Magic Kingdom?
---