Walt Disney World 2019 Attraction Guide by Christopher E. Smith
Anyone that knows me understands my passion for books, especially Disney-related books. I have over 1200 Disney- and theme park-related books and I'm always on the lookout for something new.
But, what's new in the world of Disney travel books? I mean, the first travel guide to Walt Disney World was published in 1982 and there have been hundreds published since then. What could be new?
Let me tell you: a super-nerdy travel guide!
What's a Super-Nerdy Disney Travel Guide?
I'm glad you asked!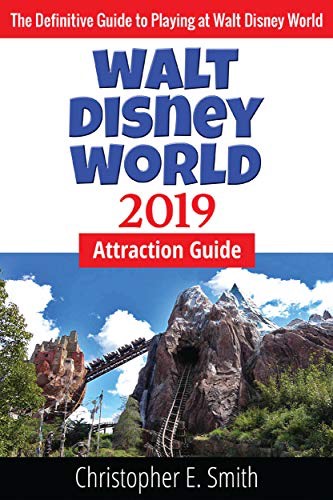 Christopher E. Smith sent me a review copy of his 2019 Walt Disney World Attraction Guide. Chris has written a few other Walt Disney World titles that delve pretty deep into the nerdy side of Disney history and trivia. He really knows his stuff.
With his new travel guide to Walt Disney World, Chris takes his deep knowledge and applies it to the theme park attractions at all four parks. You don't have to be worried about being overwhelmed with the history and trivia; Chris offers a tidbit or two for each attraction, in addition to travel-related tips.
What's Inside the Guide?
Chris breaks down the book by park and land. For instance, in the Magic Kingdom section, there are six chapters covering each land and every attraction gets a page or two (or three) devoted to it. Chris offers some basic touring information:
Ratings by age group;
Type, Rank (A, B, C, D or E Ticket), Length, Height Restrictions' Accessibility, Opening Date (very cool) and Expected Wait Times;
Summary of the attraction;
Description of the attraction (future theme park historians are going to love this);
Queue description (again, this is awesome);
Intensity;
Ride Vehicle/Seating (what a great bit of information to provide);
Best Seat;
Boarding/Wheelchair/ECV;
Touring Strategy; and
MAGICAL DETAILS (I put it in all caps because this is one area that makes the book standout).
Some of the attractions don't rate more than a page since there isn't much of a queue or a backstory. Or there might not be any historical importance to the attraction. Regardless, Chris looks at each and every one spread across the more than 40 square miles of Walt Disney World. It's a hard job, but someone has to do it!
I love that Chris offers a description of the attraction and the queue. One of my FAVORITE books of all time is Vinyl Leaves. Even though it is an academic treatise, the author of Vinyl Leaves visited every attraction (circa 1989) and offers a detailed description of the attraction, queue and environs. No one else has done anything like this, except for Chris. Historians and theme park researchers are going to appreciate Chris's attention to detail.
If you're looking for a travel guide that focuses solely on the attractions, the Walt Disney World Attraction Guide 2019 by Christopher E. Smith is your guide!
Are You Going to Pick Up a Copy of this Nerdy Travel Guide?
---

Special thanks to Wes B.,  Aaron R. and Nicole S. for supporting me on Patreon.
---
FTC Disclosure: A copy was provided by the company for the purpose of this review. This post contains affiliate links, which means that ImagiNERDing receives a percentage of sales purchased through links on this site. Thank you for your support!