Theme Parkeology: Universe of Energy 1985
According to Dictionary.com, the term vintage, when used as an adjective, means "lasting interest and importance; venerable; classic." So, when does something become vintage? In the life of a theme park (beginning with Santa Claus Land in 1946), what constitutes vintage? 15 or 20 years? Or when an attraction or area has gone through several iterations and is recognizably different.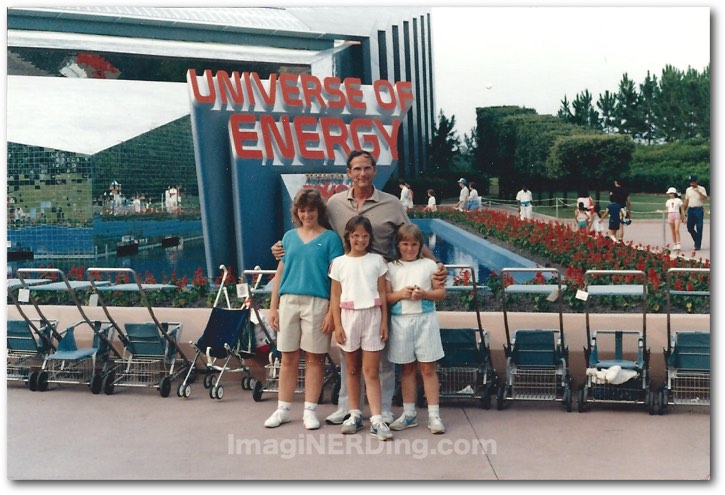 Suffice it to say, the image above, from summer 1985, can be considered vintage EPCOT Center.
Let's take a closer look at the photograph for some of the finer details. Right way, you notice the old-style Universe of Energy sign with the Exxon sponsorship. The sign was changed in 2001 to reflect the merger of the sponsor ExxonMobil. In 2004, the sponsorship ended. The retaining wall around the sign was also painted a deep blue during the 1996 refurbishment and conversion to Ellen's Energy Adventure.
This is a good angle of the show building because you can see the original paint scheme which was changed to a rainbow patter from 1996-2009. The current paint scheme is more reminiscent of the original version.
Check out all of those strollers!
This is a great shot of all of the strollers from the early days of EPCOT CENTER. Especially since you can see that the seat lowers. This is to allow the child to sleep or as a quick escape route for the kids when they realized that there are no characters at EPCOT Center! Notice the hanging tags on the handle bars? Could it be a rash of Minnie Pearl's grandkids? More likely it is the rental slip or name tag for the family.
Our next stop is to the right of the building next to the entrance. (Sometime after the refurbishment, the entrance was moved to the other side.) Notice the box-shaped trees and how they reflect the outline of the pavilion? Notice the funny spot above the last tree? Proof that aliens exist! And they visited EPCOT Center. I bet they loved Horizon!
Here is a shot of the queue from an earlier post.
---
October 2011 marks the 40th anniversary of the opening of the Walt Disney World Resort in Orlando, Florida. The Vacation Kingdom has seen a lot of changes over the past four decades and the editorial staff at Imaginerding wants to celebrate the unique and rich history of the resort with a series of posts. 

A very special thanks to Celeste Cronrath for designing the series of logos for our posts. Make sure to follow her on Twitter. 
---
 Looking for a great book on EPCOT Center?