I have a new super tool in my personal arsenal of theme park planning tools. As most Disney enthusiasts understand, we are usually the first person that people ask when planning their own vacations. My litany has always been to buy the Unofficial Guide, devour Deb Wills' All Ears and get a subscription to Touring Plans.
Now, I am adding The Disney Food Blog Guide to Walt Disney World Dining (Click here to view more details) to my travel advice.
AJ Wolfe has been running The Disney Food Blog since April of 2009 and it has quickly become one of the more popular Disney Theme Park-related sites. There is no one as qualified to write about and help you plan your Walt Disney World food experience than AJ and the talented writers at the Disney Food Blog.
Want to learn more about AJ? She answered some silly questions for us back in 2009.
Does the World Really Need Another Guide to Walt Disney World?
Why, yes. Yes, it does!
The DBF Guide is more than just a litany of restaurants and food; AJ provides the perfect vehicle for Walt Disney World veterans and newbies, alike. For first-timers, the DBF presents a glossary to Disney dining and a fantastic "5-Step Guide to Stress-Free Dining Planning.
In just five simple steps, you will have determined your budget, learned about some amazing experiences to share with your family, found out how Disney can cater to your dining needs, and locked in some fantastic dining reservations and plans.
AJ is not kidding! In a simple, step-by-step process you are on your way to planning your dining at Walt Disney World
From there, the DBF Guide packs more information about the dining plan (will it really save you money?); discounts on dining; eating with kids, characters and groups; ADRs; and so much more!
This is where the DFB Guide really stands out from all other planning guides. AJ recounts her years of Disney dining to offer you the most honest, sanguine and impartial information about Disney food. It is more than obvious that she wants you to have the best trip ever. And she wants to help by making your dining as stress-free as possible.
For the more seasoned traveler, the Guide answers some of the deeper questions, including chapters on snagging hard-to-get reservations, sample itineraries and Do-Not-Miss Dining options.
Every Restaurant and Drinking Spot in the Theme Parks and Hotels
Yep. All of the restaurants. In all four theme parks, the water parks, Downtown Disney and all of the hotels. Whew. For each restaurant, there is a description (Is It For Me?), a cost estimate, hours and a suggestion of what to try.
Why an eBook Only?
Because the book is presented as a PDF, AJ is able to offer the latest and most up-to-date information on Disney dining. She doesn't have to wait on a publisher, printer or shipping. You get instant delivery and the ability to take the ebook anywhere on your Android, iPhone, laptop or netbook. I keep the PDF in my dropbox account so I can access it at work, home or on my Android phone!)
Another great feature is the number of photographs included. There is one on almost every page. Besides the gratuitous shots of food, AJ has included restaurants and some general Walt Disney World locales.
And you thought it would just be pictures of food!
The ebook is beautifully laid-out and well-designed. AJ takes advantage of her years of producing electronic media at the Disney Food Blog to present an informative and extremely eye-pleasing guide to Walt Disney World dining.
This book is one that you need to add to your growing collection of Walt Disney World trip planning resources.
The Disney Food Blog provided a copy of the ebook to me to use for review. Follow the link below to order your own copy!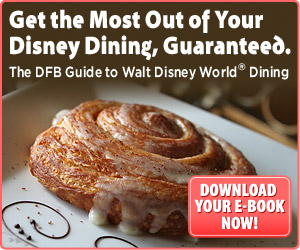 Click here to order a copy!
http://www.imaginerding.com