Blue Ridge Junction Easter Eggs at Carowinds, Part One
Over the past few years, we've seen regional amusement parks, like Dollywood, pay homage to their past, honoring staff and featuring long-gone rides. Disney has done this for years, especially in animation, and it's a new and welcome addition to the theming of amusement parks. My last visit to Carowinds was in March of 2018, before I moved to Central Florida. Since then, Carowinds has opened up a new land with a new coaster called Copperhead Strike.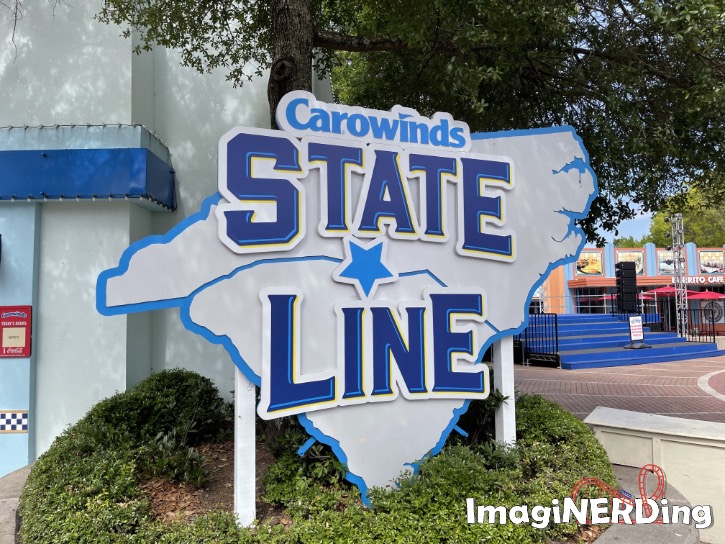 Since my first visit to Kings Island in the 1970s, I've kept track of every roller coaster I've ridden. Guardians of the Galaxy: Cosmic Rewind was coaster #169 and Copperhead Strike was coaster #170. During a family visit to NC over Memorial Day, I got to spend a few hours at Carowinds to check out Blue Ridge Junction and other new-to-me updates since 2018.
Blue Ridge Junction
Blue Ridge Junction is an area of Carowinds that is a nod to the Blue Ridge Mountains and offers Copperhead Strike, a reskinned flying scooters rides (originally from Cincinnati's Coney Island), and the Blue Ridge Country Kitchen. Near the Blue Ridge Country Kitchen, I ran into a few posters and bills that offer unique tributes to Cedar Fair history.
Carowinds Easter Eggs – Kings Mills Auto Livery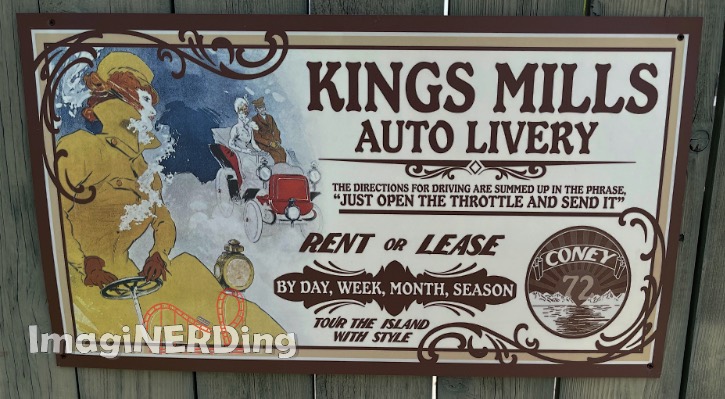 One of the first signs I focused on was for the Kings Mill Auto Livery. This is an obvious reference to Kings Island and the Antique Automobile attraction. The Coney 72 references the first year of operation of Kings island and could reference the Coney Island mall area of Kings Island.
Miami River Lumber Co.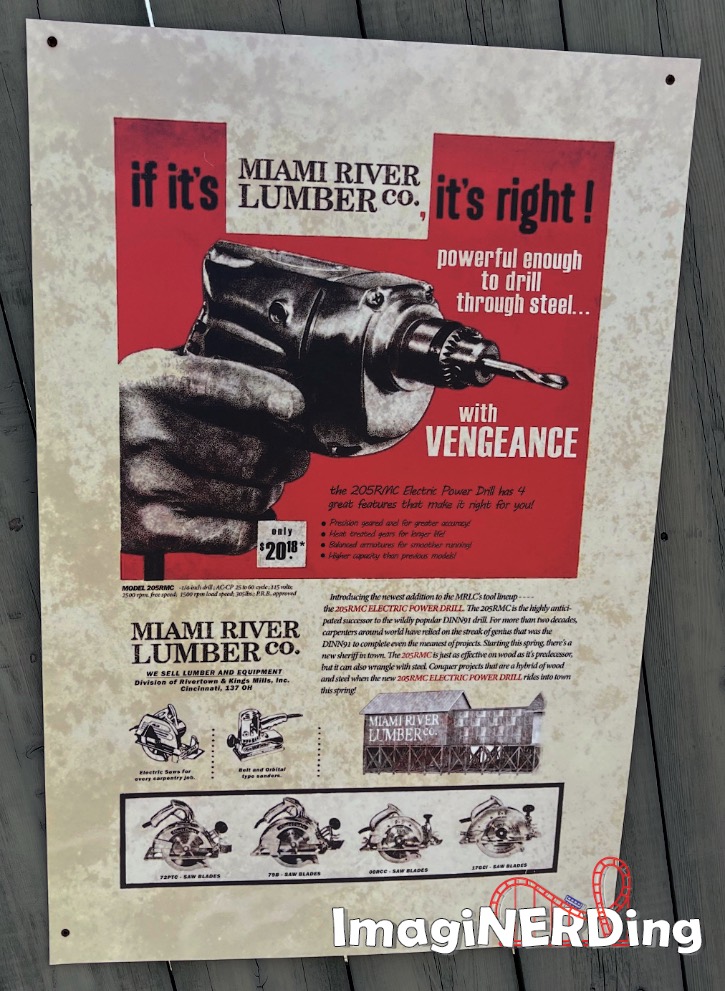 if it's Miami River Lumber Co., it's right!

powerful enough to drill through steel…with vengeance
So many great references in this poster! The Miami River Lumber Co refers to the Miami River which travels through Southwestern Ohio. A reference to Steel Vengeance at Cedar Point, including the price tag of $20.18 for the year it opened.
Introducing the newest addition to the MRLCs tool lineup –
the 205RMC ELECTRIC POWER DRILL. The 205RMC is the highly antici-
pated successor to the wildly popular DINN91 drill. For more than two decades,
carpenters around world have relied on the streak of genius that was the
DINN91 to complete even the meanest of projects. Starting this spring, there's a
new sheriff in town. The 205RMC is just as effective on wood as it's predecessor,
but it can also wrangle with steel. Conquer projects that are a hybrid of wood
and steel when the new 205RMC ELECTRIC POWER DRILL rides into town
this spring!
What a great paragraph! 205RMC refers to the 205 foot tall lift hill for Steel Vengeance which was built by RMC (Rocky Mountain Coasters). The DINN91 drill refers to the Dinn Corporation that built Mean Streak in 1991, the predecessor to Steel Vengeance. I love the nod to the hybrid coaster and RMC in the statement that the 205RMC is effective on wood and steel.
Check out my 2016 video with MrCoaster1 as we rank the top ten coasters at Carowinds (pre-Copperhead Strike).
Do You See Any Other Hidden References or Easter Eggs in the Posters?