The Haunted Mansion Book! (Grim Grinning Ghosts Come Out to Socialize—and read!)
The Haunted Mansion book released by Disney is a picture book (or story book) about everyone's favorite Disney attraction. Although this book is written for elementary-aged children, Disney and Haunted Mansion fans are going to love it!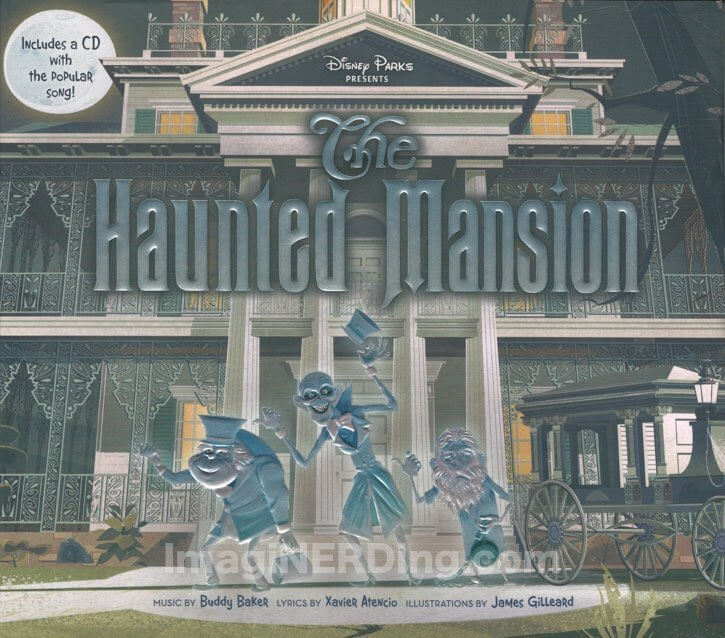 Disney took the lyrics to Grim Grinning Ghosts and had an illustrator create full page spreads that reflect the lyrics of the vaunted theme park attraction. Buddy Baker and X Atencio wrote the eerie and recurrent theme song that is the basis for the attraction and the storybook. James Gilleard provided the artwork. Gilleard's style suggests comedy, albeit mixed with the slight darkness of the Haunted Mansion. Overall, the artwork is charming and seems more of an extension than anything else.
From The Haunted Mansion book blurb:
Buddy Baker and Xavier "X" Atencio, both Disney Legends, created "Grim Grinning Ghosts" together, with Atencio writing the lyrics and Baker composing the melody. Baker has composed more than two hundred scores for Disney movies, such as The Fox and the Hound; television shows, such as The Mickey Mouse Club; and theme park attractions, such as The Many Adventures of Winnie the Pooh. Atencio started his career with Disney as an animator, working on such classics as Fantasia and Mary Poppins. He later became an Imagineer and scriptwriter and helped create Disney Parks attractions, including Pirates of the Caribbean in Disneyland and Space Mountain in the Magic Kingdom at Walt Disney World.

James Gilleard was raised in a small village called Garthorpe in the North of England before moving to London to study illustration and animation, which he now does for a living. His love of vintage animation has influenced his retro style. He enjoys old cartoons, pulp comics, birds, dinosaurs, and everything 1960s and 70s.
Each page or spread has a refrain from the song with a marvelous illustration based on the attraction. Gilleard captures the essence of the scene while deftly weaving his own artistic stylings into the mansion.
The book follows the actual attraction, from the Stretching Room to the exit. I'm glad to see this, since an artistic representation could have been just random images.
The Haunted Mansion book is a wonderful read for a kid who might be a little nervous about riding the Haunted Mansion. It's also a great memento; I'm sure many kids (and adults) will spend hours lost in the book remembering their favorite scenes.
The book also comes with a CD with Grim Grinning Ghosts on it!
Title: Disney Parks Presents: The Haunted Mansion
Author: James Gilleard, Buddy Baker and Xavier Atencio
ISBN: 978-1484727850
Release Date: July 5, 2016
Have you read The Haunted Mansion book?
---
FTC Disclosure: A copy was provided by the publisher for the purpose of this review. This post contains affiliate links, which means that ImagiNERDing receives a percentage of sales purchased through links on this site. Thank you for your support!