Drinking at Disney, a book review!
George: Drinking at Disney? Someone has finally published the book that everyone has been thinking about writing in forever! We're talking about the recently released Drinking at Disney by Drunky (seriously, that's his name) and Rhiannon. It's a guidebook from Bamboo Forest Publishing that covers every single drinking location at Walt Disney World. It includes full bar menus as well as tips and tricks for your visit.
Jeff: The first impression I got when the book arrived was how gorgeous it was. Seriously, for a book about drinking, it has a whimsical design that perfectly suits the style of the book. It's entire layout is wonderful to look at, and it really stands out as a good looking book…about getting drunk.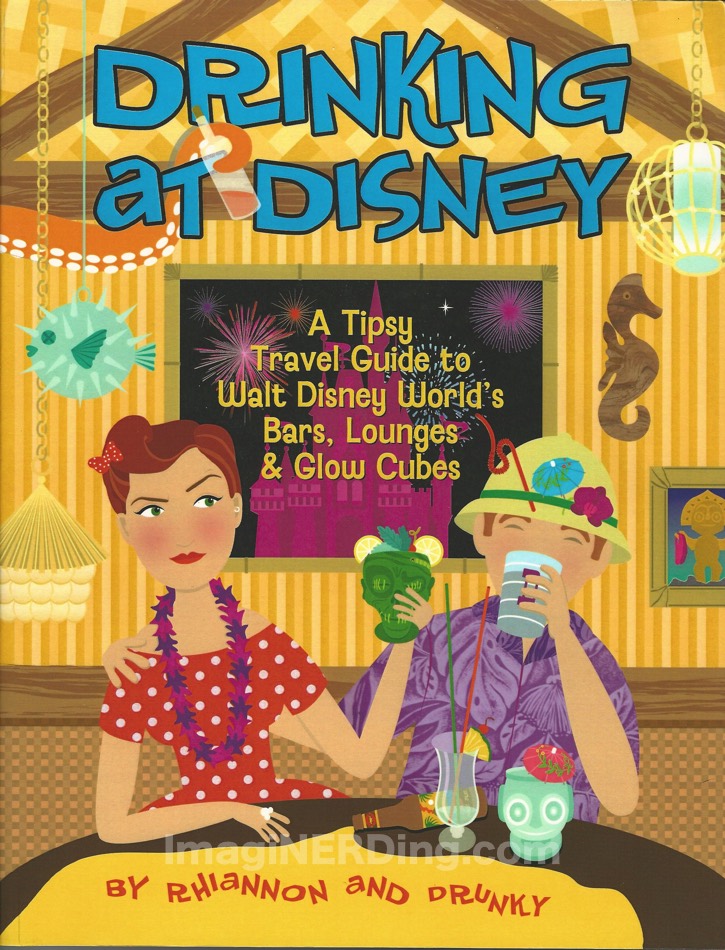 George: Shannon Laskey, who did the amazing Going To Guide for Disneyland handled the artwork and the layout for the book. It truly is incredible. Still, the reason to grab this new book is simply to have an amazing resource for enjoying libations at Walt Disney World. And it's an astounding reference guide. It's funny, charming, slightly sadistic and quite sardonic. Drunky and Rhiannon are more hosts than writers and it shows (still, they're very good writers). By the first few pages of the book, you understand that you're in for a treat, especially with the running gags. And drinking gags.
Jeff: Their back and forth translates beautifully onto the page, with one sometimes interrupting the other with their comments. It's extremely well done, and never jarring, but often hilarious. I know we've been talking about the layout and the authors, so let's get into the meat of the book itself: It's good. Very good. There has never been a more complete guide to drinking around Walt Disney World before, and one done in such a way that it's not a chore to read, but well worth every page.
George: Drinking at Disney has 11 chapters that include: the bar of the Magic Kingdom (yes, just one bar); EPCOT; Disney's Hollywood Studios; Animal Kingdom; the water parks; Disney Springs; all the hotels and pool bars; and quite a few Drinking Plans. There are actually 111 bar reviews, which is slightly less than the number of books I've reviewed on Communicore Weekly—so, they must know what they're talking about!
Jeff: The book is also populated with hilarious lists, like "The best bars to have an affair at," "The best bars for a break up," and so on. Though they are all played tongue in cheek, they actually ARE quite well researched, and on the money for what you may be looking for…just, don't blame them if something goes wrong, either way.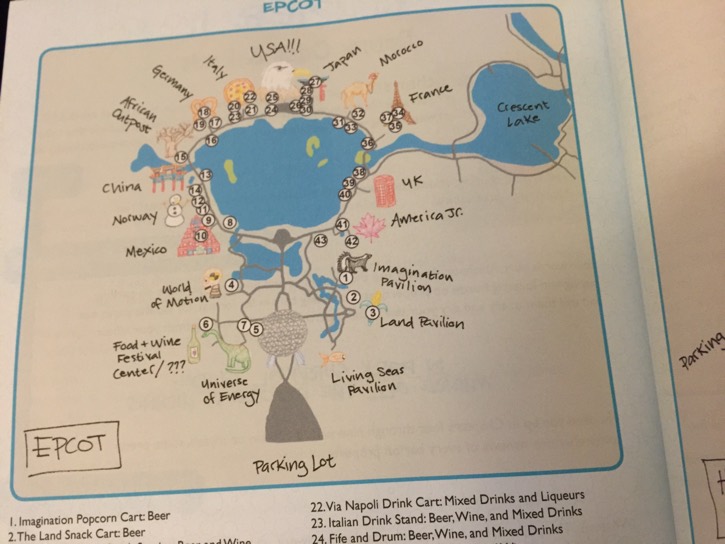 George: There are photos for each bar as well as #Drunkies (or selfies of them with a bottle in front of their face). And if I only have one complaint, it's that I'd rather see more photos of the bars and less of them (nothing against them, just want photos of the bars, instead). It's not a big complaint, either, since there really isn't much to complain about with the book. There are so many great aspects of the book, that I'm hard-pressed to pick out a favorite. Except that the sense of humor in the writing is pretty wonderful.
Jeff: Seriously, for people like us, this book has been a long time coming, and I think Drunky and Rhiannon did a masterful job. A lot of research and/or drinking went into the making of this book, and I commend them for taking one for the team, and traveling to EVERY bar across Walt Disney World property in order for us to enjoy it. It's hard work, but someone has to do it.
George: And this book isn't just for people who want to do nothing but drink on their Disney vacation. This book offers a little something for everyone, especially people that might be looking for a fun night out or just want to try something different while their at the Walt Disney World Resort.
Jeff: But mostly for drinkers.
Title: Drinking at Disney: A Tipsy Travel Guide to Walt Disney World's Bars, Lounges & Glow Cubes
Author: Daniel Miller and Rhiannon
ISBN: 978-0991007967
Release Date: August 2, 2016
What do you think about Drinking at Disney? Are you going to check out this guidebook about libations at Walt Disney World? What's your favorite place to drink at Disney?
---
FTC Disclosure: A copy was provided by the publisher for the purpose of this review. This post contains affiliate links, which means that ImagiNERDing receives a percentage of sales purchased through links on this site. Thank you for your support!