The Force Awakens, a blu-ray review
George: Do we really need to review The Force Awakens section of the blu-ray release? I mean, the film looks super gorgeous and sounds spectacular. So buy it. But maybe we should talk about other reasons to pick up the release.
Jeff: You mean aside from the amazing film itself? OK then. Let's just talk about the extras. Which were all spectacular. Let's start with the feature-length documentary on the disc that covers the making of the film, and is pretty in-depth.
George: We're talking about Secrets Of The Force Awakens: A Cinematic Journey. It's a documentary that was wonderful on so many levels. There were interviews with cast and filmmakers; special effects, story work…and really so much more. It was one of the most satisfying documentaries I've seen included with a film.
Jeff: I thought it was one of the most satisfying documentaries, ever! On some level, it's a standard fluff piece, but it really does show the fantastic behind the scenes process of making the film, and how they pulled it off. There were even some nice tidbits in there, like Daisy Ridley's original audition, and John Boyega's 8 auditions!
George: It's well-known that J.J. Abrams really prefers shooting on actual sets and the documentary really showcases how well it works. There were a few subtle jabs at all-digital productions, but I'm not sure if they meant Episodes I-III. Who knows? Anyway, the documentary was fairly long and most Star Wars fans are going to enjoy the in-depth look.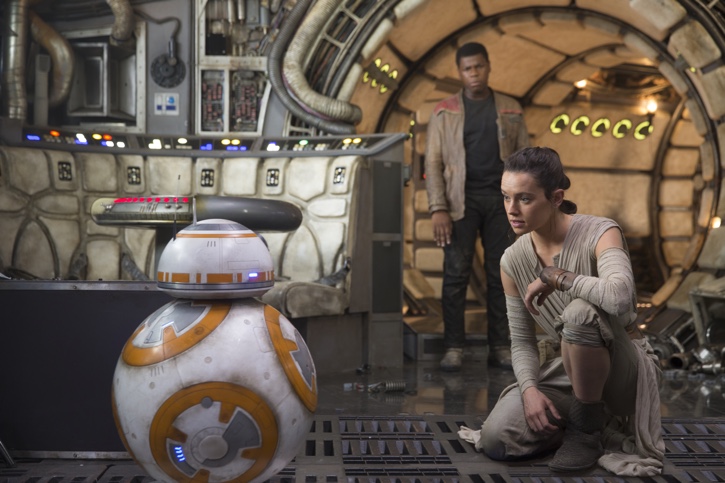 Jeff: Moving on to the other special features, they long-awaited deleted scenes were here. While they were cool to see, they were all very short, and the lack of director commentary on them made me wonder why they were cut and what overall purpose they served. If anything, this may have been my only gripe of the disc, but it was still great to see Kylo Ren on the Falcon!
George: A buddy of mine saw Kylo Ren take his shirt off in the shower and he said that Kylo Ren has an 8-pack. That Kylo Ren was shredded.
Jeff: Yeah, but Matt straight up sucks.
George: True. This could degrade fairly quickly!
Jeff: At least he's sorry he killed your son.
George: Did he send a card?
Jeff: No, he didn't. Anyway, other features include the first table read of the film with the entire cast. It's not the ENTIRE read, just bits of it, but it's still cool to see them reading the script altogether for the first time. AND to see Mark Hamill read the stage direction.
George: Seriously, the extras are wonderful. The Force Awakens looks and sounds wonderful. And every time I see it, I like it more and more!
Did you pick up a copy of Star Wars: The Force Awakens? Isn't it amazing?
---