The Forever Man: WARP Book 3 by Eoin Colfer
George: We're both huge fans if Eoin Colfer, ever since he started writing his Artemis Fowl series. We've also both loved the first two books in the WARP series and we couldn't wait to tackle the third book in the series, The Forever Man. But do we really need to say anything other than time travel?
Jeff: I have to be honest…based on the description and the setting of this book, I honestly thought I was going to hate it. So, imagine my surprise when it wound up being my favorite entry of the entire series! The WARP books have always taken weird turns, but Colfer apparently saved the best for last.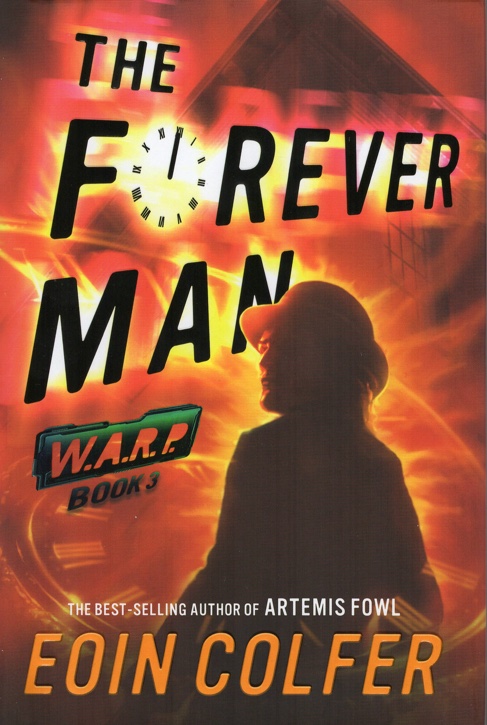 George: The premise of the WARP series is that the FBI has access to time travel, so they send key witnesses back in time. Each witness is provided with FBI protection that keeps the witness safe until they're needed for a trial. In the earlier books, we meet Riley, a young stage magician's assistant, his boss (so to speak) and Chevron, a member of a teenage FBI program. The first two books are full of great time travel and a perfect amount of suspense. But I wasn't prepared for how good The Forever Man would be.
Jeff: Even if you didn't read the first two books, you don't need to. There is a brief, and hilarious, recap at the start of this book that gets you up to speed. Soon, our heroes are reunited with Garrick, a person they would rather not see ever again, and whom they thought was long dead. However, the time vortex is a funny place, and not only is he alive and well, but he is more powerful than ever. He was just biding his time until he could seek his revenge on his former assistant.
George: Colfer is an amazing storyteller. The first book does an amazing job of making you feel like you're in Victorian/Industrial London. The second book really brings the story and characters into some dastardly, yet humorous, situations. The third book really feels like you're watching several motion pictures at once. There are many climactic scenes throughout the whole novel and each one feels like it could have been its own story. It's a truly impressive feat.
Jeff: And, it all takes place during the height of the witch trials. The way the characters were integrated into history made perfect sense, and almost felt at home in their new setting. And George is right, there were several set pieces that happened that really could have been expanded upon to be their own story. Despite being all here, it never once felt like we were short changed, either.
George: As we've mentioned in our previous reviews of Colfer's works, it never feels like these books are solely aimed at tweens and teens. Even though we might not act mature all of the time, we still enjoyed these books (and his Artemis Fowl series) as adult readers. Add in the time travel and historical accuracy, and you got a great read.
Jeff: Really, the book, and the overall series, is for anyone who likes smart writing that doesn't dumb down the science stuff, and doesn't skimp on the jokes, either. The Forever Man is a great way to close out the series (if the ending is to be trusted), and a nice read for kids of all ages.
George: Think we can get Colfer to write another 25-30 books in this series?
Jeff: Only if the WARP technology is real!
George: But then we might run into Garrick.
Jeff: Well, now we have the keys to defeat him.
George: Maybe we could convince some of the Cadets to read the book and they could help us.
We both highly recommend that you check out the WARP series!
Have you read the Forever Man?
Check out our review of The Hangman's Revolution: WARP Book 2!
---