SCarowinds
If you've had the chance to listen to any episode of Communicore Weekly (the Greatest Online Show™), then you  know that I'm not a big fan of anything particularly scary. The Haunted Mansion has always been my favorite attraction, and it's pretty much been the limit to what I will do, scare-wise. I'll be the first to say that the Mansion isn't scary, but I've never ventured much further.
Well, after three years of Jeff cajoling me into trying a haunt, I figured that SCarowinds was a great place to start, since it's my local park.
So, how does a horror virgin (is newb better?) handle his very first trip to a haunt?
I had two opportunities to visit SCarowinds over the past week. The first time was during a social media preview with a handful of other bloggers. It was during the early evening hours, meaning it was still light, so I wasn't too afraid of the visit.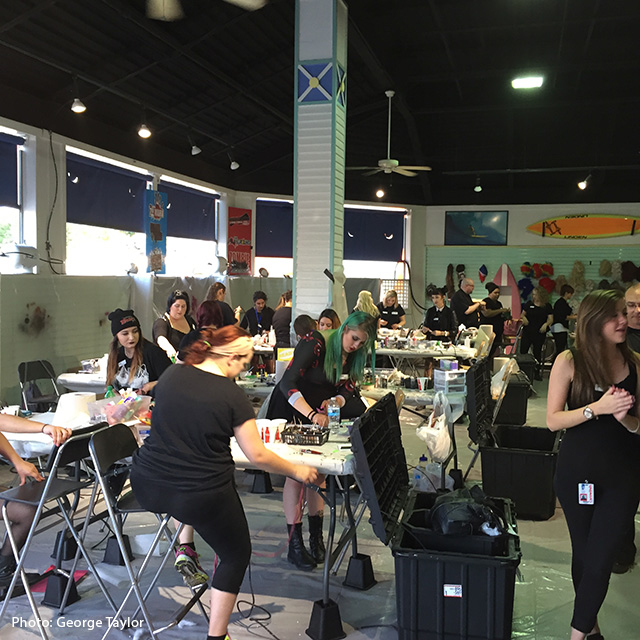 The first stop was the monster makeup area, in the Boomerang Bay water park (which makes total sense, since it's too cold in North Carolina for a water park this time of year). We got to see the staging area for the monsters, which was fascinating. Each evening the very talented makeup artists have to get over 450 monsters ready for the mazes and the scare zones. They set up assembly lines and when I spoke to David Cisco, one of the artists, he said that they would get it down to about eight minutes per monster.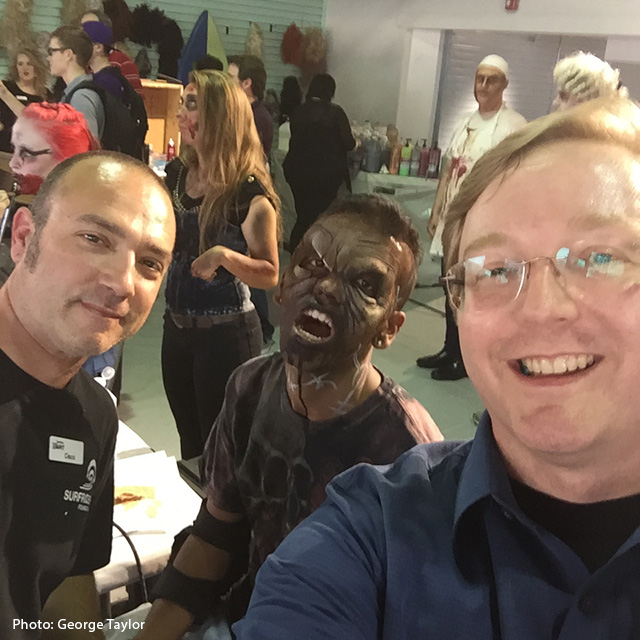 We were invited to take part in a make-up demo and I was chosen by my fellow bloggers. Marley James did an amazing job of making me look kind of scary. Right?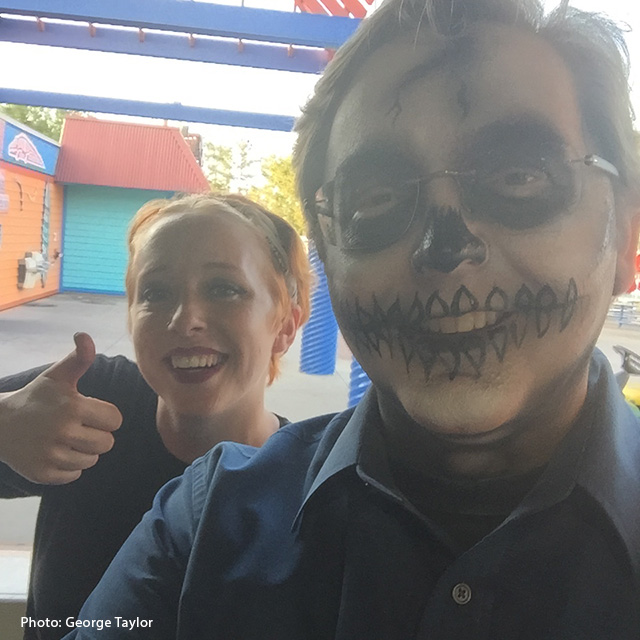 The rest of the evening was spent visiting two of the mazes. My very first mazes!
SCarowinds: Silver Scream Studios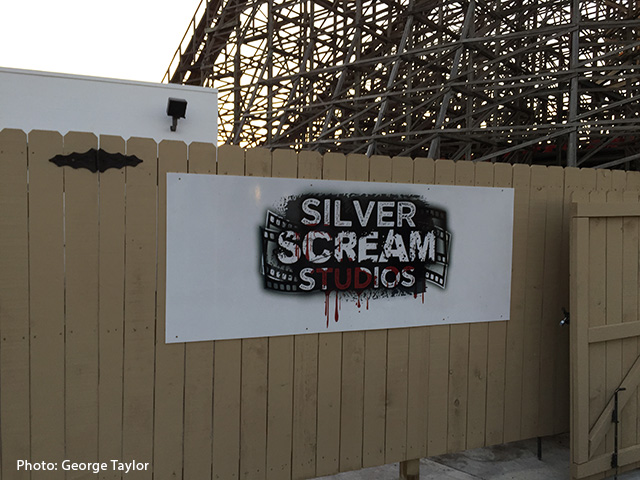 So, Silver Scream Studios was going to be my first maze. It was an employee dry-run, so we were warned that it might not be as perfect as a regular SCarowinds evening. Still, I was pretty nervous.
The basic backstory is that a movie producer was getting cajoled by his peers and critics. So, he decided to make his films using real people, namely us!
Right away, I was pulled into the theming of the maze. I felt the narrow corridors and realized that there was no way I could focus on everything. There would be times that I would be startled by someone jumping out at me. And times that I would smile and laugh (often with relief) that someone else got scared.
Anyway, the set decorations were very impressive. We moved through a series of sets, or rooms, that were tributes to some famous horror films of the past. There was an Egyptian room, a mad scientist's lab and a spider cave. The lighting and effects were top notch and it was incredibly visceral walking through the maze, as opposed to riding a Doom Buggie.
I did get scared a couple of times and it was fun to see other people get scared.
SCarowinds: Slaughterhouse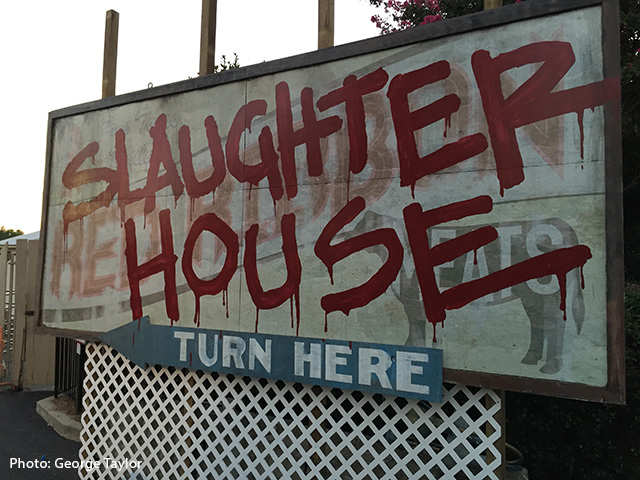 Chris Foshee, the social media director, explained that Slaughterhouse was one of the signature attractions at SCarowinds; so much that they worked on it the entire year.
Slaughterhouse was an amazing maze!
I wasn't prepared for the talent of the monsters in this maze. I felt a gamut of emotions, that included fear and guilt! Yes, guilt. There's not much I can say except that the casting seemed completely brilliant. The monsters never broke character and used their unique physical abilities to improve their roles. There were small vignettes that really made you feel like you were part of the story. I'm glad they limit the number of people each time.
Seriously, it's a fantastic and frightening experience.
SCarowinds
I took a friend with me to the second night of SCarowinds so that we would experience more of the mazes and scare zones. And some of the roller coasters at night!
The overall atmosphere of the park was pretty frightening after dark, especially with the fog machines and the monsters that were walking around. I'm glad they went after the women more often than the men.
SCarowinds: Zombie High School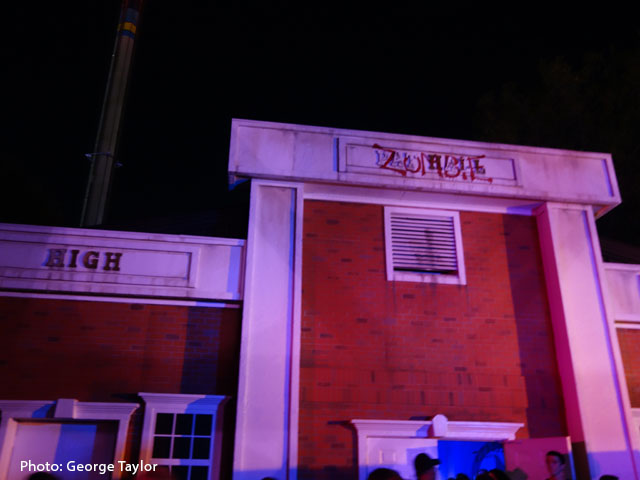 This was the first maze we did that evening (after a ride on Fury 325, first). We waited about 20 minutes and that seemed to be about the standard time for most queues. Zombie High School was, well, exactly like it sounds. It was a zombie-infested maze that took place in a high school. I really liked the atmosphere of the maze, but it wasn't as scary as Slaughterhouse or 7th Ward. Mainly due to the fact that it was like a conga line. Sadly, it was a non-stop parade of park-goers, so the zombies didn't have adequate time to reset and it was hard to take it all in.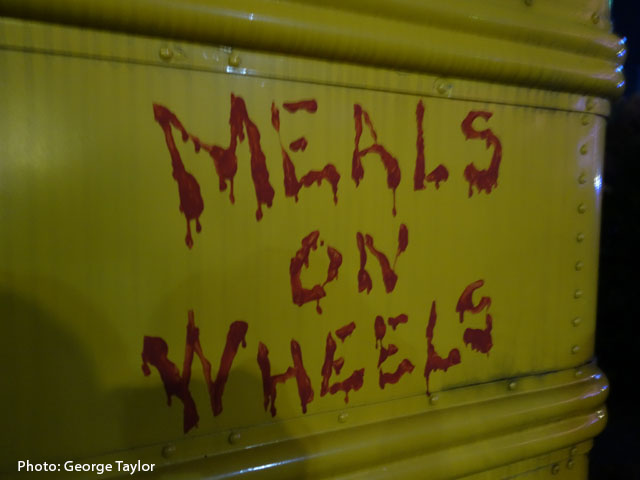 I found the little details all over the park pretty darn cool.
SCarowinds: Cornstalkers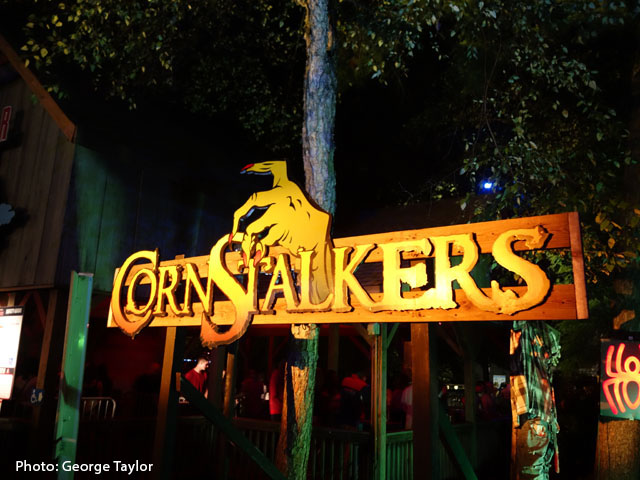 CornStalkers takes place on Carowinds' mini-golf course. They've created a fairly long open-air maze with lots of transition points and spots for monsters to hide. This was the first maze that I did in which it was hard to tell the props from the monsters, which was fairly frightening. They did send us through in smaller groups, which was great, and it was quite disconcerting to walk next to someone carrying an axe!
I actually felt some (well, actually a lot) relief when I walked through the exit.
SCarowinds: Mass Acres Scare Zone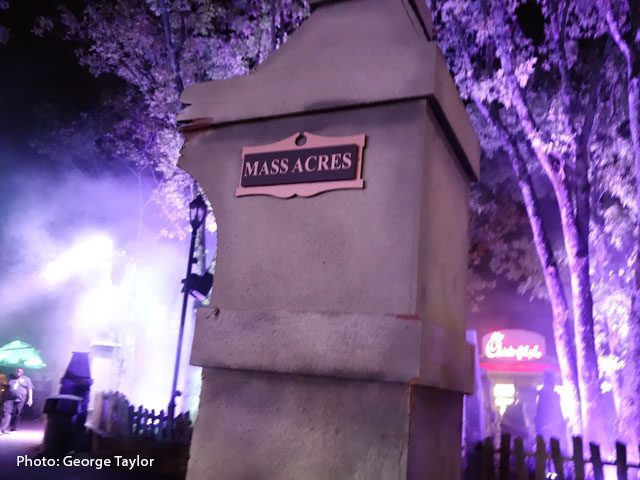 Mass Acres. Massacres. Get it?
This was the first scare zone that we walked through and it was one of my absolute favorite parts of the SCarowinds experience. It felt like you just happened upon a spooky cemetery with hearses, graves and plenty of ghouls gadding about!
It really had that perfectly spooky experience that I would have liked to have seen throughout the park.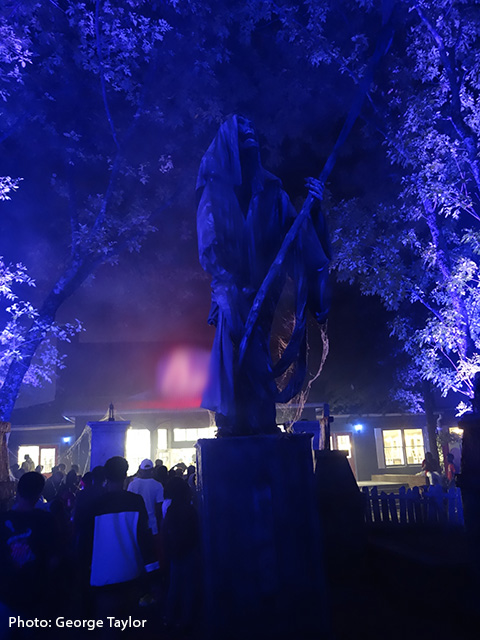 See? How cool is that?
To me, Mass Acres just had that feeling that I was expecting and really made me a little nervous to be walking through. The ghouls really seemed like disembodied spirits that were ignoring you, sort of. Then they would interact. Some scared people and some tried to engage them in conversations.
SCarowinds: 7th Ward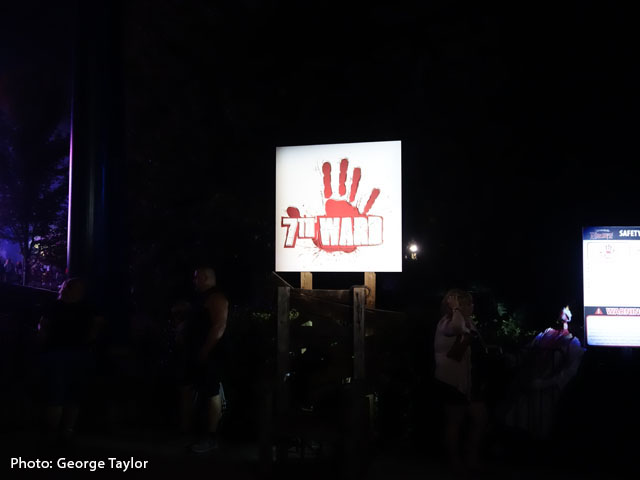 7th Ward turned out to be my favorite maze of the evening. It was one of the longer queues, but the backdrop of the spooky hospital really added to the effect of the wait. Plus, the exit for the maze was in front of the end of the line. So you could see people's reactions as they left the maze.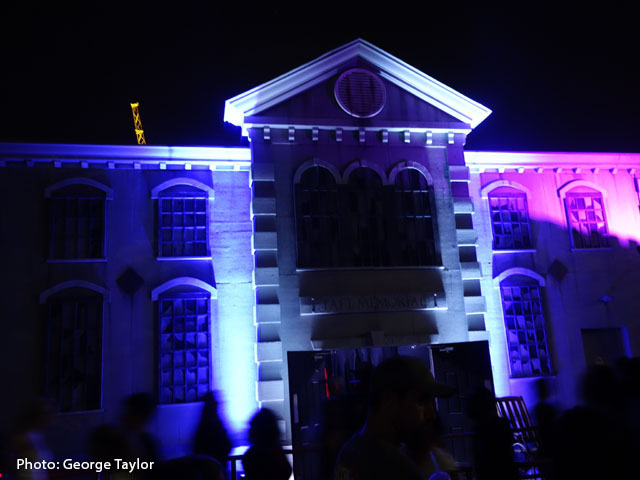 With 7th Ward, they kept the groups down to about six or so. I was lucky enough to be the first in the group, which I highly recommend now. Obviously, the 7th Ward is based on a mental institution that's seen better days. The monsters were really great and the atmosphere felt really solid. I really felt like I was walking through a recently abandoned mental hospital.
Even the creepy old wheelchair out front was, well, creepy!
The 7th Ward maze had a lot of the classic features that I was expecting, like strobe lights and mirrors that really disoriented you. The monsters were also top-notch. A few just laid on a hospital bed and beckoned for you to join them. Of course, there were over zealous nurses that wanted you to take your medicine.
7th Ward was mind-bending and frightening!
SCarowinds: Slaughterhouse Redux
We were able to do Slaughterhouse as the last maze we could fit in that evening and it was a great way to end the evening. It's located in the back of the park, behind the Carolina Cyclone, and it's great to see the backside of this classic Arrow looper.
Still, even though I knew what was going to happen, the monsters made all of the difference. It was enough of a different experience that I really didn't know what to expect. It's a great maze.
SCarowinds: Roller Coasters at Night
I couldn't end the SCarowinds review without talking about riding coasters at night. Granted, roller coasters aren't the reason you visit SCarowinds, but if the queues aren't too long, it can be a great extra.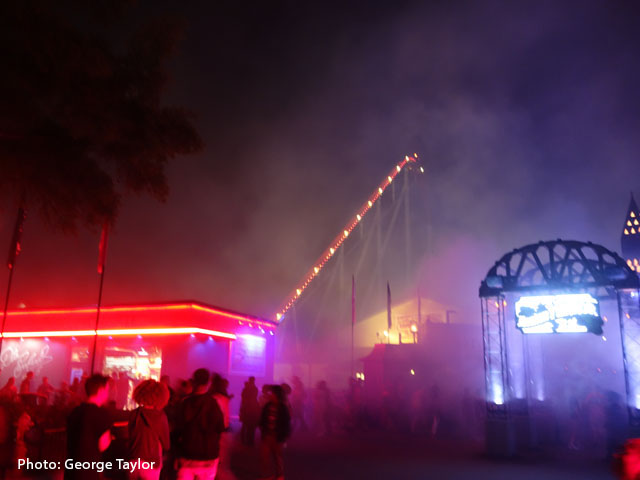 See? The coasters really add to the atmosphere.
We were able to ride the award-winning Fury 325, the Intimidator and Afterburn. I've ridden these coasters countless times and they were even better at night. So, if you find yourself needing a break from the scares, hop on a coaster!
SCarowinds: Final Thoughts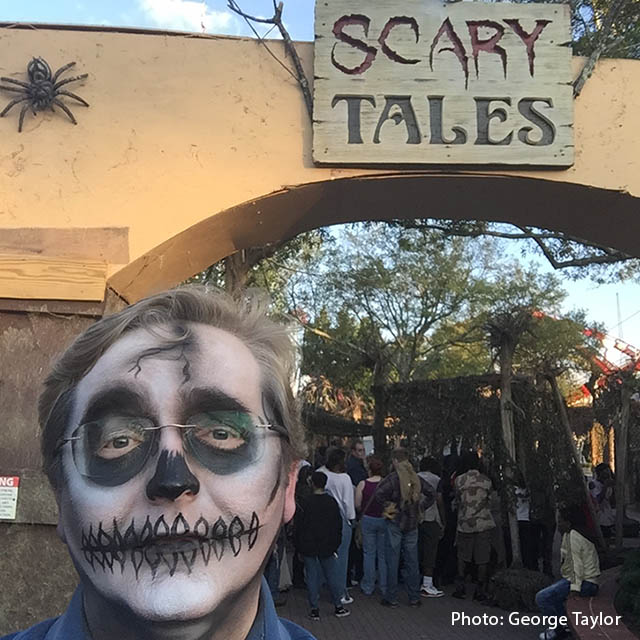 I had a really great time at SCarowinds.
As I mentioned at the top, I've listened to Jeff rhapsodize about haunts for almost four years. I never had an interest because I just don't like watching scary movies or being frightened.  
The mazes and scare zones were very well-decorated and vacillated between creepy to frightening to scary. It was everything that I thought a haunt should be and more!
I wish I'd had more time to do all of the mazes (I think we missed two of them) and spend more time just walking around the park and soaking up the atmosphere.
I'll definitely be back next year and I might go again this season if I can find someone that will go with me.
Any takers?