Selling the Lake Buena Vista Villas and Treehouses
We've become used to Disney's Best Kept Secret: the Disney Vacation Club; especially the fairly heavy presence of the DVC kiosks in the parks and the resorts. Let's take a look at a much different time in Walt Disney World's history, when they were trying to sell the Lake Buena Vista Villas and Treehouses.
That's right: they tried to sell the Lake Buena Vista Villas and Treehouses!
The original plans for the Lake Buena Vista area was, like most everything at Walt Disney World, vastly different from what we see today. It was planned as more of a residential/vacationing area in which people could stay for extended periods but still not be permanent residents. The focus was on creating four themed areas that would connect to the business center (the SunTrust bank area) and the theme park area.
Most of the construction took place in 1974 and 1975. I scanned the images and text from a 1976 brochure that Disney created to promote the villas and treehouses. Let's take a look at how Disney promoted and marketed the Lake Buena Vista area.
Lake Buena Vista Villas and Treehouses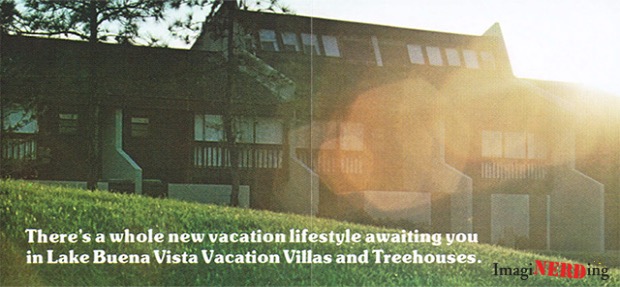 Imagine entertaining friends in your rustic Treehouse overlooking a fairway. Or vacationing with your family in a luxurious. spacious Vacation Villa. Or discussing business in an Oyster Bar that juts out over a blue lagoon. Finally, let's add that there's a Magic Kingdom in your backyard.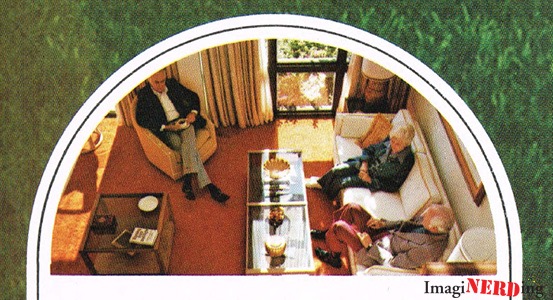 Sound exciting? It's all part of the daily lifestyle found at Lake Buena Vista, a very special side of Walt Disney World.

Besides being close to the Magic Kingdom and Walt Disney World resorts, Lake Buena Vista features an 18-hole championship golf course. A Club for tennis, swimming, cocktails and dining. A Shopping Village of 33 shops and restaurants with merchandise from around the world. And a Hotel Plaza offering some of Florida's finest convention and meeting facilities.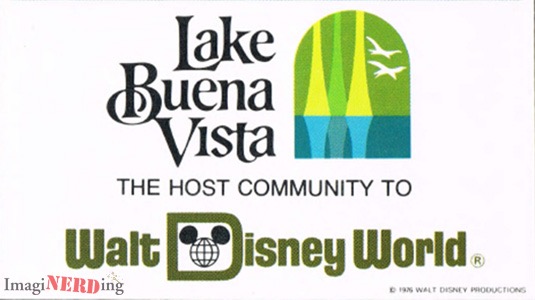 Connecting all of Lake Buena Vista to your Vacation Villa or Treehouse are winding electric car and foot-paths. Traffic problems do not mar the peaceful woods and water atmosphere of Lake Buena Vista.

If this sounds like the ideal location for your next vacation or business retreat, then read on.
Lake Buena Vista Villas and Treehouses: The Villa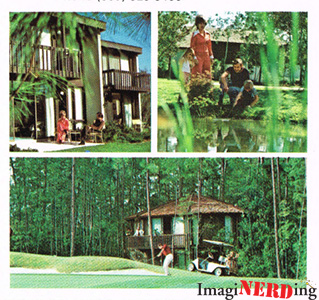 A lot of the early marketing for the Lake Buena Vista area focused on ways for businesses to use the villas as ways to reward salespeople or for opportunites for corporate retreats. Disney learned from Disneyland and the 1964/65 New York World's Fair that businesses would be willing to pony up money for exclusives areas (like VIP lounges) to entertain clients and employees. It was seen as an easier way to make sure that the villas were leased/rented more often.
Hidden in the woods bordering the Lake Buena Vista Golf Course and waterways, our two bedroom Treehouses make for a most extraordinary retreat. Each come with all the modern appliances, a spectacular view, and almost total isolation from civilization.

For families and groups, the spacious one, two- and three-bedroom Vacation Villas provide plenty of room. Each is elegantly furnished and includes all the conveniences – kitchenware, color TV, linens, and daily housekeeping service.

Both types of Lake Buena Vista Villas offer an ideal site for all kinds of adventures. Family vacations. Executive retreats. Honeymoons. Corporate incentive programs. Weekend Hideaways. Board meetings. All become unforgettable successes when they take place amidst the rustic atmosphere of Lake Buena Vista.
Check out these two articles about the Lake Buena Vista area and the Treehouses:
Lake Buena Vista Villas and Treehouses: The Village
A very popular destination for both wives and their husbands is the Lake Buena Vista Shopping Village. Of Course, the Village is no ordinary shopping center. Rather, it's 33 European-style shops and restaurants clustered along the banks of a blue lagoon. Flowers and trees have replaced the chrome and concrete of most traditional shopping centers. Here, weathered brick, warm wood, cedar shingles, and a friendly atmosphere are the rule.

Old World craftsmen, fine fashions, and one of-a-kind merchandise are found throughout the Village. Guests can examine the latest New York fashions. Sample fine wines.

Many guests like to talk about old times over Strawberry Margaritas at Cap'n Jack's Oyster Bar. While others frequently find themselves swapping golf tales as they dive into a thick roast beef sandwich at Heidelberger's Deli.

And for stocking their Villa's kitchen shelves, the Gourmet Pantry carries everything from hot dogs to Delmonicos to imported caviar.
Lake Buena Vista Villas and Treehouses: The Club
The center for recreation at Lake Buena Vista is the Club.

Anyone who's ever swung a golf club will want to take up the challenge of our 18-hole championship course. Designed by Joe Lee; the elevated greens, tight fairways, and numerous sandtraps are his trademarks. Inside the Club, a pro shop and plush locker room facilities complementthe course in a most professional manner. It's no wonder that guests playing in an earlymorning foursome – or your company's tournament – play some of their most enjoyable golf ever at Lake Buena Vista. 

Tennis buffs can enjoy a few sets of tennis – and later, a cooling dip in our pool. Then they often wind up the afternoon with cocktails in the relaxing Club lounge.

For dinner, guests may choose from a wide variety of French-style gourmet entrees in the dining room, where select ions range from Filet of Turbot Veronique to Chateaubriand. The Club also features reception rooms, overlooking the fairways, that are ideal for seminars and luncheons.
The language about the Club is rather interesting and quite telling of the times. It reinforces the thought that Disney was trying to market Lake Buena Vista as a destination for adults who don't want to go to a theme park. They can enjoy shopping, golf and fine dining while on vacation.
Lake Buena Vista Villas and Treehouses: The Hotel Plaza
Plaza hotels – the Dutch Inn, Howard Johnson's, Royal Plaza, and TraveLodge. Each offers the finest in convention and meeting facilities. And what better place for a convention or stockholder's meeting than the Vacation Kingdom of the World?

All Lake Buena Vista guests can enjoy the extra features and services of the Hotel Plaza. Like the exciting Hotel Plaza nightclubs – for dancing and cocktails into the night. Classic Walt Disney feature films that delight the whole family. And the all-faiths church service held every Sunday.
I'm still surprised when I see Disney promote other hotels and experiences outside of their property. Walt Disney World, as part of their Florida initiative, promised to be a good neighbor to Orlando and area attractions. On the last panel is a map of the Walt Disney World area highlighting other things to do and see, such as: Kennedy Space Center; Cypress Gardens; Sea World; Circus World; and Busch Gardens.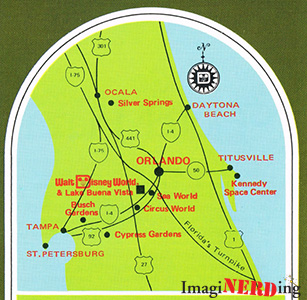 Did you ever get to experience the Lake Buena Vista Villas and Treehouses before Saratoga Springs? Did you get the chance to stay in the Villas?
---
Looking for a great book on the first few years of the Magic Kingdom and Walt Disney World? Check out the Story of Walt Disney World: Commemorative Edition.