Dollywoods Lightning Rod Construction
Our roving reporter, Secret Agent M, was able to snag some shots of Dollywoods Lightning Rod construction. This amazing wooden launch coaster is set to debut next spring and will make Dollywood an even better theme park with eight world-class roller coasters!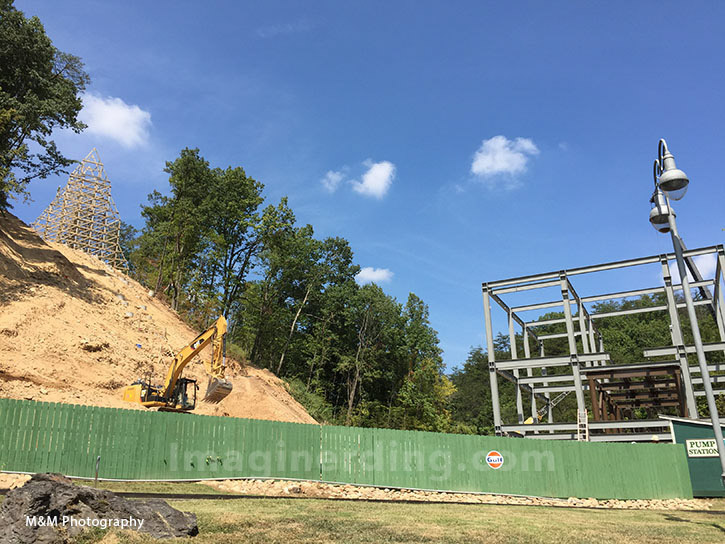 You can see the queue building on the right and one of the towers on the upper left. I'm assuming this is one of the big drop hills. I absolutely love how Dollywood is able to take advantage of the terrain when building coasters. It makes for some beautiful coasters that can be very deceptive with their height and speed.
A shot of the queue building that sits in between the Rockin' Roadway (on the left) and the Pines Theater (on the right). It sort of looks like a gas station, right?
Alan Schilke is the ride designer. Schilke  works for Rocky Mountain Construction, who is building the coaster. When Schilke worked for Arrow Development, he designed the Tennessee Tornado.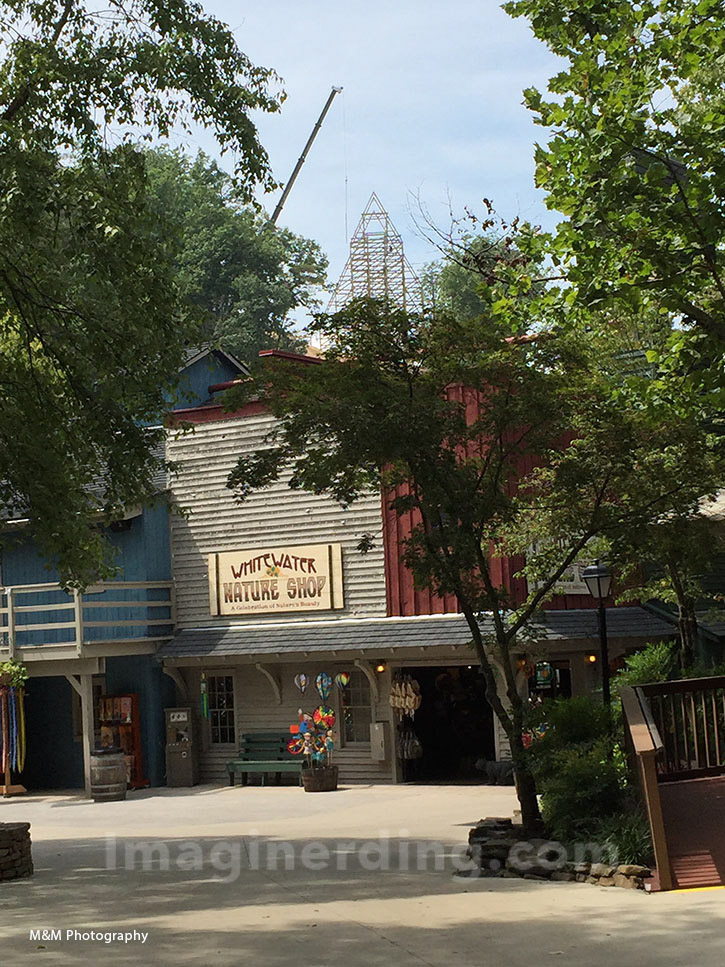 Based on the photo above, you're going to be able to see (and hear) the Lightning Rod coaster all over the park!
In the concept image above, it looks the the support for the big drop is going to the the structure you can see over the Whitewater Nature Shop building. This is going to be a very impressive sight! I can't wait to se more shots from Secret Agent M featuring Dollywoods Lightning Rod construction!
Dollywood Christmas Lights!
Secret Agent M also took a few random shots of the Christmas lights going up all over Dollywood. I've heard amazing things about Dollywood at Christmas and I'm looking forward to visiting this year.
The sheer number of lights is simply amazing.
I don't think these images do the lights justice, but it's obviously going to be amazing!
Have you ever experienced Dollywood at Christmas? Are you excited for the Lightning Rod coaster?