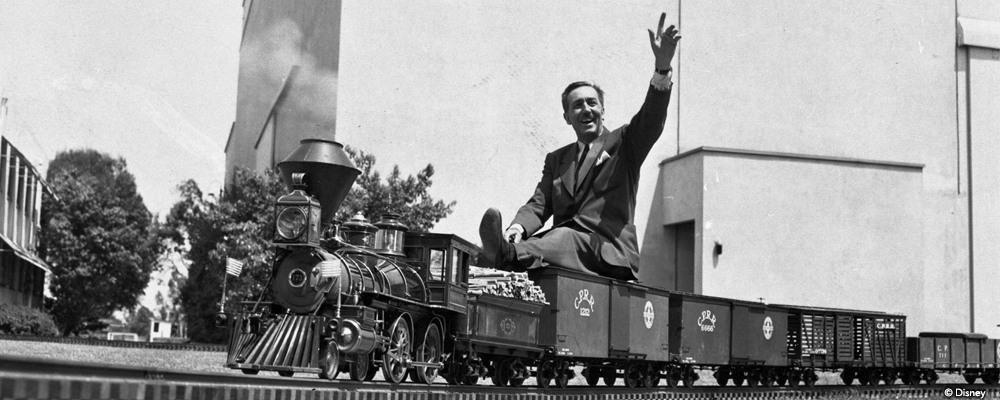 The Walt Disney Family Museum has released their schedule of events and happening for February, 2015. All Aboard: A Celebration of Walt's Trains is still open until March 15! The exhibit opening on February 11 sounds extremely promising, especially in conjunction with the film screenings. 
FEBRUARY 2015 Exhibitions, Programs, and Events
at THE WALT DISNEY FAMILY MUSEUM
CURRENT EXHIBITION
All Aboard: A Celebration of Walt's Trains
Now through March 15, 2015
All Aboard: A Celebration of Walt's Trains explores the influence that railroading had on Walt Disney's life and work, and how his railroading legacy lives on to this day in Disney films and theme parks around the world. Through rare artifacts, firsthand accounts, archival videos, images, and running model trains, guests will learn how Walt's passion for trains developed before manifesting itself in Disney short cartoons, feature films, and in Walt's personal life at home.
UPCOMING EXHIBITION
Lights! Camera! Glamour! The Photography of George Hurrell
Feb 11–Jun 29, 2015
Revel in the golden age of Hollywood through an exhibition of photography from George Hurrell—one of America's finest photographers, credited with creating the opulent glamour portrait of the 1930s and 40s. See rare and vintage prints of Jean Harlow, Clark Gable, Joan Crawford, Katharine Hepburn, Carole Lombard, and more, including Hurrell's uncle-in-law, Walt Disney.
SCREENINGS
FILM OF THE MONTH: Disney Academy Award®-winning Films from the 1940s and 50s
Showtimes: 1:30 & 4pm daily (check calendar for exceptions) | Theater
Free with museum admission
Enjoy a screening of select Academy Award®-winning films produced by The Walt Disney Studios between 1949 and 1953. Please check the calendar for a listing of which shorts will be shown each week.
Note: The museum is closed on Tuesdays
TALKS
TALK | George Hurrell: Bringing Glamour to the Stars and Art to Disney
Sat, Feb 7 | 3pm | Theater
$18 members | $20 non-members | $15 youth (17 and under)
Tickets: Members   Non-members
Join us for a look at the life and career of one of Hollywood's most creative and influential photographers, a man whose prodigious talent helped shape the careers of stars and produce iconic animated commercials: George Hurrell. Guest curator and collector, Dr. Louis F. D'Elia, discusses the highlights of Hurrell's remarkable work and the connection between Hurrell Productions and The Walt Disney Studios in the early 1950s.
TALK | Animation Basics: ANIMATION
Sat, Feb 28 | 3pm | Theater
$18 members | $20 non-members | $15 youth (17 and under)
Tickets: Members   Non-members
Unlock the mysteries of animation! Join us for the third in a five-part series about the basics of animation production that were followed in Walt's time and are still applicable today. Part III: ANIMATION (2D) takes a close look at the different steps of traditional animation which have existed since the late 1800s and the key principles of the process.. Layout, pose tests, rough animation, in-betweens, clean-up, and background painting are discussed. Guest speaker: Peter Kelly, senior animator for Lucasfilm/Industrial Light & Magic.
SPOTLIGHT TALKS |  OSCARS®
Every Fri, Sat, and Sun in Feb
11am, 1 & 3pm | Main Galleries
FREE for members or with paid admission.
With more than 25,000 items in the museum's collection and galleries brimming with art and artifacts, there is a lot to see and learn. Get the inside story on a select object on view or special exhibition during these short talks given by museum staff members. February's Spotlight Talks will focus on Walt's Academy Awards and how tho
CLASSES & ACTIVITIES
OPEN STUDIO | Miniature Diorama Train: Ride into the New Year
Every Sat & Sun in Jan | 1–4pm | Learning Center
FREE with museum admission
Inspired by Walt's fascination with trains and miniatures—and in the wake of the new year—create a small diorama display of what you declare to do or change in 2015. Connect your unique creation to others' to form a miniature diorama train that will tour through our Learning Center!
LITTLE OPEN STUDIO | Trains!
Every Sat and Mon in Jan | 10am-noon | Learning Center
FREE with museum admission
All Aboard! Walt always had a fascination with trains as they represented the promise of seeing new places and embarking on new adventures. This month in Little Open Studio, we'll create our very own trains using a variety of materials. Who knows where our imagination can take us?
OPEN STUDIO | Photography
Every Sat and Mon in Feb | 1-4pm | Learning Center
FREE with museum admission
Walt experimented with film and cameras in the early years of his career, making movie magic before his cartooning days. Get ready to create an optical trick of your own by making a camera obscura out of materials you see and use every day!
OPEN STUDIO | Printmaking
Every Sat & Sun in Feb | 10am–noon | Learning Center
FREE with museum admission
Join us as we explore the art of printmaking! We will explore many different methods and use a variety of materials, including our fingers and handprints. You'll even have an opportunity to make a Valentine-themed print for someone you care about, or make your very own printed masterpiece!