Kings Island 50th Anniversary
Kings Island, outside of Cincinnati, Ohio, was my local amusement park when I was growing up. We lived less than 30 minutes away, and I remember spending so much time with my family and friends enjoying the park (The Enchanted Voyage was my first dark ride and the memory of it still makes me smile). I'm proud to say that I got to experience the original Bat (1981-1983) during a school field trip before it was removed.
My most recent visit was in 2016 during an Ohio coaster trip. It was stunning to be back in the park and relive so many memories, but being there during the 50th Anniversary was spectacular.
The trip was two-fold: I wanted to experience the coasters I missed in 2016 and I wanted to help celebrate the park's anniversary. During the trip, I was able to ride Flight of Fear, Orion, Mystic Timbers, Invertigo, Woodstock Express, Flying Ace Aerial Chase, Adventure Express, and the Backlot Stunt Coaster; eight new coaster credits! As of this post, I've ridden 180 different coasters.
Kings Island History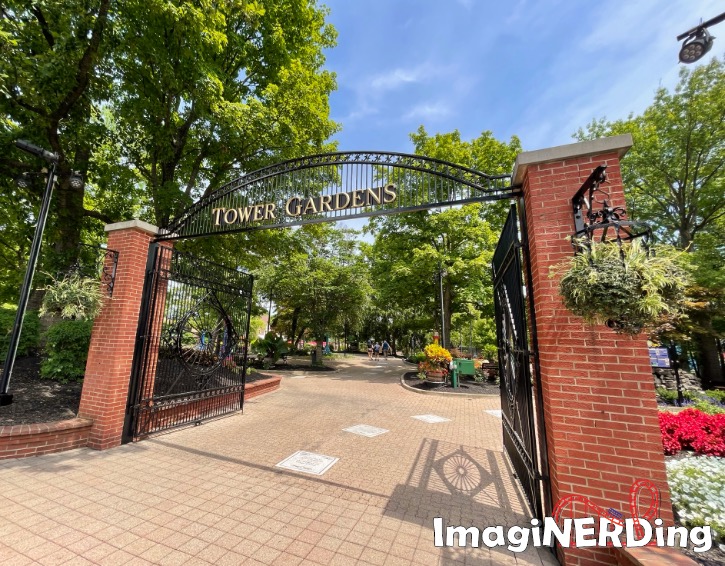 One of the best parts of the visit was spending some time in Tower Gardens. The park created a restful and relaxing area celebrating the 50 years of history.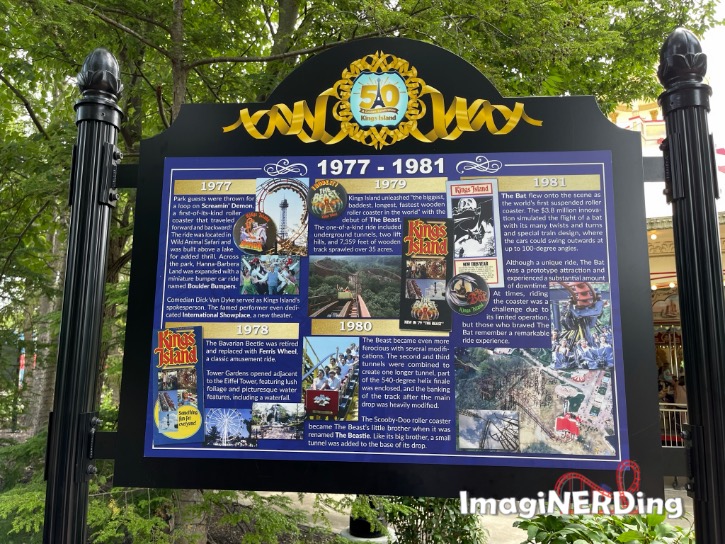 The area has 50 marble insets detailing the first 50 years of the amusement park (with 25 blanks ones for the next quarter century). There are small billboards sharing images highlights of different areas, and, the neatest by far: a tribute to the coasters of the park.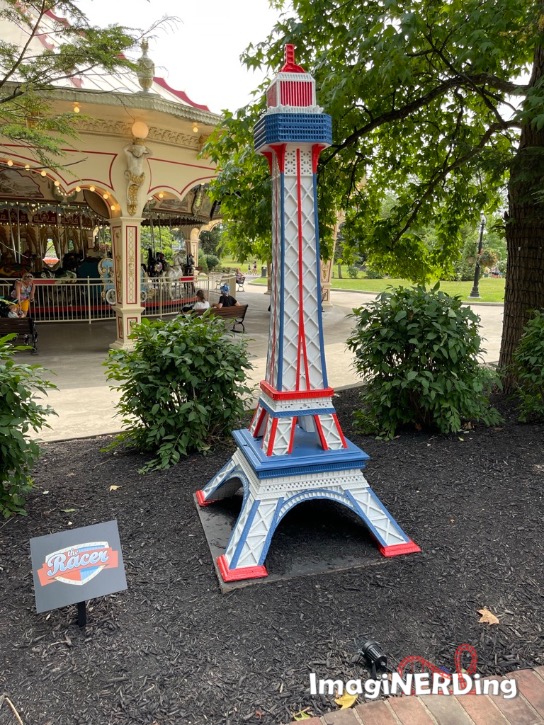 It's the Racer-themed Eiffel Tower!
Want to learn more about the history of Kings Island? Check out Kings Island: A Ride Through Time by Evan Ponstingle.
FTC Disclosure:
 This post contains affiliate links, which means that ImagiNERDing receives a percentage of sales purchased through links on this site. Thank you for your support!