The Amateurs by Sara Shepard, a book review
When an advanced reader's copy of The Amateurs by Sara Shepard showed up, I wasn't sure what to expect. I never read any of the Pretty Little Liars series and I really wasn't the target audience. But when I read the release information and saw that fans of the podcast Serial would be interested, I decided to give it a try.
This is a review that I did for Communicore Weekly when the book was initially released (November 2016). Since I'm in the middle of the second book in the series (Follow Me), I wanted to post this review first.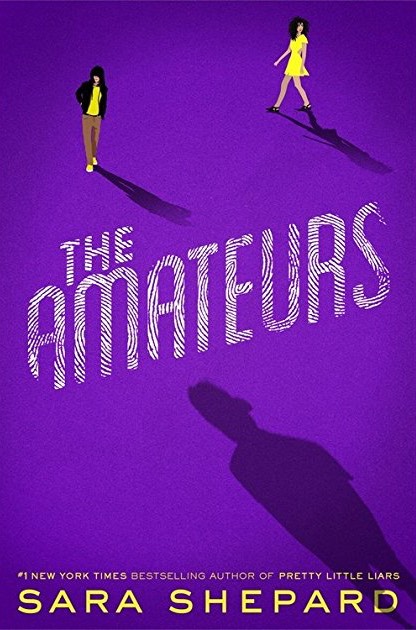 Serial was a podcast that sort of took the world by storm and really brought a lot of attention to the world of podcasting. The first season took a very in-depth look at a murder and whether the convicted was actually responsible. The show was very engaging and worth checking out. It felt like it was as good as any binge-worthy show on Netflix.
With The Amateurs, Shepard introduces us to a family that's been torn apart by the eldest sister's mysterious disappearance. The case is left unsolved even after the body was found much later. Seneca is the main character in the book and she's become involved with Case Not Closed (or CNC), a website where people interested in unsolved murders and disappearances work to try and solve the crimes.
Seneca decides to visit the town in which the family lived and meet up with a friend from CNC in hopes to solve the crime. I was hooked almost immediately and really enjoyed the tight pacing and story work. Seneca and her friend meet but things are not what they seem. They also run into another member of CNC and bring in a family member to try and solve the mystery.
There's a lot of intrigue and plot development that lead us down several trails and to several different suspects. There were several moments when I thought I knew whodunnit, but the book continued to surprise me. It's quite gripping and reminded me of a well-executed crime drama, but with teens. And I don't mean that as a negative. I think the teen and young adult audience is really going to enjoy this, especially when the book starts to tie up loose ends. It's a very satisfying read, and I do think that fans of Serial and Making a Murderer are going to enjoy the title.
Are you a fan of The Amateurs? Are you going to start this series?
---
FTC Disclosure:
 A copy was provided by the publisher for the purpose of this review. This post contains affiliate links, which means that ImagiNERDing receives a percentage of sales purchased through links on this site. Thank you for your support!