We picked up a book the other day that I ran across. It was part of a new series that I wasn't familiar with but very glad to see when it arrived.
Walt Disney Animation Studios Artist Showcase No Slurping, No Burping!: A Tale of Table Manners by Kara LaReuau and Lorelay Bove.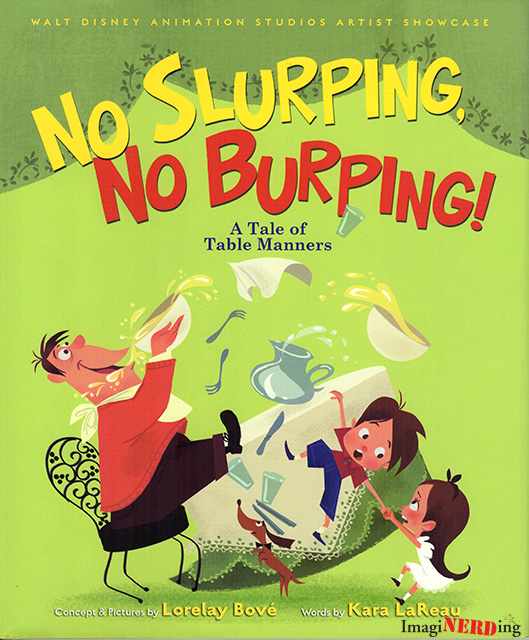 Kara is a children's author with quite a few titles to her name. Lorelay is a visual development artist at Walt Disney Feature Animation. She's worked on Big Hero 6, Wreck-It-Ralph, Tangled and quite a few shorts. She did graduate from CalArts and interned at Pixar before working at Walt Disney Feature Animation.
No Slurping, No Burping
As the full title implies, with Walt Disney Animation Studios Artist Showcase, this a new series from Disney and is actually the brainchild of John Lasseter. He wanted a way of having the animation and publishing arms work together to create a way for visual artists and storytellers to present original ideas and original art. Right now, the plan is to release books under the Walt Disney Feature Animation Artist Showcase and the Pixar Animation Artists Showcase, depending on the artist's affiliation.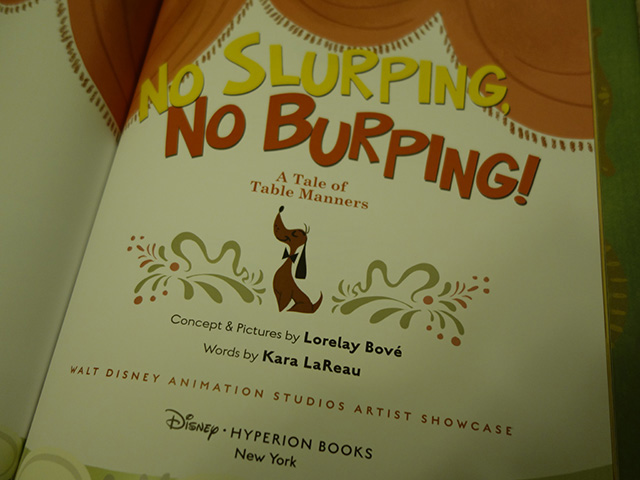 No Slurping, No Burping: A Tale of Table Manners is a picture book that's geared towards children in Pre-K through 2nd grade. It's a book that parents/caregivers can read to children or a young reader could read on their own.
In No Slurping, No Burping, we meet two young siblings, Evie and Simon. The two children are known for minding their manners but when they sit down with their father, they find his manners are atrocious! They eat dinner together each day of the week and the children have to correct a different problem each night. Eventually, their father feels better about his manners but their is a surprise guest on Friday night!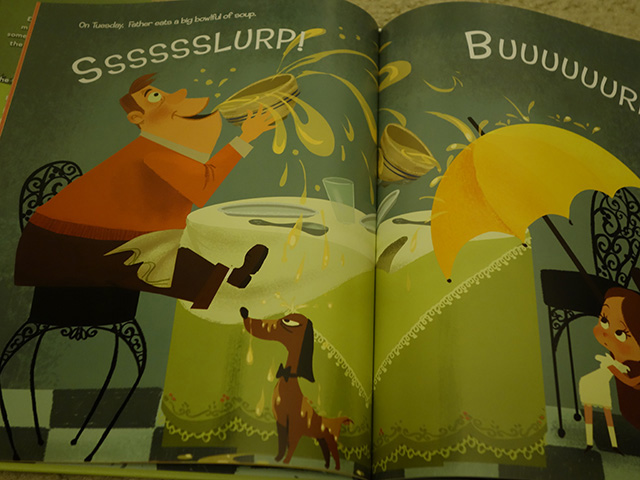 The artwork is gorgeous and very reminiscent of the modern take on the Little Golden Books mixed with a little of Mary Blair's later style. Each page has full-color art and is very eye-popping and inviting.
The text of No Slurping, No Burping, while not monumental (or expected to be), is appropriate for the audience and does teach several lessons while also reinforcing the days of the week. It reminded me a lot of what you would expect in an animated short, especially with the father being the buffoon and the children having to correct their father. I've seen a few reviewers take offense with the portrayal of the father in the book, but if you're a dad reading this with your kids, you've got a wonderful opportunity to really ham it up and act it out.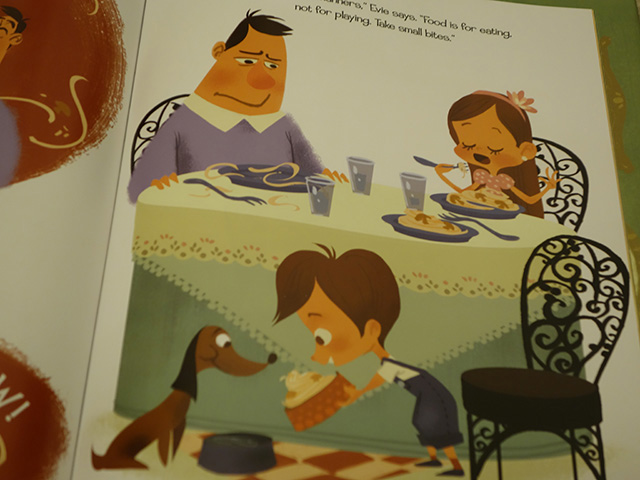 Besides kids, who is going to like No Burping, No Slurping?
Well, obviously, fans of animation and artists are going to enjoy it. I really can't stress enough how much I like the philosophy behind this series and what Disney is trying to do. By giving their animators and storytellers the opportunity to stretch their wings, so to speak, they are affording the opportunity to try new things and gain the confidence to work on larger projects. It's really very similar to the Pixar tradition of letting animators work on a short before being given the reigns to direct or work on a feature.
Also, it's a great record of that artists work. I imagine in 30-40 years, fans and students of animation are going to cherish this work by Ms. Bove. Can you imagine having a children's book done by Marc Davis? Or Ward Kimball? Or Woolie Reitherman?
Although the book may not portray parent/child relationships the way you want to, it's still a gorgeous book that's fun to read together. The artwork is top notch and offers the future of this series to be groundbreaking and visually important. No Slurping, No Burping could be a fun way to look at table manners and their importance with very young children.
---