Roy Disney Visits Disney World
After the announcement of the Florida Project with Walt, Roy and Governor Haydon Burns, Disney executives visited the Disney World project a few times. You've probably seen some well known photos of Walt walking around the scrub and swamp lands surveying the project. But have you seen other images of Roy Disney visiting Central Florida?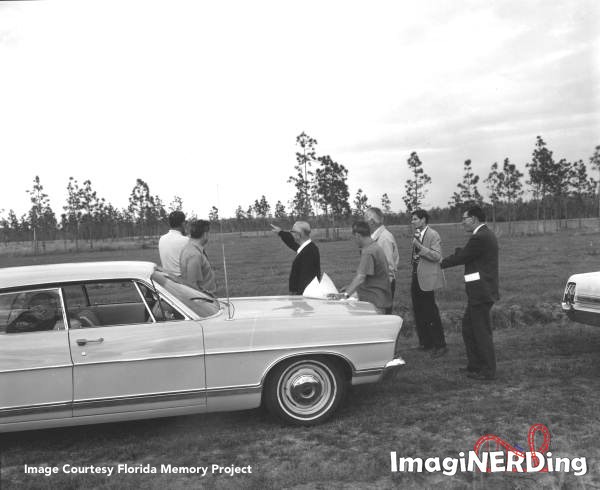 On February 3, 1967, just two months after Walt's passing, Roy visited the Florida property with Disney executives and staff in charge of the Disney World project. The State Library and Archives of Florida has handful of these photos as Roy Disney visits Disney World. The State Library made them available through the Florida Memory. I found some fantastic photos of Roy exploring the areas of (I believe) Bay Lake and Riles Island (eventually to be named Blackbeard's Island, Treasure Island, and Discovery Island). In the photos, Roy is accompanied by Donn Tatum, Card Walker, Admiral Joe Potter, and real estate consultant Roy Hawkins.
Roy at Walt Disney World
The groundbreaking for the Disney World project took place a few months later on May 30, 1967.  Roy would be a strong leader for the Florida project. He worked to honor his brother's dream and create a successful vacation resort. These images as Roy Disney visits Disney World show a happy Roy. He seems to be excited to be visiting the Florida property.
Roy Disney is the unsung here of the Disney Company. If you want to learn more about Roy, check out these three great biographies:
Have You Seen Other Images of Roy Disney Visiting Disney World?