Lake Buena Vista Paddleboat Regatta at Walt Disney World
Sometimes you run across items and you're just not sure what to make of them. In a 1976 Eyes and Ears, I ran across a graphic for the 1st Annual Lake Buena Vista Paddleboat Regatta.
Paddlebaot regatta? Huh?
Disneyland, by its nature, has had a smuch smaller work force. Moral was easier, especially since so many of the cast members of the 1960s and 1970s had worked while Walt was still alive. There were many direct ties to the Disney philosophy through the corporate heirachy as well as just be simply being Disneyland.
Walt Disney World, based on size alone, would need more employees just for the ancillary services. So, how do you boost moral and keep a large and disparate work force creating magic?
At Walt Disney World, one of the first initiatives was Little Lake Bryan, a recreation area set aside for cast members and their families. There was a lake with  sandy beach and plenty of activities like fishing, volleyball and dances. One of the rationales for Little Lake Bryan was providing a place for cast members to go to enjoy themselves and not take up the recreational facilities that were under heavy demand from guests.
In 1963, Disneyland started the canoe races, which have celebrated more than 50 years. The Canoe Races of the World (or CROW) started at Walt Disney World's Magic Kingdom in 1973. Both were extremely popular with the cast and would eventaully spread to all Magic Kingdom-style parks worldwide.
The Lake Buena Vista Paddleboat Regatta?
Of course, not everyone has the opportunity to spend time on the Rivers of America or the ability to forma team for the canoe races. So, in 1976, shortly after the opening of the Lake Buena Vista Shopping Village, Cast Activities decided to offer the 1st Annual Lake Buena Vista Paddleboat Regatta. Not only would the regatta be offered for several days, it would also give teams of two the opportunity to compete in a somewhat less strenuous activity. Somewhat. It would also serve as a way for getting cast members to visit and explore the Lake Buena Vista Shopping Village (click here to learn more about the Lake Buena Vista Resorts, including the Treehouse Villas).
1st Annual Lake Buena Vista Paddleboat Regatta
PLACE: Wooden docks behind Pottery Chalet on the Lake Buena Vista Lagoon.
DATE: July 21 -25th SIGN-UP DATES: July 7-20th
at Cast Activities Ext. 4254
mixed teams only

Sign-ups for the Lake Buena Vista Paddleboat Regatta are now being taken … and you can join in by calling Cast Activi ties at extension 4254 prior to July 20. Participants can sign-up for practice days (July 21 & 22) at times ranging from 6 am to 9 am. Semi-final times will be confirmed on the practice days with the final race on Sunday, July 25 at 7:30 am!

Plaques will be awarded to 1st, 2nd and 3rd place winners with additional prizes for the 1st and 2nd place spots. The race will take place in the Buena Vista Lagoon. A sheet containing all rules and regulations will be passed out on the first practice day, including the course outline.
Lake Buena Vista Paddleboat Regatta Winners!
In the September 1976 Eyes and Ears, the winners of the regatta were announced.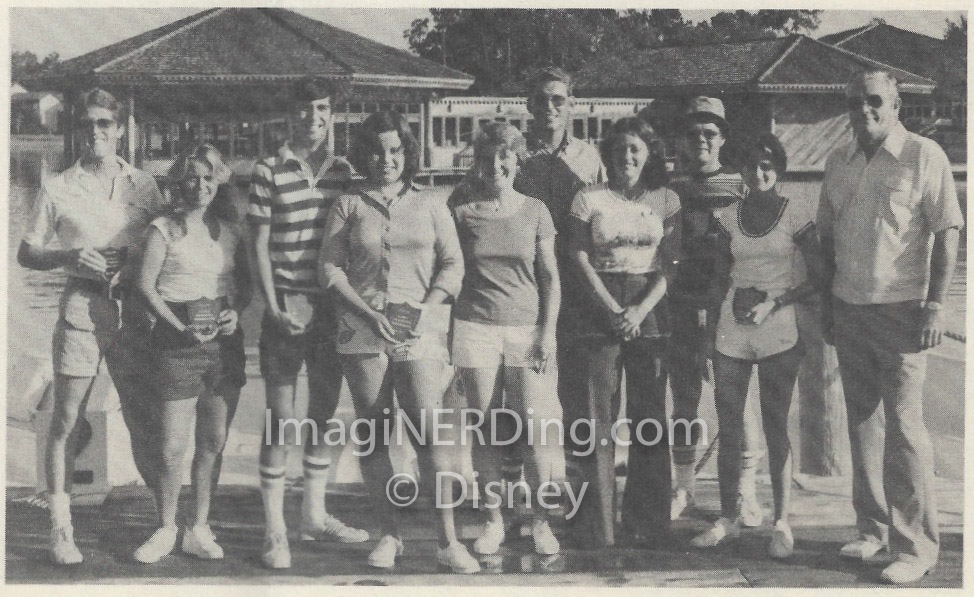 Well, the 1st Annual Lake Buena Vista Paddleboat Regatta is now history, but the memories will live in the minds … or maybe legs … of its participants. Pictured are our finalists and semi-finalists from the regatta including: (1-r) John Corkery, Ginny Mele, Jim Martin, Lee Clay, Jude Burt, Larry Madison, Patty Richardson, Morrie Gulbrandson, Deby Yardley and Ray Lait.

Ray Lait, Manager of Lake Buena Vista Communities presented the First Prize Award to Deby Yardley (Dock Shop) and Morrie Gulbrandson (LBV Maintenance); Second Prize to Lee Clay (Tickets) and Jim Martin (Monorail) and Third Place to John Corkery (Jim Recreation) and Ginny Mele (LBV Recreation).
Do you remember the Lake Buena Vista Paddleboat Regatta? Did you get to take part in it?
---
Check out Walt Disney World: The First Decade!