Walt Disney World Books!
Collecting Walt Disney World books can be a very pricey habit. I've been collecting Walt Disney World books since 1994. My current count of Disney-related and theme park titles puts me at 1000 books. I field a lot of questions about books specific to Walt Disney World history, especially books that discuss the Vacation Kingdom of the World (I usually recommend Jeff Kurtti's Since the World Began and David Koenig's Realityland since there isn't one book that does it all).
Unfortunately, there isn't one book that covers Walt Disney World history completely. There are several titles you can digest that will give you a very good picture. There are a lot of titles available and they come from different sources; check out the ones that look most interesting.
Most of us have written papers in high school or college that required a bibliography, which is usually a lists of sources cited in the paper. You can also have a list of books about a subject that stands alone.
What's a bibliography?
The definition of a bibliography is:
This bibliography is by no means a complete list of books available on Walt Disney World; I have only added books that I own and have read. Feel free to leave a comment if I have missed something good!
Walt Disney World Books—General Interest
The books included in this set focus on more than just Walt Disney World. They look at the people behind the parks and the company. I consider each title an essential part of any Disney enthusiast's library.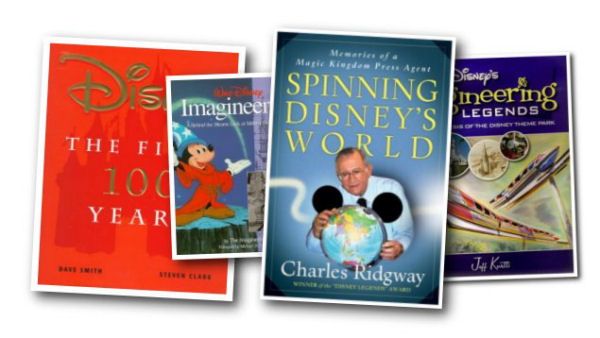 Walt Disney World Books—History
The following titles are specific to Walt Disney World and cover more than just an attraction. The Kurtti, Koenig and Beard titles are a must! If you are interested in the history and construction of Walt Disney World, check out these Walt Disney World books.
Walt Disney World Books—Attraction Specific
These Walt Disney World books are dedicated to specific attractions at Walt Disney World (and other parks, as well). If you have a favorite attraction that is featured in the book, then you need to track a copy or two down.
Brandon, Pam. Marking the Millennium: the Celebration of a Lifetime at the Walt Disney World Resort. 1999. A look at the development, creation and implementation of the Millennium Celebration at Epcot. Interesting to see Disney promote a celebration this way. A must-have for Epcot fans.
Broggie, Michael. Walt Disney's Railroad Story: The Small-Scale Fascination That Led to a Full-Scale Kingdom. 1998. Broggie presents a fascinating look at Walt's Railroad–part biography and part theme park history. The majority of the book focuses on the Carolwood-Pacific, but Broggie does discuss the Magic Kingdom and Ft. Wilderness Railroads. You can read my review here.
EPCOT Center Books. The Future World of…
…Agriculture. 1984.
…Energy. 1984.
…Transportation. 1984.
Three books created to help publicize the related Future World pavilions and educate children about the history and future of the technologies. There are some interesting photos and information from the pavilions.
Expedition Everest: Legend of the Forbidden Mountain, the Journey Begins. 2006. A collector's edition that looks at the development of the Animal Kingdom coaster. Lots of concept art and background information.
Jacobs, David. Disney's America On Parade – A History Of The U.S.A. In A Dazzling Fun-filled Pageant. 1975. It is hard to believe that Disney released a book that focuses solely on a parade! This is a wonderful mix of history, concept art and photographs of the long-running and well-loved parade at Disneyland and Walt Disney World during the country's bicentennial. You can read my review here.

Leaphart, David. Walt Disney World Railroads Part 1: Fort Wilderness Railroad. 2010. David has compiled an monumental and magnificent look at the Fort Wilderness Railroad. A must for any fan of Fort Wilderness, trains or early Walt Disney World anecdotes. Visit the author's website for more information. You can read my review here.

Leaphart, David. Walt Disney World Railroads Part 1: Fort Wilderness Railroad Gallery Companion. 2010. A companion guide to David's work on the Fort Wilderness Railroad. More pictures than you can shake a stick at!

Surrell, Jason. The Disney Mountains: Imagineering At Its Peak. 2007. Surrell takes an in-depth look at every Disney mountain, from Matterhon to Everest, with side trips to some un-built mountains. A must-have for fans of the Disney roller coasters.

Surrell, Jason. The Haunted Mansion: From the Magic Kingdom to the Movies. 2006. If you are a fan of the Haunted Mansion, you need to own this book. Surrell starts at the earliest concepts and takes us through to the final incarnations, step-by-step. The concept art is wonderful. We also get a look at all of the different Mansions throughout the different Magic Kingdoms.

Surrell, Jason. Pirates of the Caribbean: From the Magic Kingdom to the Movies. 2006. An in-depth history of Pirates of the Caribbean, from concept stages to Disneyland Paris. We experience all versions of the attraction through the script, artwork and photographs.
Walt Disney World Books—Artwork
There would be no Walt Disney World without these artists. The Kurtti/Gordon book offers wonderful concept art.
Walt Disney World Books—Miscellaneous
Detailed-inspired travel guides, academic treatises and amazing photographic titles. Usually more of a time-capsule than a history title. There are some fantastic Walt Disney World books in this section. Some of them are geared more towards the serious student of Walt Disney World history and some offer images that will please anyone.
Walt Disney World Books—Celebration
Although Disney has divested themselves of Celebration for most intents, it is still an important part of the Walt Disney World story. These titles look more at the after effect of Disney's town and less on Walt's vision.
Frantz, Douglas; Collins, Catherine, Celebration, U.S.A.: Living in Disney's Brave New Town. 1999. I haven't read this title, but the reviews seem to paint it as a fairly unbiased but not very deep look at Celebration.

Lassell, Micheal. Celebration – The Story of a Town. 2004. A glossy, photo-filled look at Celebration near the end of its first decade. Lassell doesn't shirk the darker times in Celebration's history but he still paints a picture of a town trying to find itself inside of Disney's shadow. The book has some fantastic photos.

Ross, Andrew, The Celebration Chronicles: Life, Liberty, and the Pursuit of Property Value in Disney's New Town. 2000.I haven't read this title. The reviews discuss an academic look at the town that gets fairly favorable reviews.
Walt Disney World Books—Cookbooks
Food is a huge part of the Disney Parks experience. Dining at Walt Disney World has changed considerably over the past 40 years. The following cookbooks are a great way to see what was being served at various restaurants over the years.
---
This is by no means a complete list. There are a few titles I have left out simply because I don't own them.
Are there any that I should include on the list?
Do you have any favorite  Walt Disney World books or one that you always recommend?
---